Movie Review
Saratoga
TO THE PUBLIC: We announce the presentation of Jean Harlow's last picture...a production the whole world has been waiting for.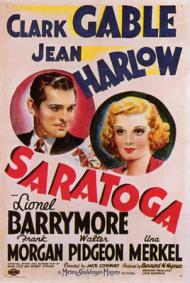 US Release Date: 07-23-1937
Directed by: Jack Conway
Starring
▸
▾
Clark Gable

,

as

Duke Bradley
Jean Harlow

,

as

Carol Clayton
Lionel Barrymore

,

as

Grandpa Clayton
Frank Morgan

,

as

Jesse Kiffmeyer
Walter Pidgeon

,

as

Hartley Madison
Una Merkel

,

as

Fritzi
Cliff Edwards

,

as

Tip
George Zucco

,

as

Dr. Harmsworth Bierd
Jonathan Hale

,

as

Frank Clayton
Hattie McDaniel

,

as

Rosetta
Frankie Darro

,

as

Dixie Gordon
Henry Stone

,

as

Hand-Riding Hurley
Margaret Hamilton

as

Maizie


Reviewed on:
August 21st, 2013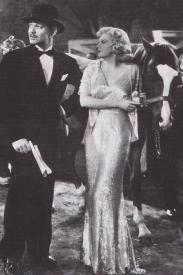 Clark Gable and Jean Harlow horse around in Saratoga
Saratoga is a delightful 1930's romantic comedy with a very famous cast. What makes it so important to film buffs though, is that it was Jean Harlow's final film. She collapsed while on the set and died a week later of uremic poisoning. The film was mostly completed but several scenes feature a stand in actress filmed from the back, while yet another actress supplied the voice.
Harlow plays Carol Clayton, the daughter of Frank, an owner of a horse breeder farm named Brookdale. He is in debt to Duke Bradley, played by Clark Gable, who is a bookie at Saratoga. Frank gives Duke the deed to his farm as collateral on his debt. After Frank dies, the farm becomes legally Dukes. Carol wants Brookdale back, and although she is engaged to a millionaire, Carol goes about trying to find the money to buy it back without her fiancés help. Of course this involves Carol being completely unhappy with Duke, while Duke has had eyes for her from the start. Upon their first scene together, it is clear that all she had to do to get it back was to ask, but what fun would that be?
Gable is at his usual charming best. He smiles his way through it all looking upon Harlow like he truly has feelings for her. I wonder how close they were in real life? Duke tells everyone he likes, man or woman, "I love ya." The best line belongs to Una Merkel who has this sad but true statement, "We women can do things to a man we love that men wouldn't do to a rattlesnake." The sparks fly between Gable and Harlow whether trying to dupe each other during the horse bidding, riding on a train or at the climactic horse race. Their chemistry is the stuff of Hollywood legend.
One scene is extremely ironic. It features Harlow lying on a bed while being examined by a doctor. She repeats to him over and over that she is fine and feels good. Sometimes art imitates life in some very scary ways. Gable reportedly said that he felt like he was in the arms of a ghost while filming his final scenes for this movie.
Jean Harlow died on June 7, 1937 at the tender age of 26. MGM originally planned to shelf the film or perhaps re-film it with another actress. They instead finished it with a stand in and released it to box office success, playing it up as Harlow's final film. Check out the tag line MGM used. Jean Harlow had a brief film career but she left quite an imprint on films of the 1930's. She was the first sex symbol of the sound era and remains to this day the standard for sweet and sexy with a rough edge.
Reviewed on:
January 16th, 2015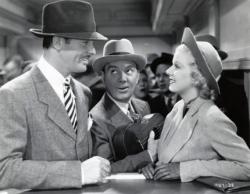 Clark Gable and Jean Harlow in Saratoga.
Knowing that this was Harlow's last film and that she died before finishing it makes watching it a tad bittersweet. As Eric wrote, the studio weighed its options before finishing the film and although Harlow's absence is noticeable in the final act despite the use of a body double, they still made the right decision. She's a delight in the first two-thirds and depriving her fans of the chance to see her one last time would have compounded the tragedy.
According to historical trivia, the part of Carol Clayton was originally offered to Gable's real life love interest, Carole Lombard, but after the studio was unable to negotiate a successful contract to borrow Lombard from Paramount, they turned to their own starlet, Harlow. The part is slightly classier than the type Harlow played at the start of her career. She's the daughter of a rich man instead of the lower class girl with loose morals and a heart of gold that she was more noted for playing. She even puts on a posh accent to class herself up. Of course, being Harlow, she still comes across as more brash than demure. Carol knows her way around a race track and seems like the kind of woman more comfortable around men than other women.
Her co-star Clark Gable, with whom Harlow had appeared in five previous films, was at the height of his charm and likability. He could have starred with a mop and probably generated chemistry with it. He and Harlow were a perfect match and it's easy to see why they were so often teamed. Gable was at his best playing the charming rogue with a twinkle in his eye while Harlow was always best when she played just the other side of respectable. Their easy-going banter and flirtations are always a delight to watch. Gable had enough charm that he's able to swagger his way through the final act on his own, but the best scenes are the ones they share.
Of course both of the leads had help from an outstanding supporting cast. Lionel Barrymore plays Carol's crotchety old Grandpa and is good for a few laughs, as is Frank Morgan and Una Merkel as the bickering married couple. Morgan is particularly funny as the allergy ridden cosmetics company president. He even gets to share a brief scene with Margaret Mitchell, meaning that for a surreal moment you have the future Wizard of Oz arguing with the future Wicked Witch of the West. Walter Pidgeon is fine in the thankless role of Hartley, but what actor has a chance at the girl when he was co-starring with Gable? And Hattie McDaniel continued her run as the go to maid of the decade, getting to declare of Gable at one point, "If he was the right color I'd marry him!"
Harlow's career was far too brief, but thanks to the pace at which they turned out movies in that era (she played a major role in 14 films between 1932 and 1937 and had many smaller parts in films before that), she will live forever. This isn't her finest film, but like every movie she ever appeared in, it's better for her presence.
Reviewed on:
January 31st, 2015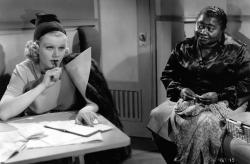 Jean Harlow and Hattie McDaniel in Saratoga.
The outcry from Jean Harlow's fans was loud enough to give MGM the assurance it needed to finish the picture with a body and voice double standing in for her. Not since Rudolph Valentino more than a decade earlier, had a star died so suddenly at the height of their fame. And while Harlow's presence is noticeably absent during the final 20 minutes, for history's sake they made the right decision. They also turned a tidy profit as Saratoga would become the studio's biggest box office hit of 1937. As my brothers wrote, it has an impressive supporting cast with even the smallest roles being played by famous character actors of the day.
It would have been a shame if Harlow's final days before the camera had never seen the light of day. Her face is a little swollen due to the recent oral surgery she had undergone, but her comedic talents were still very much intact. Whatever pain or discomfort she felt at the time never shows in her performance. Check out the scene where Gable hides under the bed and she smokes his cigar in order to fool Walter Pidgeon. I'm not sure what was written in the script but Harlow turns the moment into a minor comic gem.
Gable is Gable. By 1937 he was such an American icon that no one gave a second thought to the fact that he's playing a morally ambiguous bookie who isn't above cheating to win a bet. He is willing to swindle Walter Pidgeon's character out of thousands of dollars simply because Pidgeon once took him for a lot of dough years before. And of course because Pidgeon is his rival for Harlow (although -as noted above- no one was ever a serious rival for a woman's affections in a Clark Gable picture).
Scott mentioned the curiosity of seeing the Wizard sharing a scene with the Wicked Witch. It's a very funny scene on a train, and it's immediately followed by a scene between Rhett Butler and Mammy. Ironically, due entirely to their roles in The Wizard of Oz and Gone with the Wind respectively, Frank Morgan, Margaret Hamilton and Hattie McDaniel are (or at least their characters are) more widely known today than is Jean Harlow. Gable, of course, is in a league of his own.
I wasn't as impressed with the Anita Loos, Robert Hopkins screenplay as my brothers were. It meanders quite a bit, there isn't a whole lot of plot, and it wasn't as funny as I was expecting it to be. Still with the depth of talent in the cast, and the historical importance of being Jean Harlow's final role, Saratoga is a must see for film buffs.
Photos © Copyright Metro-Goldwyn-Mayer (MGM) (1937)
Related Reviews