Movie Review
The Secret Six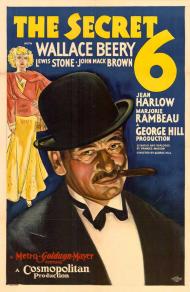 US Release Date: 04-18-1931
Directed by: George W. Hill
Starring
▸
▾
Wallace Beery

,

as

Scorpio
Lewis Stone

,

as

Newton
Johnny Mack Brown

,

as

Hank
Jean Harlow

,

as

Anne
Marjorie Rambeau

,

as

Peaches
Paul Hurst

,

as

Mizoski
Clark Gable

,

as

Carl
Ralph Bellamy

,

as

Johnny Franks
John Miljan

,

as

Colimo
DeWitt Jennings

,

as

Donlin
Murray Kinnell

,

as

Metz
Fletcher Norton

,

as

Delano
Louis Natheaux

,

as

Eddie
Frank McGlynn Sr.

,

as

Judge
Theodore von Eltz

as

District Attorney

Reviewed on:
April 7th, 2013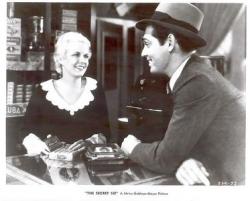 Jean Harlow and Clark Gable in The Secret Six.
Reportedly, it was after previewing Warner Bros. Public Enemy and Little Caeser that legendary MGM production chief Irving Thalberg decided to make MGM's first real "talking" gangster picture. Although the result, The Secret Six, was nowhere near the equal of either of those Warner Bros. films, it is still historically significant for being the first of six films to feature Clark Gable and Jean Harlow together.
The film stars Wallace Beery as Scorpio, a bootlegger based loosely on Al Capone. He's recruited from a slaughterhouse by slick mobster Johnny Franks (Ralph Bellamy), as a strong arm, but the two clash and nothing will stop Scorpio's rise to the top. Arrayed against Scorpio is a cabal of businessmen and reporters, one of whom is played by Clark Gable. Harlow plays Anne, a gangster's moll who depends upon Scorpio's financial generosity, but who is in love with Hank, a fellow reporter and friend of Gable's.
Beery was one of the few stars who moved smoothly from silent films to talkies with barely a hitch. He appeared in more than 200 films over a 36-year career and won the Best Actor Oscar for his role in The Champ, released the same year as this film. While he was a decent enough actor and does a fine job as Scorpio, his character is a crude thug and one of the least interesting people in the film.
The supporting cast provides the real appeal. Bellamy is slimy, dapper and slick as Johnny Franks. Lewis Stone, playing a character a long way away from Andy Hardy's dad, is sinister as the lawyer pulling the strings behind the mobsters, working his way with the law to get any of his gangster's out of jail, should they be arrested. A pre-moustache Gable brings his usual cocky, charm to the part of the reporter, Carl. And Harlow plays the bad girl with a heart of gold better than anyone and this film is no exception.
It's said that Thalberg saw the potential in both Harlow and Gable and had their parts beefed up in the film to give them more screentime. He would pair the two again in the following year's Red Dust, as the stars this time. By 1935, when Gable, Beery and Harlow all appeared onscreen together again in China Seas, all three of their names would be above the title, but Beery's would be listed third behind Gable and Harlow.
The secret six of the title is one of the film's odder points. Six respected businessmen don masks and form a group to support the capture of Scorpio. It's a silly idea that never really goes anywhere. You could cut their two small scenes without disturbing the film at all. They're not in it enough to even justify the title.
Not a classic gangster film by any means, but for bringing together Gable and Harlow for the first time, movie fans should forever be grateful.
Reviewed on:
May 17th, 2013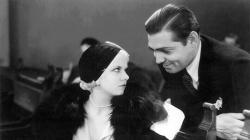 Jean Harlow and Clark Gable in The Secret Six.
The Secret Six was very competently directed by George W. Hill. He makes dramatic use of the occasional close-up and understands the language of film. Notice the scene where Johnny Franks (Ralph Bellamy) sets up Slaughterhouse Scorpio (Wallace Beery) to take the fall for killing the brother of a rival mobster. Bellamy glances over to where Beery had been sitting. The camera pans to a table with a plate and an empty bottle of milk, which everyone knows is Scorpio's preferred beverage. Without a name being uttered, the audience instantly knows what is about to transpire. And the entire picture moves like gangbusters. There is a short but well-filmed car-chase shoot-out that begins at a raid on a speakeasy and ends with a car crashing into the wall of a building.
Of course, as my brother already pointed out, none of that would matter much today if it weren't for the presence, in the film, of Clark Gable and Jean Harlow. They both practically leap off the screen. It's the potent combination of physical beauty and magnetic personality they each possessed. There's one memorable moment when they are both dressed in black after a funeral. They are standing just outside the church doors. The dialogue between them is nothing special but for that one brief moment, as they capture and reflect the light, you are witnessing the birth of two iconic movie stars. They radiate star quality from the screen.
To be honest though, it is Gable who makes the bigger impression. From his first scene where he has a competing phone conversation against Johnny Mack Brown while they simultaneously compete for Harlow's attention, to the end where -once again on the telephone- he gets the movie's final scene, he is never less than electrifying to watch. In this final scene Carl is talking to his editor and telling him how he needs a rest. That is until the editor tells him of a breaking story and then Carl (and Gable) are off and running, out the door and on to the next big thing.
I can only agree with Scott about how silly the titular characters appear sitting at that table in their little masks and business suits. I half expected a dominatrix to come strutting out of the closet. And they do literally have just two very short scenes. I can only assume the title was chosen because newspaper headlines of the day would have been filled with references to the Chicago Secret Six that aligned against Al Capone, and upon which this movie is based. At any rate, MGM's The Secret Six is an average gangster picture, made at the height of Wallace Beery's career, that provided Jean Harlow a career boost and propelled Clark Gable towards stardom. All that remained to do was for Gable to grow the mustache.

Reviewed on:
June 22nd, 2013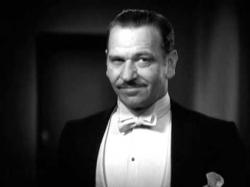 Wallace Beery in The Secret Six
At first I found it weird that Wallace Beery, a muscle man for bootleggers, ordered, "...milk, not skim!" As Patrick noted, it comes back into the story. After the scene Patrick wrote about, Beery figures out who betrayed him by finding his milk bottle in the trash can.
I loved the conversations in this film. Some of the slang is very dated and requires some thought. When a waitress walks up to a table and flirts with some gangsters, Beery waves her off, "Quit the applesauce." I am not exactly sure what "applesauce" means in the context, but in the 1925 version of Wizard of Oz, a man remarks, "That's a lot of applesauce." about a girl who is dancing.
If you know old movies, you can likely picture in your head Clark Gable saying to Beery, "I m going to make a big story outa this." To which Beery responds, "Yeah?" and Gable answers, "Yeah." The same can be said of Jean Harlow reciting such lines as, "Say, who are you anyway?" and "Who are ya kiddin?"
One of my favorite lines is when Beery asks Harlow to suck up to a reporter to influence him. Harlow pretends to not know what he is implying. Beery knows otherwise and mocks her pretend innocence with the line, "What is beer, mama?"
I laughed hardest when Beery wakes up in a bad mood due to business being down. A squeaky voiced blonde kneels down next to him to manicure his nails. She asks, "Ain't I dumb enough for ya?" Beery growls, "Shut up." to which the blonde responds casually, "Okay."
Wallace Beery had a very unique movie career. Very few movie stars of the time worked with other big stars. Beery was the exception. He appeared alongside such silent legends as Ben Turpin, Mary Pickford, Gloria Swanson, Buster Keaton, Rudolph Valentino and Douglas Fairbanks, and that was all before sound was invented. Beery continued to collect famous costars throughout his sound film career, like Clark Gable, Jean Harlow and Greta Garbo. As Scott mentioned, he would slip comfortably into supporting roles. One of his last films was A Date with Judy (1948) with a young Elizabeth Taylor.
Both of my brothers wrote how The Secret Six is remembered for the first pairing of Gable and Harlow, but I also found it a fun watch for all the dated dialogue and the central performance by Beery, who was very apt at both comedy and drama. He is threatening one minute and humorous the next. It is no wonder that his career was so long and colorful. As Patrick wrote, this film was made at the height of his distinguished career and is a great example of what Wallace Beery brought to a movie.
Photos © Copyright MGM (1931)
Related Reviews