Movie Review
China Seas
Harlow and Gable on the high seas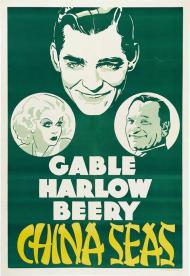 US Release Date: 08-09-1935
Directed by: Tay Garnett
Starring
▸
▾
Clark Gable

,

as

Captain Alan Gaskell
Jean Harlow

,

as

Dolly Portland
Wallace Beery

,

as

Jamesy MacArdle
Lewis Stone

,

as

Tom Davids
Rosalind Russell

,

as

Sybil Barclay
C. Aubrey Smith

,

as

Sir Guy
Edward Brophy

,

as

Wilbur Timmons
Hattie McDaniel

,

as

Isabel McCarthy
Robert Benchley

as

McCaleb


Reviewed on:
September 13th, 2006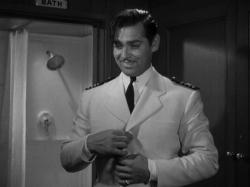 Clark Gable in China Seas.
China Seas is one of my favorite Clark Gable films. It finds him in familiar territory, playing a man torn between two women. Throw in some action and intrigue and you have a great old black and white movie, perfect for a lazy afternoon watch.
As the title states, this movie takes place on the China seas. Gable is a captain of a boat filled with an assortment of characters and a large stash of gold. On board are two love interests. Harlow plays her usual street wise, morally questionable, persona. Russell is an upscale, widow of an old friend of Gables. Both women are onboard vying for Gables attention. When not being flirted with, Gable has to contend with a typhoon (the special effects look great in black and white), and pirates.
One of the best things about old movies, for me, is when the actors play their stock characters. Actors today are always whining about being typecast. The actors of old were told, by the studio, which movies to make, so consequently they ended up playing lots of similar roles. I have no idea what the actors of old thought of that but it works for me. China Seas is the quintessential Gable and Harlow movie. Gable made a career out of being a man's man who women loved. Harlow specialized in woman of lower class standings who often had a taste for alcohol and loose morals.
Which woman will Gable end up with? Will the pirates get the gold? Will Gable discover who the traitor is in his midst? Will Tom Davids redeem his cowardice ways? The real answer is, I do not care all that much. Sure, that all makes for a nice plot crammed into 87 minutes, but I really just enjoy watching these old stars do what they do best. Chances are, if your reading this then you appreciate old movies as well and completely understand what I am talking about. If you do not, then you need to watch more old films.
As a last note, I have to write that when I was in the U.S. Navy years ago I was introduced to a drinking game. Harlow and Beery play the same game in this movie some 50 years before I ever heard of it. It wasn't my favorite drinking game, but this is one of my favorite old movies.
Reviewed on:
July 7th, 2010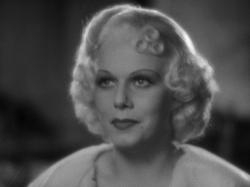 Jean Harlow in China Seas.
Did Irving Thalberg ever produce a bad picture? The uncredited executive producer certainly turned out another winner with this one. It's a fast paced little gem that showcases two super-stars at the height of their powers and several other stars in supporting roles.
While I agree with you Eric about how great it is to see Gable and Harlow doing what they do best, I think you dismiss the story and the script too easily. This is an old-fashioned rousing adventure story. It also contains some fast paced and funny dialogue.
"It's bad enough to have a ship that looks like this and a captain who looks like me without having a chief officer who looks like you," Gable says near the beginning of the film from a script co-written by Jules Furthman who wrote such classics as Shanghai Express, Bombshell, Mutiny on the Bounty and Only Angels Have Wings among others. Not only does he give the cast some great lines, he also provides plenty of action adventure for them, with rough seas, pirates and more.
Gable of course plays Gable. I found it funny that apparently he was supposed to be English here. Like Sean Connery today, Gable didn't do accents. Why they didn't change the lines to make him American though is a bit baffling. I suppose they were being faithful to the original novel.
Harlow has to be my favorite actress of the 1930s. Her fast talking, morally loose, street talking brassy blonde character never fails to entertain me. When you look at a photo of her she doesn't neccesarily look classically beautiful, but she had charisma in spades. She plays off of Gable's he-man persona perfectly and it's easy to see why they were paired so often in movies.
I also must mention Robert Benchley as the drunken writer. He boards the ship drunk and remains drunk for the rest of the voyage, providing some great comic relief.
Today's movies could take a lesson from this one. It packs more entertainment into its hour and 26 minutes than most of today's butt-numbingly long films. I'd say someone should remake this, but who could live up to Gable and Harlow and if they did, it would probably end up being a 3 hour epic.
Reviewed on:
December 26th, 2010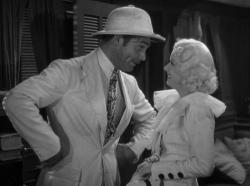 Clark Gable and Jean Harlow in China Seas.
I have to begin by saying that while I was thoroughly entertained by China Seas I prefer Gable and Harlow together in Red Dust. Clark Gable was arguably the greatest leading man ever in Hollywood. One female costar was rarely enough for him. Jean Harlow possessed a raw sexuality and seemed completely authentic in every thing she did. Together they truly lit up the screen.
The story lacks originality although it more than makes up for that fact by being fast-paced entertainment with two exciting action sequences; the typhoon and the pirate attack. The love triangle though was done better in Red Dust with Mary Astor playing the lady to Harlow's tramp. A young Rosalind Russell does a decent job here but the refined Sybil is certainly not a character she would become famous for playing.
She and Lewis Stone are the only stars playing against type. Russell would soon become famous playing fast-talking working girls. Stone plays the notorious coward Tom Davids. He was just another character actor until he replaced Lionel Barrymore as Mickey Rooney's father, that perfect moral compass Judge Hardy, in the Andy Hardy pictures.
I agree that Robert Benchley is funny in the Frank McHugh type drunken sidekick role, although the fact that he would be dead in 10 years from too much booze is rather sobering. Wallace Beery and C. Aubrey Smith are their reliable old selves. Beery gets one of the movie's best scenes when he attempts to out drink Harlow. (I've played a few drinking games in my time but unlike Eric, I never played this one.) I can't not mention Hattie McDaniel. She always brought some uniquely sassy personality to her many maid roles. She brightens the few scenes she shares here with Harlow.
Still Gable and Harlow are why this movie is remembered. They made any movie better with their presence and together they created sparks.
Gable is at his manliest, barking orders to his subordinates while charming the panties off the women in his life. He was at his most physically attractive stage in the mid-1930's. He has such personal magnetism and imposing stature that you can't look at anyone else when he is commanding the screen.
Harlow was always Harlow. She knew who she was and how to say her lines. The one scene where she surprised me here was when she nobly gives up Gable so that he can be with Russell. (Whether or not he goes for her I won't say.) Harlow demonstrates real emotion here and gives a glimpse of what a fine dramatic actress she might have been.
China Seas is grand old fashioned movie making. It matters not that it all seems terribly familiar to any fan of 1930's Hollywood.

Photos © Copyright Metro-Goldwyn-Mayer (MGM) (1935)
Related Reviews