Movie Review
Yossi & Jagger
Love should never be a secret.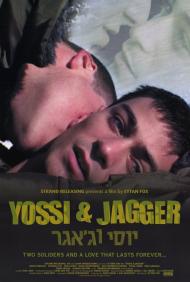 US Release Date: 09-24-2003
Directed by: Eytan Fox
Starring
▸
▾
Yehuda Levi

,

as

Jagger
Ohad Knoller

,

as

Yossi
Assi Cohen

,

as

Ofir
Aya Steinovitz

,

as

Yaeli
Hani Furstenberg

,

as

Goldie
Sharon Raginiano

as

The Colonel

Reviewed on:
September 28th, 2003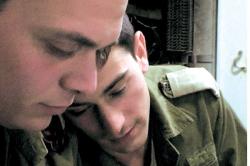 Yossi & Jagger.
Yossi & Jagger is one of the most romantic movies I have ever seen. It is also a tragic antiwar movie, brilliantly directed by Eytan Fox and featuring a talented group of young Israeli actors.
A group of Israeli soldiers stationed at a small outpost along the Lebanese border deal with the hardships and isolations of war. Oblivious to the rest of the soldiers there is a passionate affair going on between commander Yossi and one of his men, Jagger - so named because of his rock star like looks and charisma (played by Yehuda Levi, currently one of Israel's biggest teen heartthrobs from his role in a soap opera). Early on in the movie the two of them make an excuse to go out alone into the surrounding landscape where they make love in the snow, observed only by a lone rabbit. This turns out to be a touching piece of imagery later in the film. Yossi is the more masculine and closeted of the two lovers. He makes fun of the 'queenish' dance music that Jagger listens to and refuses to acknowledge their relationship in any tangible form.
Things grow more complicated with the arrival of the Colonel and two female soldiers. One is extroverted and loves flirting with the men, while the other pines after Jagger. She sees his sensitivity without having a clue about his real sexuality. She tells one of the other soldiers that Jagger is 'different' from other men, without realizing the significance of what she has just said. The Colonel sends the men out on a dangerous night ambush even after Yossi complains that his men need more rest. At this point it is fairly obvious that something very bad is going to happen. The denouement will more than likely bring a tear to your eye.
What I loved most about this movie was the realistic way in which the love between the two soldiers is portrayed. They must sneak away to be intimate and constantly worry about being discovered. And in this era of 'Queer Eye' stereotypes it is refreshing to watch these two nondescript gay men in love.
The other soldiers are all familiar types without compromising their realism. There is the comical chef and the serious philosopher type among others. Every single performance is just what the part called for.
At one point Jagger jokes about his and Yossi's relationship being like 'a fucking American movie'. The beauty of Yossi & Jagger is that it contains all that is good about Hollywood movies and adds those qualities that have always made foreign films appealing, to the mix. The end result is a touching, funny, serious, intelligent, romantic, antiwar movie. And at a mere 71 minutes it leaves you wanting more.

Reviewed on:
June 16th, 2010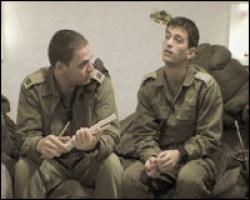 Yossi and Jagger
Although the central relationship is a gay love story, the theme of the film is unrequited love. Yossi and Jagger love each other but they have a hard time expressing it. They are both hiding it from the military. Jagger wants to bring their relationship out of the closet, while Yossi insists it stay in. The conflict threatens to end it.
Yaeli is in love with Jagger, but she is obviously not going to get anywhere with that. Ofir, a fellow officer, is in love with, or at least horny for, Yaeli, but she treats his flirting like a minor annoyance. Her friend Goldie is meanwhile having an affair with the married commander. No one in this film is in an open, loving relationship.
This sets up plenty of opportunity for emotional exchanges, but with such a short running time, I never felt I got to know any of the characters well enough to really care about them. Except for a scene at the end, it takes place all in one day and night. Yossi and Jagger have that happy moment in the snow, but the movie never explains why they love each other. Is that they are both gay, enough of a reason? A scene showing how they first met would have helped explain things, and it certainly would not have slowed it down at all.
Photos © Copyright Israel Cable Programming (2003)
Related Review