Movie Review
White Christmas
The Stuff Holiday Dreams Are Made Of!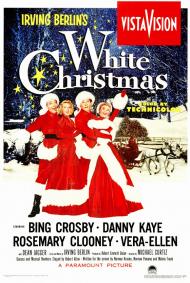 US Release Date: 10-14-1954
Directed by: Michael Curtiz
Starring
▸
▾
Bing Crosby

,

as

Bob Wallace
Danny Kaye

,

as

Phil Davis
Rosemary Clooney

,

as

Betty Haynes
Vera-Ellen

,

as

Judy Haynes
Dean Jagger

,

as

General Thomas F. Waverly
Mary Wickes

,

as

Emma Allen
John Brascia

,

as

Joe
Anne Whitfield

,

as

Susan Waverly
Grady Sutton

as

Mr. Herring

Reviewed on:
November 23rd, 2003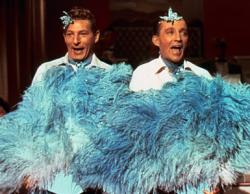 Danny Kaye and Bing Crosby in White Christmas.
Although White Christmas has long since become a popular holiday tradition for millions of Americans it is really not a very good movie. It has the appeal of a shiny tree ornament - pretty to look at and evocative of Christmases gone by - but lacking in any real substance. The set-up was a worn out cliché when Bing Crosby used it the first time a dozen years earlier in Holiday Inn, with Fred Astaire in the Danny Kaye role. There are some minor plot differences between them, but in both movies Bing is half of a successful song-and-dance team that winds up in a quaint New England inn romancing a much younger woman at the holidays. White Christmas has Rosemary Clooney and Vera-Ellen as a sister act that gets involved with the two male stars.
The movie begins with the two army buddies doing – what else? – a Christmas show for the troops near the front lines late in W.W.II. In what has to be the most overly sentimental looking set ever used for a war scene, Bing sings 'White Christmas' and then leads the boys in a rousing song of appreciation for their out-going commanding officer, the-gruff-spoken-but-with-a-twinkle-in-his-eye General Waverly… 'We'll follow the old man wherever he wants to go.' This catchy song is reprised near the movies conclusion in what just might be the purest moment of schmaltz ever put on film. It is designed to bring an instant catch to your throat and I'll be damned if it doesn't every time, to my complete chagrin of course.
A sudden enemy artillery attack, wherein Kaye saves Crosby's life by pushing him out of the way from a falling brick wall, ends their battlefront show. This is used as a running gag throughout the rest of the movie whenever Kaye wants Crosby to do something he really doesn't want to do.
Of course the best thing about White Christmas is the music, all Irving Berlin compositions. Rosemary Clooney was a great singer and she and Vera-Ellen do a nice rendition of the song 'Sisters'. And of course there is the famous ending that looks like a Christmas post card - with the four stars singing 'White Christmas' together whilst dressed in gaudy red Santa suits, book-ended by two huge brilliantly lit Christmas firs. Then the back wall - literally - opens up to reveal the perfect winter wonderland of snow.
This isn't supposed to be subtle stuff – it's Christmas in Fifties Musical Show-Biz Land!

Reviewed on:
December 12th, 2004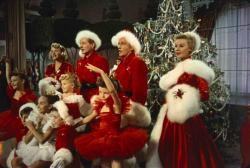 White Christmas
Yes, the best thing about White Christmas is the songs. 'Sisters' has a funny line that goes; "Lord help the mister that comes between me and my sister, and Lord help the sister that comes between me and my man." There is also the song the four stars sing while riding on a train. It is an odious ode to snow. Then of course there is the famous theme song.
Patrick is also right, in that, this is not a great movie. The one thing that always bothers me about it is that it is called White Christmas yet the entire movie is shot on a soundstage. There is not even one outdoor scene where any of the stars are actually seen in real snow. Even the scene at the end where the wall opens up to reveal a winter scene is fake. If you are going to call a movie White Christmas you should have a few scenes of actual honest to God snow!
The best use for this movie is to have it playing during a Christmas party. No one will actually be watching it but it will make the host and hostess seem very traditional and patriotic, especially when Crosby sings the theme.
Reviewed on:
November 27th, 2012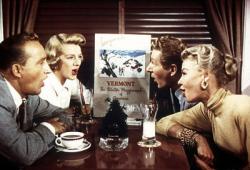 Bing Crosby, Rosemary Clooney, Vera-Ellen, and Danny Kaye in White Christmas.
This is a movie whose reputation is better than the actual experience. The title song is an undisputed Christmas classic and Bing's rendiiton of it was the best selling song of all time for many decades, but this movie adds little to it. It was hugely popular when it was released, becoming the highest grossing film of 1954, but today it simply seems quaint and boring.
Although it's not really a remake of Holiday Inn, it does bear some resemblances to that earlier, far superior film. Both movies showcase Irving Berlin songs, including the title track. Both take place, in at least part, at a country Inn and in fact the Inn set in White Christmas is just a redressed version of the Inn set from Holiday Inn. The movie was also meant to reunite Bing Crosby and Fred Astaire, but Astaire turned down his part after reading the script.
Some of the songs are catchy, but apart from the title song, none of them are all that memorable. "Sisters" will be stuck in your head for days after hearing it, but not in a good way. An interesting fact about the song is that Vera-Ellen's singing voice was dubbed and for the "Sisters" duet, it is actually Rosemary Clooney singing both parts. It also features the least effective version of "Heat Wave" that I've ever heard. Crosby and Kaye perform it as a duet. Think of it as the exact opposite in every way of the version Marilyn Monroe would perform in There's No Business Like Show Business.
The fact that it was all filmed on a soundstage didn't bother me at all. There's nothing realistic about the movie and so the false setting fits the mood of the piece. It's easy to see why it was able to be seamlessly transferred to the stage in 2004.
Despite a game cast giving it their all, this is one White Christmas that I will never be dreaming of.
Photos © Copyright Paramount Pictures (1954)
Related Review