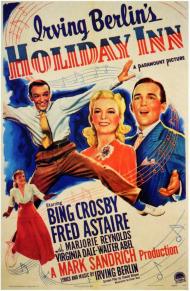 US Release Date: 08-04-1942
Directed by: Mark Sandrich
Starring
▸
▾
Bing Crosby

,

as

Jim Hardy
Fred Astaire

,

as

Ted Hanover
Marjorie Reynolds

,

as

Linda Mason
Virginia Dale

,

as

Lila Dixon
Walter Abel

,

as

Danny Reed
Louise Beavers

,

as

Mamie
Irving Bacon

as

Gus

Reviewed on:
December 1st, 2010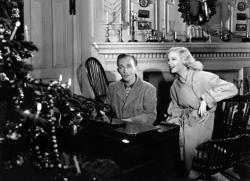 Bing Crosby and Marjorie Reynolds sing White Christmas in Holiday Inn.
Holiday Inn is the movie for which Irving Berlin wrote "White Christmas". It's overshadowed by the more successful 1954 remake, White Christmas, but this movie did it first and also did it better. The song would go on to be one of the best selling records of all time and the remake has become something of a perennial holiday classic, but I've always preferred the original.
When the movie opens, Jim (Crosby), Ted (Astaire) and Lila (Dale) are a 3 person musical act. Jim wants to retire from showbiz and he wants Lila to go with him, but on the night he and her are supposed to leave the act, Lila and Ted announce that they're not only in love, but they're going to keep the act going as a twosome.
Jim retires to his new farm in Connecticut, but soon discovers farming is harder than crooning and so he hits upon the idea of turning the farm into the Holiday Inn (the hotel chain stole its name from him), a nightclub/restaurant that's only open on national holidays. To help with the entertainment, he hires Linda Mason (Marjorie Reynolds) and soon falls in love with her. When Ted shows up at the club one night looking for a new partner after Lila threw him over for a Texas millionaire, Jim has to do his best to hide Linda so that Ted doesn't steal her as well. But who will get the girl? The hoofer or the crooner?
This was the first of two movies to pair the singing Crosby with the dancing Astaire. Sadly though, their scenes together are limited. They only have two numbers together, which seems like a real wasted opportunity, especially since Astaire is one of the highlights of the movie, but he takes a backseat to Crosby through all of it. Both of them were around 40 years old at the time of this movie and neither one of them were exactly good looking, but they both possessed talent and charisma, with Astaire's more relaxed charm playing off of Crosby's stiff, paternal figure quite nicely.
Apart from White Christmas, the two most famous numbers in the film are probably Astaire's 4th of July dance routine and the Lincoln's birthday blackface debacle. On the 4th, Astaire does a routine with firecrackers. Like a lot of his most famous, post Ginger Rogers dance numbers, he performs it solo. For Lincoln's birthday, the decision is made to perform the song "Abraham" in blackface (in part to hide Linda from Ted). This scene has been cut from many of the television airings of the movie. It's not just the makeup that makes the scene so politically incorrect, but also the way that Crosby and Reynolds try to act "black" while they're singing.
The plot is simple and sappy in an old Hollywood kind of way. It's also quite funny in places. Astaire's drunk dancing scene and his attempts to find Linda on the dance floor are two of the comic highlights. It's the kind of entertainment they don't make anymore and frankly couldn't. I mean, who could you get today that would be the equivilant of Crosby and Astaire?
Although all the holiday's are covered, this is really a Christmas movie at heart. Overshadowed by its more famous (and overrated) remake, Holiday Inn deserves more credit than it gets.
Reviewed on:
August 8th, 2012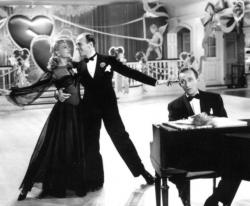 Marjorie Reynolds, Fred Astaire and Bing Crosby in Holiday Inn.
White Christmas isn't really a remake of Holiday Inn despite the fact that it too features the song "White Christmas", has a somewhat similar plot and Paramount even recycled the quaint country inn set used in this movie. Astaire and Crosby re-teamed for Blue Skies in 1946 (in which they once again played a song and dance team competing for the affections of the same girl and where Crosby once again crooned his signature song) and were set to star in their third movie together in 1954. Fred Astaire spoiled the party by turning down the role after reading the script (perhaps he felt it was too derivative of this movie). He was originally going to be replaced by Donald O'Connor but the part ended up going to Danny Kaye.
I agree this movie is superior to that one but it would have been even better minus the blackface number (truly a cringe inducing moment) and if they had filmed it in Technicolor (for non-purists there is a colorized version available). But the real reason Holiday Inn is better than White Christmas is quite simple: Fred Astaire.
Holiday Inn's plot is pure fluff but the Irving Berlin tunes and dance numbers are fabulous. According to Hollywood legend Fred Astaire was really inebriated during his "drunk" dance routine. He reportedly had two shots of bourbon before the first run through and another one after each subsequent take – a total of seven in all. His fire cracker number is great and shows that despite his fame as a partner, he was never better than when dancing all by himself.
Crosby, in addition to his timeless holiday classic, sings several other memorable songs. These include "Happy Holidays", "Easter Parade" and the wistful ballad "Be Careful, It's My Heart". Crosby, Astaire and Virginia Dale start things off with a nice rendition of "I'll Capture Your Heart Singing", which they reprise at the conclusion along with Marjorie Reynolds (whose singing was dubbed by Martha Mears).
The old fashioned sentimentality of the annual passing of the holidays is memorably done. The animated calendar sequences are fun. The most famous being November, where a turkey is seen moving confusedly back and forth between the third and fourth Thursday in the month. This was a jab at President Roosevelt's attempts to move the holiday up a week earlier in order to lengthen the Christmas shopping season.
Holiday Inn is a flawed but still fabulous movie musical of the variety (as Scott most accurately stated) they just don't make anymore.

Reviewed on:
December 3rd, 2012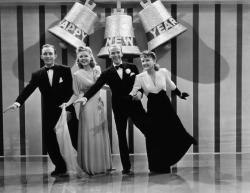 Bing Crosby, Marjorie Reynolds, Fred Astaire and Virgina Dale in Holiday Inn
Holiday Inn was based on an idea of Irving Berlin's, and what a great idea it was. This film allowed him to showcase some of his timeless songs. Irving Berlin even walked away with an Oscar for his song "White Christmas." My brothers mentioned several of the songs, while I will add "Lazy". Crosby sings it when he imagines how easy living on a farm will be. The only other version I am acquainted with is when Marilyn Monroe performed a sexually suggestive version of it in Theres No Business Like Show Business (1954).
Both of my brothers mentioned the song "Abraham," performed in black face. You can be offended by this scene if you want to be, but I died laughing. Come on! This is a light romantic musical comedy and this very brief song is no more offensive than the Wayan brothers dressed as White Chicks (2004). The more we learn to laugh at such things the better we all are.
My brothers wrote of the chemistry between Crosby and Astaire. Their combined star power is best exemplified when Crosby sings "Be Careful, It's My Heart" while Astaire and Reynolds dance behind him. (see the picture in Patrick's review) The combination of a hoofer and a crooner is an affective one. Gene Kelly and Frank Sinatra would team up for a trilogy of musicals several years later but they lacked the elegance of these two older pros.
What I personally enjoy the most about Holiday Inn is the sheer coziness of it all. The majority of the film takes place in a country Connecticut Inn and often draped in snow. This is a perfectly old fashioned, patriotic holiday film to watch. Turn on the Christmas lights, wrap yourself in a comfy throw and escape to a time long past, when love came with a song and a joke was punctuated by a change in tempo.
Photos © Copyright Paramount Pictures (1942)
Related Review