Movie Review
Ted 2
Thunder buddies for life.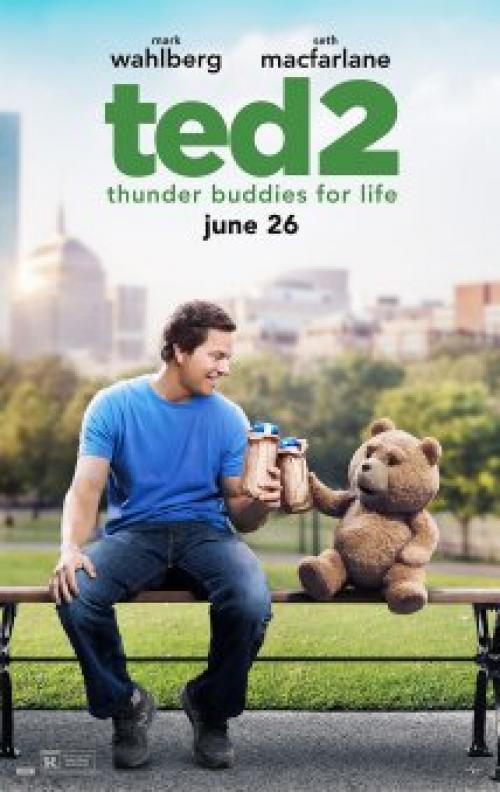 US Release Date: 06-26-2015
Directed by: Seth MacFarlane
Starring
▸
▾
Mark Wahlberg

,

as

John
Seth MacFarlane

,

as

Ted (voice)
Amanda Seyfried

,

as

Samantha
Jessica Barth

,

as

Tami-Lynn
Giovanni Ribisi

,

as

Donny
Morgan Freeman

,

as

Patrick Meighan
Sam J. Jones

,

as

Sam Jones
Patrick Warburton

,

as

Guy
Michael Dorn

,

as

Rick
Bill Smitrovich

,

as

Frank
John Slattery

,

as

Shep Wild
Cocoa Brown

,

as

Joy
John Carroll Lynch

,

as

Tom Jessup
Ron Canada

,

as

Judge
Liam Neeson

,

as

Customer
Dennis Haysbert

,

as

Fertility Doctor
Patrick Stewart

,

as

Narrator (voice)
Tom Brady

,

as

Himself
Jay Leno

,

as

Himself
Jimmy Kimmel

,

as

Himself
Kate McKinnon

,

as

Himself
Bobby Moynihan

,

as

Himself
Taran Killam

,

as

Himself
Sebastian Arcelus

,

as

Dr. Ed Danzer
Jay Patterson

,

as

Karl Jackson
Nana Visitor

,

as

Adoption Agent
Jessica Szohr

,

as

Allison
Craig Ricci Shaynak

as

Blind Guy

Reviewed on:
June 28th, 2015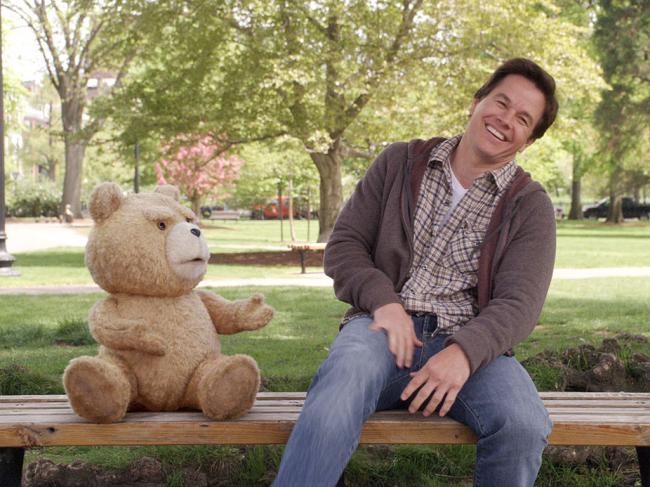 Ted and Mark Wahlberg in Ted 2.
Much of the success of the original Ted predicated on the novelty of seeing a cute little child's toy, in the form of a teddy bear, speaking and behaving in an inappropriate manner. Because of that novelty, any humor was bound to be a case of diminishing returns since the more you see of this bear, the less shocking it becomes. There are still some things to laugh at here, but overall it just feels like another unnecessary sequel being churned out by Hollywood to make a quick buck.
The comedy is typical McFarlane humor based mostly on shock value and political incorrectness, but there's also a weird juxtaposition with an old fashioned plot straight out of old Hollywood that's played with enough sincerity to make Frank Capra smile from beyond the grave. This nod to old school Hollywood is present right from the opening credits, which features a Busby Berkeley style fantasy dance routine by Ted atop his wedding cake after he marries his girlfriend Tami-Lyn, and it runs right through to the end during Morgan Freeman's courtroom summing up speech when he tries to prove that Ted is a conscious being in his own right and not merely property. Of course, in between these attempts at heartwarming we are presented with multiple scenes of a teddy bear smoking dope, spouting profanity, and lots of jokes about sperm and masturbation.
While Ted has found romantic happiness when the movie begins, Wahlberg's John has divorced from his wife (played by Mila Kunis in the first film, but who couldn't return for this one due to being pregnant). The plot really gets going though when Ted and his wife decide they want to have a child. Since Ted doesn't have a penis, they first try and find a sperm donor, which involves trying to hijack some of Tom Brady's sperm and includes a scene at a fertility clinic where Wahlberg ends up coated in male ejaculate. When they turn to adoption, the State denies them because they deem Ted not to be a person, but property. This leads to a court case with Ted, John, and their lawyer Samantha (Seyfried) suing the State to prove that Ted is indeed a person with rights.
It really seems as though McFarlane, who wrote and directed the film, is trying make some kind of bizarre statement in the courtroom, but in a movie with such an implausible central character and such juvenile humor, it makes very little sense and feels out of place. The original idea for the sequel was a Smoky and the Bandit type buddy road trip with John and Ted transporting marijuana across country, but with the release of the similarly plotted We're the Millers, McFarlane went back and did a rewrite. Supposedly he was inspired after reading several John Jakes Civil War novels on the set of A Million Ways to Die in the West. I think I would have enjoyed the original idea more.
Like the first movie, this one runs long at nearly 2 hours. And there's plenty of room for trimming. McFarlane throws in random jokes that have nothing to do with the plot and aren't even that funny, such as Liam Neeson buying Trix and Jay Leno having gay sex in a men's room. There are also a couple of inside jokes such as having Patrick Warburton dress up as the Tick and Michael Dorn dress up as a Klingon, parts they had both played in real life. There's even a character dressed up as Peter Griffith from McFarlane's Family Guy in the scene at Comic Con.
McFarlane throws a lot of jokes at the screen and inevitably some of them land successfully. And some of them are laugh out loud funny. Too many of them though, just feel forced and unfunny. So many jokes revolve around being high that I suspect McFarlane wrote the script while under the influence and perhaps in that state the movie will seem much funnier. Sober though, this feels like just another failed sequel.

Reviewed on:
June 30th, 2015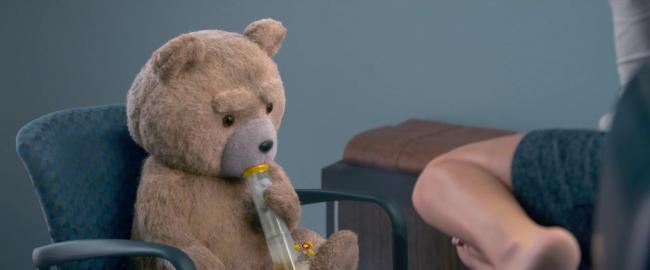 Ted getting high
The one and only joke I liked and remember is the one Scott mentioned at the fertility clinic where Mark Wahlberg ends up coated in male ejaculate. The sperm in question came from a rack full of "…rejected sickle cell samples." Just why they keep those around is never explained. After John accidentally knocks it over, spilling on him, he complains, "Dude, it's in my eyes! I'm blinking it in!" Ted takes a photo and remarks to John, "You're covered in rejected black men's semen. You look like a Kardashian." It is a funny line but it took quite an elaborate set up to get to that punch line.
As Scott wrote, the novelty of a foul mouthed teddy bear has long since worn off. In the first film, he was obnoxious yet likable. All he wanted was to party and make fun of people. Now he wants to be taken seriously and adopt a child. Ted is one of the last people (creature) who should ever be held responsible for another person's life. He is stoned half the time and does absolutely nothing productive the rest of his day. His child could rip him to pieces at two years of age, and the kid would probably be better off if he did. Just because Ted proves that he is a sentient being does not mean he is qualified to be a parent. His kid will be rolling joints before he is old enough to go to kindergarten.
As Scott noted, MacFarlane seems to be trying desperately to say something meaningful with the script. He touches on gay marriage, making comparisons between their struggle for the right to marry and Ted's court room drama trying to be recognized as an independent living entity. It never works for me as Ted is such a detriment to society.
Ted 2 has the maturity level of a drunken teenager. Ted and John like to throw apples at passing joggers from the roof of their apartment building. I don't know. MacFarlane thought it was funny, just as he did the running Google search joke. The scene with the attempted rape of Tom Brady is worth a chuckle but it was shown so often in the trailers that it now has very few laughs left in it. I am not sure if being high while watching Ted 2 would make this a more entertaining experience but it sure as hell could not make it any worse.
Photos © Copyright Universal Pictures (2015)
Related Review