Movie Review
Ted
The first motion picture from the creator of Family Guy.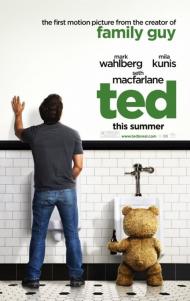 US Release Date: 06-29-2012
Directed by: Seth MacFarlane
Starring
▸
▾
Mark Wahlberg

,

as

John Bennett
Mila Kunis

,

as

Lori Collins
Seth MacFarlane

,

as

Ted (voice)
Joel McHale

,

as

Rex
Giovanni Ribisi

,

as

Donny
Patrick Warburton

,

as

Guy
Matt Walsh

,

as

Thomas
Jessica Barth

,

as

Tami-Lynn
Aedin Mincks

,

as

Robert
Bill Smitrovich

,

as

Frank
Patrick Stewart

,

as

Narrator
Norah Jones

,

as

Herself
Sam J. Jones

,

as

Himself
Tom Skerritt

,

as

Himself
Ryan Reynolds

as

Jared

Reviewed on:
June 30th, 2012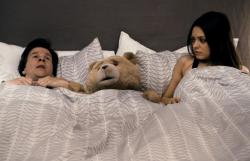 Mark Wahlberg and Mila Kunis share their bed with a teddy bear in Seth MacFarlane's Ted.
From the mind of Seth MacFarlane, the creator of TV's Family Guy, comes this raunchy comedy about a man and his teddy bear. Fans of MacFarlane's work and those who appreciate foul mouthed humor will find plenty to enjoy in this likable comedy.
If it weren't for the presence of a teddy bear as one of the lead characters, there wouldn't really be anything new to this story. We've seen this type of bro/frat-boy humor many times before, most particularly from Judd Apatow and his disciples. The inclusion of the bear breathes some freshness into the concept and despite being somewhat of a one joke premise--cute bear says dirty things--is what really makes the movie work.
The plot is bookended by some voiceover narration by Patrick Stewart who introduces us to the backstory. John Bennett was a lonely young boy who received a teddy bear named Ted as a present one Christmas. Using a Christmas wish, John was able to wish his bear to life. For a short while Ted became a minor celebrity, appearing Forrest Gump style on the Tonight Show with Johnny Carson, but eventually faded into obscurity as so many celebrities of the 1980s did.
Once the story is setup, the rest of the plot, apart from the climactic ending, feels very, very familiar. John and Ted are now grown-ups but still act like teen-agers. John has a girlfriend, Lori (Kunis), who wants John to grow up and take some responsibility. She and Ted start competing for John's attention. Yada, yada, yada, there's some arguments, a break-up and a reconciliation.
Two things make the movie work despite the over familiar plot.
Wahlberg, Kunis and MacFarlane, as the voice of Ted, all work great together. Wahlberg has an innate charm and he manages to play convincingly off of the CGI bear. Kunis has the thankless role of girlfriend, but she's so cute that she manages to make Lori likable despite playing the typical mother/shrew type role that all wives and girlfriends seem consigned to in movies like this. MacFarlane, who basically uses his Peter Griffin voice and makes a joke about the fact in the film, spouts Ted's one liners perfectly.
The other reason the movie works is that it is very funny. Sure, a lot of the jokes rely on the shock value of having a cuddly teddy bear saying inappropriate and non-pc things, but there's no denying it's still very funny overall.
There are also a couple of good celebrity cameos thrown in for some laughs. Ryan Reynolds makes a quick appearance. Tom Skerritt is mentioned several times and then shows up at the 11th hour. And lastly, Sam Jones of Flash Gordon fame appears in perhaps the movie's funniest scenes when he comes to one of Ted's parties and gets both Ted and John high on cocaine.
Low brow, silly and utterly predictable, Ted is still the funniest movie of the summer so far.

Reviewed on:
July 5th, 2012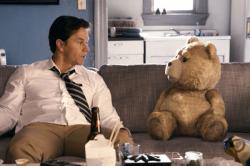 Mark Wahlberg in Ted
As Scott wrote, the cast is good but the shit that comes out of Ted's mouth is what makes this movie so damn funny. It opens with him demonstrating how a woman from Boston sounds when she has an orgasm. After he calls Norah Jones half Muslim he adds sarcastically, "Thanks for 911." When he introduces Lori to four prostitutes he recently procured, he says, "Y'know, somewhere out there are four terrible fathers I wish I could thank for this great night!"
The movie attempts to have a heart near the end, and does in fact elicit a bit of empathy. However, the final resolution contradicts itself. I am not giving anything away by writing that John's story arc is him growing up. "...when I became a man, I put away childish things" (1 Corinthians 13:11) However, Ted was written by the biggest frat boy smart ass on television, so of course the film will not end with Ted or John making any real mature sacrifice. Guys no longer have to grow up, they just have to get different room mates.
What do you expect from the guy who created the hilariously shallow "Family Guy"? Do not look for Ted to warm your heart or teach a lesson. Except of course that you should sing this song next time a thunderstorm scares you. "When you hear the sound of thunder, / Don't you get too scared. / Just grab your thunder buddy / And say these magic words: / "Fuck you, thunder! / You can suck my dick! / You can't get me thunder / 'Cause you're just God's farts!" Such poetry.
Reviewed on:
December 17th, 2012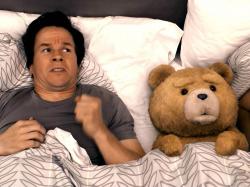 Mark Wahlberg and his Thunder Buddy in Ted.
OK so the bear says some funny shit but it isn't enough to make this a 3 1/2 star movie. Frankly I was bored by the time it was halfway over. I had a hard time getting over the ridiculous premise in the first place. Mark Wahlberg playing a 35-year-old slacker that still hangs out with his "living" foul-mouthed and equally lazy teddy bear makes no sense as a movie. As a 15 minute sketch on SNL I could see it working but as a feature length movie it runs out of steam.
I've never been a big fan of frat-boy movie humor. The addition of a talking stuffed bear didn't make me any bigger of a fan. The scene where John and Ted fight was mildly amusing but seems to drag on too long and was completely predictable. MacFarlane is good at voice work and he delivers his jokes with panache and great comic timing but the story lacks any originality.
Unlike my brothers I didn't enjoy Ted. It's a one joke movie stretched to 100 minutes. Just how it became such a huge box office hit is beyond me. But then The Smurf movie made enough dough to justify a sequel as well so I guess I shouldn't be surprised at the modern world's taste in movies.
Photos © Copyright Universal Pictures (2012)
Related Reviews