Movie Review
Tarzan
An immortal legend. As you've only imagined.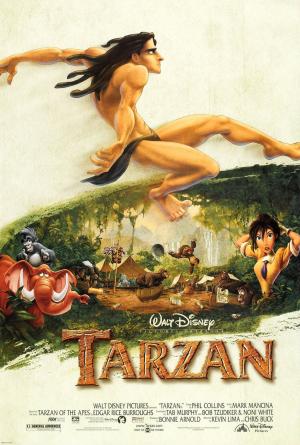 US Release Date: 06-18-1999
Directed by: Chris Buck, Kevin Lima
Starring
▸
▾
Tony Goldwyn

,

as

Tarzan (voice)
Alex D. Linz

,

as

Young Tarzan (voice)
Glenn Close

,

as

Kala (voice)
Minnie Driver

,

as

Jane (voice)
Nigel Hawthorne

,

as

Professor Porter (voice)
Lance Henriksen

,

as

Kerchak (voice)
Wayne Knight

,

as

Tantor (voice)
Rosie O'Donnell

,

as

Terk (voice)
Brian Blessed

as

Clayton (voice)

Reviewed on:
September 3rd, 2014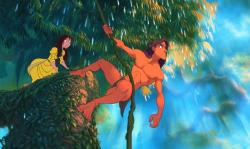 Jane and Tarzan
Tarzan holds a special place in my heart as it was the very first film my wife and I took our youngest son to see in a theater. I will never forget how when the theater went dark and the screen lit up, he bolted for the door. I ran after him and together he and I watched the first twenty minutes of the movie standing in the back of the theater until he was brave enough to return to his seat. We later bought it on video and watched it often. Recently, he and I sat back down to watch it on television. It had been years since either of us had seen it but we both still knew all the words to the songs.  
Tarzan tells the story of a family of apes in Africa at the end of the19th century. A female ape named Kala loses her baby to a hungry leopard. Saddened, she is only given hope when she hears a baby's cry in the jungle and races to investigates. She comes across a human baby recently orphaned by a leopard. After an exciting escape, she takes the baby back to her ape community and raises him as her own.
He grows up and has adventures with his animal friends. Rosie O'Donnell and Wayne Knight provide laughs as his ape and elephant companions, Terk and Tantor.  Terk is loud and outgoing. When Kala tells her she is going to name the infant "Tarzan," Terk says, "Okay…it's yer baby." Tantor is nervous and scared. When entering a river he complains, "Mom! Are you sure this water's sanitary? It looks questionable to me!"
Tarzan also has plenty of tension. The leader and protector of the apes, Kerchak, does not take kindly to Tarzan. He knows what problems he may bring with him. After coming into manhood, Tarzan protects the apes from yet another attack by a leopard and finally earns some respect from Kerchak. Before he can enjoy his new found prestige, other humans enter the jungle.
Professor Porter, his daughter Jane and their gun happy guard, Clayton, are in search of apes to study. Tarzan is instantly fascinated by them and after rescuing Jane from a pack of baboons, is quite interested in her. He tickles her toes and begins moving his hands up her legs before she kicks him away. He then peels off one of her gloves and compares his and her hands. He then puts his head to her chest to hear her heart beat. It is as romantic as any animated scene that has ever been drawn.
While Jane begins educating Tarzan, Clayton conspires to capture the apes. The movie then becomes an exciting action romance as Tarzan learns that the beauty of love comes in more than one form. He also learns of deceit and greed. Laughs are still provided and the movie remains entertaining throughout its 88 minute running time.
One of the very best things about this version of Tarzan is that he has clearly been raised by apes. He walks and moves like one. Look at when he wipes the dirt from the photo. He does not use his open hand but his knuckles like a simian would. Too often Tarzan has been portrayed with combed or quaffed hair, when it would have been long and tangled. His movement through the jungle, swinging by vines and sliding down branches, could never be duplicated by a real actor.
Tarzan is not exactly a musical but it has some very memorable songs that help advance the plot. "Two Worlds One Family" and "Strangers Like Me" express emotions and relate to the characters and story perfectly. "Trashin the Camp" is the only one that was added for song sake. It does little for the plot but is so quick paced and fun that you forgive it.
Tarzan remains one of Disney's most solid animated movies.
Photos © Copyright Walt Disney Pictures (1999)
Related Reviews