Movie Review
Some Like it Hot
Marilyn Monroe And Her Bosom Companions.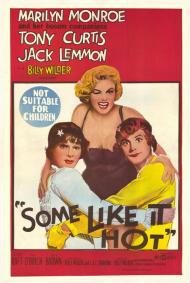 US Release Date: 03-29-1959
Directed by: Billy Wilder
Starring
▸
▾
Marilyn Monroe

,

as

Sugar Kane Kowalczyk
Tony Curtis

,

as

Joe/Josephine
Jack Lemmon

,

as

Jerry/Daphne
George Raft

,

as

Spats Colombo
Pat O'Brien

,

as

Mulligan
Joe E. Brown

,

as

Osgood Fielding III
Beverly Wills

as

Dolores


Reviewed on:
March 29th, 2001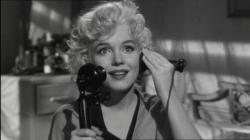 Marilyn Monroe in Some Like it Hot.
Three incredible movie stars bounce through this hilarious film being chased by the mob, falling in love, singing a few songs, sexually teasing each other, and usually in drag.
Easily Marilyn Monroe's most entertaining film. Even though there is only one really good cleavage shot. She actually had very few "skin" scenes in any of her movies. She doesn't appear for about 15 minutes into the film. However it is a memorable moment. Her T&A jiggling as Jack Lemmon's character "Daphne" remarks "its like jello on springs".
In fact it is Jack Lemmon who steals the show. He has most of the funny lines and takes full advantage of it. Whether he is reminding himself that he's "a girl" while lying in bed with Marilyn Monroe's character Sugar, or fighting off the horny advances of Joe E Brown. He is a riot of laughs.
Tony Curtis walks through the film as a caricature of Cary Grant. One of his best scenes is when he is on the boat attempting to seduce Sugar. Otherwise he is little more than a good straight man for Lemmon's punch lines.
A true Hollywood classic!
Reviewed on:
March 29th, 2002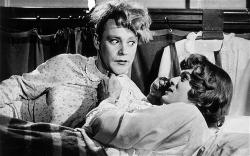 Jack Lemmon and Tony Curtis in Some Like it Hot.
Yes, Some Like it Hot is a great movie full of wonderful lines and situations. Like the scene on the train where "Daphne" ends up with a berth full of girls when all "she" really wants is a "cup of Sugar". And who can forget the bellow of "BEANSTALK". Truly hilarious stuff.
Billy Wilder deserves a mention for his flawless direction of this 1959 classic, set during the roaring twenties. As for Marilyn Monroe her scene in the train washroom is probably the closest she ever came to exposing her inner self on film, sounding downright bitter when her character says she always gets the "fuzzy end of the lollipop".
Some Like it Hot also stands as the first movie to end with a same sex couple riding off into the sunset together even if only as a joke.
Great stars at the peak of their games, memorable supporting characters and brilliant pacing make this one of the all time greats.
Reviewed on:
March 29th, 2003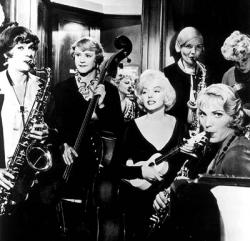 Tony Curtis, Jack Lemmon and Marilyn Monroe in Some Like it Hot.
What can I say that my brothers haven't already said about this film? I agree completely with Eric that Jack Lemmon steals this movie. I also agree with Patrick that Billy Wilder did a fantastic job of direction, he would easily make my top ten list of all time favorite movie directors.
I will instead just mention one of my favorite scenes. A scene that if you can't at least smile at, you have no sense of humor. The scene is where Joe E. Brown and Jack Lemmon are tangoing in front of the blindfolded band, passing a rose back and forth between there teeth. It's silly little scenes like this one that make this movie a comedic classic.
Photos © Copyright Metro-Goldwyn-Mayer (1959)
Related Reviews