Movie Review
The Postman Always Rings Twice
Their Love Was A Flame That Destroyed!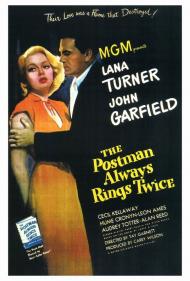 US Release Date: 05-02-1946
Directed by: Tay Garnett
Starring
▸
▾
Lana Turner

,

as

Cora Smith
John Garfield

,

as

Frank Chambers
Hume Cronyn

,

as

Arthur Keats
Cecil Kellaway

,

as

Nick Smith
Leon Ames

,

as

Kyle Sackett
Audrey Totter

,

as

Madge Gorland
Alan Reed

,

as

Ezra Liam Kennedy
Jeff York

as

Blair


Reviewed on:
May 2nd, 2001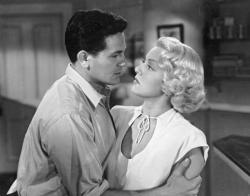 John Garfield and Lana Turner in The Postman Always Rings Twice.
The Postman Always Rings Twice is classic film noir. John Garfield plays a drifter who comes upon a diner run by an older man and his much younger wife, Lana Turner. Passion and murder become the main course at this diner.
From the very first time Garfield's drifter, Frank, sees Turner's Cora, you can feel the heat. Although these older movies never actually showed sex, you can feel the lust in these characters. From the way Garfield looks at Turner you just know that he wants to lay her on that diner counter and hump her brains out. From the look on Turner's face you can tell she wouldn't object.
Frank and Cora fall madly in lust. They plot to kill her husband and live happily ever after. This, however, is great film noir and of course things change. The plot has several twists and turns. Surprises come at you unexpectedly.
This movie has a great plot with wonderful pacing and all the right suspense. However, the gravy on this meaty plate is the stars' chemistry. Garfield's common tough guy plays perfectly off Turner's high maintenance wannabe. I don't know the extent of any relationship these two had in real life, but on the screen they are a hot couple.
Reviewed on:
September 19th, 2003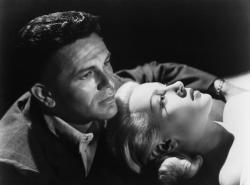 John Garfield and Lana Turner in The Postman Always Rings Twice.
If you look up on-screen chemistry in the classic Hollywood dictionary, I believe you will find a picture of John Garfield and Lana Turner kissing passionately on the beach or staring lustily across that diner counter at each other in The Postman Always Rings Twice. Although the movie magic certainly didn't ring twice when they remade it in the early eighties starring Jack Nicholson and Jessica Lang, in a version that was just plain awful. But why try to improve on something that's this close to cinematic perfection anyway?
This movie works on every level. The story itself is gripping and well wrought and the two main characters are archetypal in every sense of the word. The setup happens quickly and naturally. As Eric said, a drifter arrives at a common looking Greek diner in sunny southern California, gets a job as a handyman and begins an almost immediate affair with the elderly proprietor's very attractive and sexually frustrated, much younger wife. She turns out to be one hell of an ambitious dame, while he gives the distinct impression of having a dangerous past without giving away much in the way of details. Together Frank and Cora bring out the worst in each other's personalities, to say that sparks fly between them is an understatement. Like the classic film noir this is Postman features murder, betrayal, love and lust.
The black and white cinematography is gorgeous, with the California coastline playing a major part in the story. The supporting characters are memorable too. Cecil Kellaway, whom you may recognize from Guess Who's Coming to Dinner, does a great job as the drunken ill-fated husband, striking the right balance between bluster and apathy. Hume Cronyn as Cora's shyster lawyer and Leon Ames as the local D.A. round out the cast.
John Garfield became a huge star with this movie and it's easy to see why. He is like James Cagney, only with more sex appeal. And he underplays the part beautifully, you sense who Frank Chambers is through his acting more than from any actual information we are given. Lana Turner, for her part, proved she was more than just a pretty face and a pair of shapely gams. As Cora Smith, she created an indelible movie character that will live as long as celluloid.
I agree with you Eric, they are one hot onscreen couple.
Reviewed on:
January 4th, 2004
John Garfield and Lana Turner in The Postman Always Rings Twice.
I've never been much of a fan of Film Noir, but I must say that of all the films of its type that I have seen, I enjoyed The Postman Always Rings Twice the most. Oh sure, like most movies of this genre it's over the top with its melodrama, but the superb cast manage to overcome this weakness.
Eric and Patrick both mentioned the heat between Turner and Garfield, and it's definitely there in spades. Lana Turner is without a doubt one of the hottest actresses ever to star in a movie during the 1940s. Her entrance in this movie is a classic as the camera follows the rolling lipstick across the floor to those million dollar legs of hers.
While their meeting generates sparks, it was the last half of the movie that I found the most entertaining. Hume Cronyn nearly steals the show as the lawyer who finds winning $100 off of the District Attorney more important than putting two murderers behind bars. But without a doubt, the best moments of the movie are when Garfield and Turner are alone in the Diner and both are waiting for the other to turn on them.
The ending of course is gloriously over the top as, like all Film Noir, the two villains get their just reward and we finally learn what the title means. (I have to confess I kept wondering as the movie went on, when the Postman was going to make his appearance.) I'm still not a big fan of the genre, but if I had to pick a favorite, this one would be it.
Photos © Copyright MGM (1946)
Related Review