Movie Review
The Philadelphia Story
Broadway's howling year-run comedy hit of the snooty society beauty who slipped and fell - IN LOVE!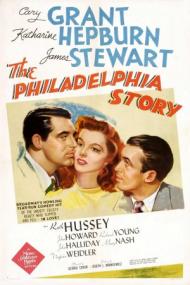 US Release Date: 12-01-1940
Directed by: George Cukor
Starring
▸
▾
Cary Grant

,

as

C. K. Dexter Haven
Katharine Hepburn

,

as

Tracy Samantha Lord
James Stewart

,

as

Macaulay (Mike) Connor
Ruth Hussey

,

as

Elizabeth (Liz) Imbrie
John Howard

,

as

George Kittredge
Roland Young

,

as

Uncle Willie
John Halliday

,

as

Seth Lord
Mary Nash

,

as

Margaret Lord
Henry Daniell

as

Sidney Kidd

Reviewed on:
May 9th, 2003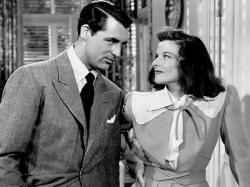 Cary Grant and Katharine Hepburn in The Philadelphia Story.
After a blockbuster start to her movie career in the early thirties Katharine Hepburn seemed to have run out of gas by 1936. She was labeled box office poison and after a string of flops (including what is now considered to be one of the greatest comedies of all time Bringing Up Baby) took her wounded pride back to the stage in New York. She had immediate success with The Philadelphia Story and was smart enough to use it as a means of re-conquering Hollywood. With her pal George Cukor directing and the impressive combination of Cary Grant and Jimmy Stewart as her co-stars, she hit a home run and remained on top in the picture business for the next half a century.
More romantic comedy than screwball farce, The Philadelphia Story covers roughly twenty four hours in the life of the Lord family, sitting at the pinnacle of Philadelphia society. Eldest daughter Tracy (Hepburn) is preparing for her second marriage. While her first was to the equally rich and charming C. K. Dexter Haven (Grant) this time around she is marrying a man of the people, a Mr. George Kittredge (the wooden John Howard) who has pulled himself up by his bootstraps. Meanwhile father Lord has put the family in an embarrassing situation through his philandering with a young show girl. Spy Magazine threatens to spill the beans unless the Lords allow them to send a reporter and photographer to cover the nuptials.
For the second time in 1940 Cary Grant plays a husband bent on reconciling with his ex-wife. Although unlike his character in His Girl Friday C. K. Dexter Haven is a true gentleman. He knows the spoiled and strong willed Tracy better than she knows herself. Still his screen-time is limited. Both Hepburn and Stewart have juicier roles.
Stewart, as reporter MaCaulay Connor, sinks his teeth into his role as the man who gets drunk with Tracy on the eve of her 2nd marriage and spends a rather suggestive evening with her and the swimming pool. He teaches her to let her guard down and to trust her heart by treating her as a passionate woman and not a austere goddess. My favorite line is when he tells her she has "Holocausts and hearth fires" in her. Hepburn, for her part, perfectly exemplifies the intelligent, brittle and judgmental society darling with an inner goodness. By the final credits she is a changed woman.
Other amusing characters include a precocious younger sister, a lecherous uncle and the lady photographer in love with Connor.
Remade as a musical in the fifties, The Philadelphia Story is a landmark movie featuring three of the greatest stars ever to light up the screen. When the AFI recently did their list of the top male and female movie stars of all time, Katharine Hepburn topped the list for women and Cary Grant and James Stewart were numbers 2 and 3 respectively on the men's list. Now that's star power.

Reviewed on:
May 13th, 2003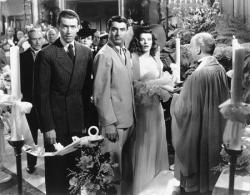 Jimmy Stewart, Cary Grant and Katharine Hepburn in The Philadelphia Story.
Patrick is right on when he talks about this movie's star power. Hepburn, Grant and Stewart are three of the greatest stars of the the 20th Century. This film is a joy to watch just to see these three legendary movie stars together.
My favorite scene in this movie is where a drunken Connor goes to visit C. K. Dexter Haven in the middle of the night. They end up having a drink and a conversation. Legend has it that Stewart messed up his line in this scene. If you watch it you can see Grant smiling at Stewart as he tries to recover. The story goes that Cukor liked the take and left it in.
Hepburn is a stitch acting eccentric for the reporters. Her chemistry with Grant is solid, however, it is Stewart who often steals the scenes. In fact, he went on to win the Academy Award for Best Actor, even though the part is more of a supporting character.
This movie has three great stars perfectly cast in a well written movie. This is a classic that belongs in any, and every, old movie buffs collection. Watch this movie and see what real movie stars look like.
Reviewed on:
August 23rd, 2003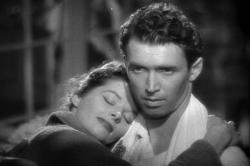 Katharine Hepburn and Jimmy Stewart in The Philadelphia Story.
I couldn't agree with my brothers more. The Philadelphia Story is a classic movie featuring three of the silver screen's greatest and most enduring stars.
Growing up I watched and enjoyed the musical remake (High Society) that Patrick alluded to, many times. It wasn't until years later that I finally saw this, the original and far superior, version. Don't get me wrong, High Society is a classic unto itself, but despite their musical talents, Bing and Frank are no match for Jimmy and Cary in the acting department. And while Grace is better looking, her interpretation of Tracy Lord is more of a spoiled brat than the strong-willed Katharine version. And while some of the dialogue and attitudes seem dated in both versions, they seem easier to forgive in this movie, since it's that much older.
While Eric and Patrick both single out Jimmy Stewart as the scene-stealer in this movie, I still favor Cary Grant. He doesn't get the jokes that Stewart does, but he still manages to be the heart of this movie. His former alcoholic, sophisticated C.K. Dexter Haven performance is subtle, but superb. I'm not the classic movie nut that my brother Patrick is, but I have to say that I am an enormous fan of Cary Grant.
Witty and intelligent, The Philadelphia Story is classic Hollywood at its very best.
Photos © Copyright MGM (1940)
Related Reviews