Movie Review
Once Upon a Honeymoon
He kissed her all over the map on another fellow's honeymoon.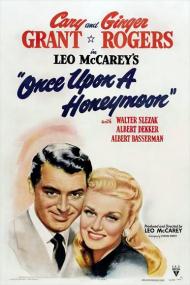 US Release Date: 11-27-1942
Directed by: Leo McCarey
Starring
▸
▾
Cary Grant

,

as

Patrick O'Toole
Ginger Rogers

,

as

Katie O'Hara / Katherine Butt-Smith / Baroness Katherine Von Luber
Walter Slezak

,

as

Baron Franz Von Luber
Albert Dekker

,

as

Gaston Le Blanc
Albert Bassermann

,

as

Gen. Borelski
Ferike Boros

,

as

Elsa
John Banner

,

as

German Capt. Von Kleinoch
Harry Shannon

,

as

Ed Cumberland
Hans Conried

,

as

Vienna Tailor's Fitter
Natasha Lytess

,

as

Anna
George Irving

,

as

American Consul
Fred Niblo

,

as

Ship's Captain
Bert Roach

as

Ship Bartender


Reviewed on:
October 3rd, 2012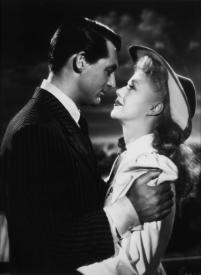 Cary Grant and Ginger Rogers in Once Upon a Honeymoon.
During World War II, Hollywood made many films that called out the enemy. Once Upon a Honeymoon goes to great length to inform the American audience on the evils of Hitler. It was in fact, one of the first films to do so. The most notable exception being Charlie Chaplin's The Great Dictator (1940) but whereas Chaplin did not name the Nazi's as such, Once Upon a Honeymoon does.
The film opens in Vienna with American Katie O'Hara (Rogers) preparing for her wedding to an Austrian Baron. She is a former burlesque stripper, who put on airs to climb the social ladder. Pat O'Toole (Grant), an American reporter, is investigating the Baron, who he believes is working for the Nazis. Katie knows nothing of her fiance's connections.
She marries the Baron and they travel Europe as one country after another falls to Germany. O'Toole is always close behind reporting on the events. He starts falling for Katie and eventually convinces her that her husband is a Nazi. With that understanding O'Hara fakes her own death and runs away with O'Toole. After surviving capture and questioning and a ship being sunk, O'Toole and O'Hara end up in Paris where an American secret agent recruits her to spy for the allies.
Although billed like it is a romantic comedy, Once Upon a Honeymoon is really just a political commentary helping to justify The United States government's decision to declare war on Germany, which happened on December 11, 1941, a year prior to this film's release . At one point Katie helps a Jewish woman and her children leave the country by giving them her passport. Pat has a habit of breaking into political rants about how the Nazis take away German citizen's freedom and choices. In another scene Katie and Pat talk about how Hitler controls who can and who cannot have children.
My favorite political line in the film is when Cary Grant says, "Not so loud? I always talk loud when I'm mad! You're lucky I don't jump up and down! It's things like this that can make a man a... a... a republican!" The funniest line is when Hitler parades into town and Grant says to Rogers, "Hey, Hitler is here." and Rogers responds nonchalantly, "Well I can't see him now. I'm dressing." The scene where Grant does the news report with the Baron is one of the film's best.
The premise for this film is much more exciting than the actual product. It is not as romantic, funny or thrilling as it could have been. It tries to encompass too much of the war. Katie goes from being a Baroness to a refugee to a spy. All along being romanced by Grant. The story needed to be better focused on a singular event. As it is, this is just a time capsule of propaganda.
Reviewed on:
November 5th, 2013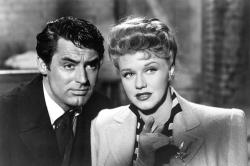 Cary Grant and Ginger Rogers in Once Upon a Honeymoon.
Sure this is motion picture propaganda at its most obvious but it is also fine entertainment. Although Warner Brothers had been the first major Hollywood studio to confront the growing threat of Nazi Germany back in 1939 with Confessions of a Nazi Spy, this was, as Eric wrote, one of the earlier Hollywood movies to tackle the subject head on. At times this seems at odds with the romantic comedy genre but it makes for an original, if slightly disjointed, combination.
Once Upon a Honeymoon was the first of just two movies in which Cary Grant and Ginger Rogers costarred. It's a shame they didn't make more movies as a team since they produce enough chemistry together to blow up a laboratory. Their second picture together (in which there is an actual laboratory) was Monkey Business, a decade later. Their chemistry isn't as good in it. That later movie also costarred Marilyn Monroe. Coincidentally, Natasha Lytess appears in Honeymoon as a Jewish hotel maid, and she would later be Monroe's long-time acting coach.
Leo McCarey films several scenes of his stars together in close-up (see photo) and rarely have two more photogenic humans existed anywhere in the world at any time. Likewise their comic timing is brilliant and they seem to bring out the best in each other. Just watch the scene where Grant tells Rogers that vodka is the Polish word for water and she then proceeds to order plain vodka with a shot of bourbon. The kicker to the scene is the fact that Grant gets drunk while Rogers remains sober.
In one scene Grant tells Ginger that he will always remember, "Just the way you look tonight." This evokes a smirk from his costar as it's the title of a famous song sung to her by Fred Astaire in Swing Time. A joke that audiences of the day were sure to get. Television producer Sherwood Schwartz probably watched this movie, as he borrowed their names for his fictional movie star castaway Ginger Grant on Gilligan's Island. (trivia bonus: Hans Conried has a small role as a tailor's assistant and he would famously play Wrongway Feldman on two episodes of that classic 1960's sitcom.)
Once Upon a Honeymoon does meander a bit and it certainly takes its time reaching its resolution. The scene where Grant drowns his sorrows at a Parisian cafe only to discover that not only is the Baron sitting next to him, but the American spy is likewise sitting on the other side of him, is contrived even by Hollywood standards. He's either very fortuitous or this was the only cafe open in all of Paris that day. The final scene aboard ship where the Baron meets his fate seems mean-spirited rather than funny. All things considered this is a memorable, if flawed, motion picture starring two giants of Hollyood's Golden Age.
Photos © Copyright RKO Radio Pictures (1942)
Related Review