Movie Review
Hot Fuzz
Big Cops. Small Town. Moderate Violence.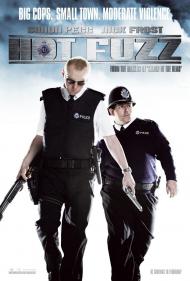 US Release Date: 04-20-2007
Directed by: Edgar Wright
Starring
▸
▾
Simon Pegg

,

as

Sergeant Nicholas Angel
Nick Frost

,

as

PC Danny Butterman
Jim Broadbent

,

as

Inspector Frank Butterman
Paddy Considine

,

as

DS Andy Wainwright
Timothy Dalton

,

as

Simon Skinner
Martin Freeman

,

as

Metropolitan Desk Seargent
Bill Nighy

,

as

Metropolitan Chief Inspector Kenneth
Cate Blanchett

,

as

Jeanine
Steve Coogan

,

as

Metropolitan Police Inspector
Peter Jackson

,

as

Santa
Olivia Colman

as

PC Doris Thatcher

Reviewed on:
April 19th, 2007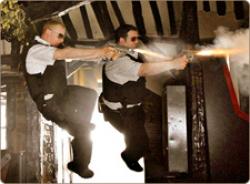 If Michael Bay directed an episode of The Vicar of Dibley, it might end up something like this.
Edgar Wright and Simon Pegg, the makers of Spaced (one of the greatest sitcoms of all time) and Shaun of the Dead (certainly the funniest horror movie ever made), have done it again; crafting yet another comedy classic with this, their latest release, Hot Fuzz.
The common thread that runs through Wright and Pegg's works seems to be taking a very English look at what are typically American genres of films. Shaun of the Dead did it to horror films, Spaced, with its numerous film references, did it with several genres and now Hot Fuzz does it to the Buddy Cop film. And, it turns out; juxtapositioning the British stereotype of quaint eccentricity with American action can be quite funny. As Pegg put it in a recent interview, Hot Fuzz is a movie for those people who thought Four Weddings and a Funeral just didn't have enough blood and violence.
Pegg stars as Sergeant Nicholas Angel, a by the book London Policeman who gets transferred to the quiet English village of Sandford because his efficiency makes the other officers look bad. There he partners up with Danny Butterman (Nick Frost), a bumbling local constable, to crack such sizzling cases as finding a lost swan.
When a series of suspicious deaths begins to occur however, Angel and Danny soon find themselves deep in it and slowly this quaint English village finds itself transformed into something out of a Jerry Bruckheimer/Michael Bay film with blood, violence and action galore.
As with Shaun of the Dead, the movie slowly builds up to the action by taking time to introduce the setting and the characters. To me, this just makes the ending that much more funny, but impatient types might wonder when the action is going to start.
Along with the main cast, the movie features a plethora of recognizable English actors, including Jim Broadbent, Bill Nighy, Martin Freeman, Timothy Dalton, and a host of others whom, even if you don't know their names, you will recognize.
One of the best things about Wright and Pegg's movies is the fact that while they play with the various genres they work in, they never do it mean-spiritedly. You could tell that they enjoy both zombie and action movies. They're not laughing at those types of movies, they're laughing with them. In other words, to actually enjoy their movies, it helps to be a fan of the genre. If you hate action movies and are looking for someone to make fun of them, then this isn't the movie for you.
Obviously, I'm a great fan of these guy's work, but Hot Fuzz is good enough that even if this is your first exposure to them, you'll find plenty to enjoy and laugh at.

Reviewed on:
May 26th, 2007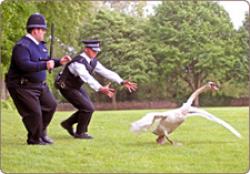 This movie left me cold.
"...another comedy classic."? Although I am not as big an Anglophile as Scott, I do love Monty Python, The Young Ones, Doctor Who and Absolutely Fabulous. I have often found British humor absurdly hilarious. Frost and Pegg, however, leave me a bit cold.
Hot Fuzz spends too much time showing Pegg as a very serious cop. The movie almost plays like a drama at times. His girlfriend is leaving him. He's getting transferred. There are jokes throughout these scenes but the punch lines are not delivered as if they are. Half the time I was wondering what someone just said because it did not make sense. No doubt someone will tell me that, that is the joke but I like my punch lines delivered with some wit or sarcasm.
The most memorable thing about Hot Fuzz is the gore. A couple of scenes may shock you. The murder next to the church is particularly gruesome. In a comedy, should not the jokes be what you remember most?
Like Shaun of the Dead, I found this movie entertaining to some degree, but kept waiting for it to really get funny. Also like Shaun of the Dead, it never does. In real British classic comedies, like A Fish Called Wanda, many lines jump out at you and you remember them for a long time. Not one piece of dialogue in Hot Fuzz stayed with me afterwards.
Reviewed on:
May 20th, 2009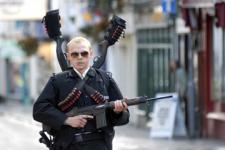 Angel returns to Sandford.
I was thoroughly entertained by Hot Fuzz. I enjoyed nearly everything about it. My one complaint is that the climax goes on a bit too long. I really liked the characters of Angel and Butterman and I'm glad they took the time to let us get to know them before the mayhem starts. I agree that it is not really a laugh out loud comedy but I chuckled quite a bit. Edgar Wright is like a sillier, British Quentin Tarantino and like Scott I love how he pays tribute to American cinema. Of course it pays homage to the buddy flick but it also parodies the wholesome American suburb that is hiding a dark secret. It's no coincidence that the village is named Sandford, think Stepford. My favorite moment was when Angel returns to the village right before the big shoot-out. Here they honor that most American of all genres, the western. Eric, you sell this movie way short. Hot Fuzz is great entertainment.
Photos © Copyright Rogue Pictures (2007)
Related Reviews