Movie Review
Grabbers
Last call at the bar.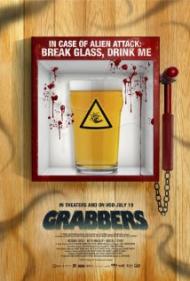 Ireland Release Date: 08-10-2012
Directed by: Jon Wright
Starring
▸
▾
Richard Coyle

,

as

Garda Ciaran O'Shea
Ruth Bradley

,

as

Garda Lisa Nolan
Russell Tovey

,

as

Dr. Adam Smith
Lalor Roddy

,

as

Paddy Barrett
David Pearse

,

as

Brian Maher
Bronagh Gallagher

,

as

Una Maher
Pascal Scott

,

as

Dr. Jim Gleeson
Clelia Murphy

,

as

Irene Murphy
Louis Dempsey

,

as

Tadhg Murphy
Micheal O'Gruagain

,

as

Father Potts
Ned Dennehy

,

as

Declan Cooney
Stuart Graham

,

as

Skipper
Killian Coyle

,

as

Deckhand Greg
Michael Hough

,

as

First Mate Roy
Jonathan Ryan

as

Sergeant Kenefick

Reviewed on:
April 28th, 2014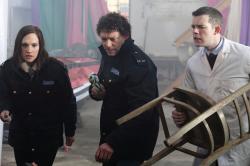 Ruth Bradley, Richard Coyle and Russell Tovey in Grabbers
The most obvious thing to note about Grabbers is that it was clearly inspired by Tremors (1990), which features distinctly American characters such as the cowboy and baseball hat wearing handymen and the paranoid survivalists. Grabbers is an Irishmen's dream in that being drunk is the way to survive. The creatures in Tremors were fought with guns and explosives while grabbers were fought with lots of consumed alcohol.
After an apparent meteor lands in the ocean just off the coast of a small Irish town, octopus type creatures start attacking and killing the local populace. Richard Coyle plays local law enforcement Garda Ciarán O'Shea. He, along with his new officer, Lisa Nolan, played by Ruth Bradley and scientist Dr. Adam Smith, played by Russell Tovey, determines that the creatures can be hurt by alcohol and killed by it if mixed with human blood. The only solution is then determined to get everyone in town completely shit faced drunk.
Trying not to panic the unsuspecting citizens, O'Shea and Nolan go into a church and tell everyone they are having a party at a local tavern. The congregation hems and haws until O'Shea announces it's a free bar, resulting in a much cheerier reception. With the locals all getting drunk inside, baby Grabbers come visiting while, O'Shea and Nolan due battle with their over grown mother.
One of the best things about Tremors is the humor and Grabbers, although not as funny, has its moments, such as when Nolan asks a drunken O'Shea, "You're going to ride a horse while intoxicated?" And he responds, "Yeah, so? The horse is sober." My favorite moment is when Dr. Smith argues with a drunk local who survived an attack.
It even tries for a wee bit of drama. We hear of O'Shea's back story and we have a hint of romance between him and Nolan. In between moments of O'Shea and Nolan dancing about each other, we have scenes of the creature attacking people. It likes to leave the head for them to find.
Grabbers was filmed on location and makes this little seaside village look like an idyllic quiet place to get away from it all. As Tremors took place in a desert valley surrounded by mountains, Grabbers takes place on a small island. As Nolan notes at one point, "It's the quiet places where all the mad shit happens."
Grabbers certainly has its charm but it lacks the easy going pace and humor of Tremors.
Photos © Copyright Forward Films (2012)
Related Review