Movie Review
The Broadway Melody
The new wonder of the screen!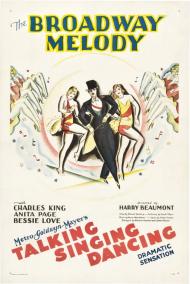 US Release Date: 06-06-1929
Directed by: Harry Beaumont
Starring
▸
▾
Charles King

,

as

Eddie Kearns
Anita Page

,

as

Queenie Mahoney
Bessie Love

,

as

Hank Mahoney
Jed Prouty

,

as

Uncle Jed
Eddie Kane

,

as

Francis Zanfield
J. Emmett Beck

,

as

Babe Hatrick
Edward Dillon

,

as

Stage Manager
Blanche Payson

,

as

Wardrobe Lady
Ray Cooke

,

as

Bellhop
Drew Demorest

,

as

Costumer
Kenneth Thomson

,

as

Jock Warriner
Marshall Ruth

,

as

Stew - Mr. Zanfield's Assistant
Mary Doran

,

as

Flo
Nacio Herb Brown

,

as

Pianist
Arthur Freed

as

Bystander in Rehearsal Room

Reviewed on:
February 19th, 2013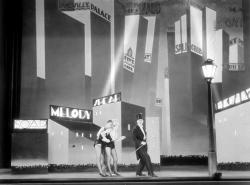 Anita Page, Bessie Love and Charles King in The Broadway Melody.
Historically speaking, The Broadway Melody is a very important motion picture. Released just 16 months after The Jazz Singer revolutionized the industry, it is considered the very first true movie musical. It was the first to establish the trappings of the backstage musical and it was the first movie to have a score composed for it. Arthur Freed and Nacio Herb Brown wrote such classics as the title song, "You Were Meant For Me" and "Wedding of the Painted Doll". All three of which would be famously recycled for Singin' in the Rain 23 years later. This was also the first movie to feature the George M. Cohan classic "Give My Regards To Broadway", which plays over an aerial establishing shot of Manhattan. A brief clip of the title number was included in MGM's 1974 retrospective That's Entertainment!
Anita Page and Bessie Love play a small time sister act trying to make it in the big time on Broadway. Love is the older, plainer and more talented sibling while Page is the pretty, younger one. They both fall for the same guy, a gregarious song and dance man played by Charles King. The plot is clunky and the acting lacks polish but The Broadway Melody was very innovative at the time. It launched the first movie musical craze that lasted until the end of 1930 and wouldn't return for a second go round until 42nd Street in 1933. This movie also included a two-strip Technicolor sequence that became all the rage. For the next year or so nearly every musical had to include at least one color musical number. The "Wedding of the Painted Doll" number was filmed in color but that print has been lost so the version that is available today has the number solely in black and white.
The Broadway Melody was made while the 20s were still roaring. It was released in February 1929, the same month as the infamous gangland St. Valentine's Day Massacre in Chicago and the same month during which the movie Some Like It Hot takes place. Like Sugar Kane in that movie Bessie Love's character plays a ukelele in several scenes. The stock market crash that launched the Great Depression was still 8 months away.
Although it is incredibly primitive and dated from today's perspective, The Broadway Melody was the top grossing movie of 1929. At the second annual Academy Award's banquet held in the splendid Cocoanut Grove at the Ambassador Hotel on April 3, 1930, The Broadway Melody was named Best Picture. It was the first talkie as well as the first musical to win this most prestigious of movie awards. Dubiously, it also became the first movie to win the top prize without taking home any other Oscars, although Bessie Love was nominated for Best Actress (she lost to Mary Pickford in Coquette) and Harry Beaumont for Best Director (he lost to Frank Lloyd for The Divine Lady).
I found it interesting that this movie includes an obviously gay character. The costume designer for the big show makes hats for the chorus girls that are too high and wide to fit through the dressing room doors. The simpering costumer explains to the wardrobe lady, "Well big woman, I designed the costumes for the show, not the doors for the theater." She snaps back, "I know that. If you had they'd have been done in lavender."
The big time Broadway producer played by Eddie Kane is named Francis Zanfield, an obvious riff on Florenz Ziegfeld. Another character is named Jock Warriner which intentionally sounds like Jack L. Warner, the then head of Warner Bros., MGM's biggest rival. In style and plot The Broadway Melody is a creaky relic. Nonetheless its importance in motion picture history is undeniable.

Reviewed on:
June 21st, 2014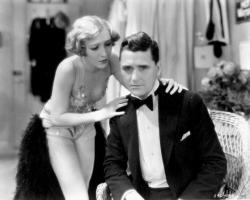 Bessie Love and Charles King in The Broadway Melody
Anita Page and Bessie Love are a delight. In their first scene we learn that Hank is the feisty one while Queenie is not so bright, "What are calories?" They stiff the bellhop and Hank tells Queenie that their names will be on billboards like a BVD ad. Queenie says to herself, "The Mahoney sisters in BVDs." (BVDs were a popular men's underwear brand) Their uncle pops in to warn them of how tough a town New York can be but Hank tells him, "We aren't leaving this town until we get a glimpse of Babe Ruth and Grant's Tomb."
Eddie also stops by and the sappy love triangle begins. Hank is in love with Eddie, who has eyes for Queenie, who starts dating Jock Warriner, who just wants Queenie for sex. Hank eventually realizes that Eddie loves Queenie. This allows Bessie Love to play the brave, wounded sister. She cries and laughs, getting her sister and the man she loves together.
There is some entertainment to be found here. Hank gets into a cat fight with a chorus girl, "Next time I'll give you a facial instead of a scalp treatment!" I laughed when the stage hand in the rafters places the spotlight where he is told to by an actor. You have to see it. It is a visual joke. I think one reason these early back stage musicals were popular was because they often featured girls in some state of undress or scantily clothed.
The theme song, "Broadway Melody" is constantly played. By the time we get to the third scene we have heard the song three times, a different verse in the first two scenes and on the piano in the third. We, of course, hear it again later performed by Charles King with a chorus of dancing girls. The song, written by Nacio Herb Brown and Arthur Freed, has had a longer shelf life than this movie. It can be heard in the many other films in the series.
Although this film won the Academy Award for Best Picture and was the top grossing movie of the year, The Broadway Melody is pure hokum. As Patrick wrote, it is hopelessly dated, making this film more of a statement about when it came out than an example of a great film. Check the scene with Bessie Love strumming the ukulele and dancing, if that is what you can call it. This one is for history classes and film buffs.
Reviewed on:
January 7th, 2015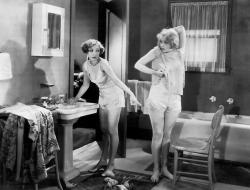 Bessie Love and Anita Page get undressed (often) in The Broadway Melody.
I agree with Eric. Page and Love are a delight. Their chemistry together is the best thing this movie has going for it. The feisty sisters start off like the original two broke girls and they share a nice, sisterly comic chemistry together. Of all the elements in this film, they are the two that have aged the best. Unfortunately, as my brothers pointed out, the plot gets creaky when it moves into the love triangle portion of the story.
Although I also agree that some of the acting is unpolished, Love earned her Academy Award acting nomination. She's not only feistily funny, but gets to show some dramatic chops in the scene after she learns that her boyfriend is in love with her sister. Her restrained reaction at the film's climax when greeting her sister and Eddie upon their return is one of the few scenes that is able to generate some genuine emotion. Page may have been cuter and more voluptuous, but Love out acts her.
And speaking of bodies, as Eric said, this film takes every chance possible to get these girls to remove their clothing. It's all very innocent by today's standards, but the amount of undressing here would never have been allowed just a few years later once the Production Code began being enforced.
As Patrick noted, there was a musical spree in Hollywood around this time. According to Turner Classic Movies, there were over 75 full length musicals released by the studios in 1929 alone. You can tell they were still working the kinks out of the concept here. While most of the songs take place on stage, there's one song sung not as a performance, but person to person as in a sung through musical. It's sort of an odd moment that stands out simply because it's the only one sung in this manner. Other songs, as in the case of many early musicals, are performed as part of a musical revue and are performed sequentially without break. It was as if Hollywood, silenced for so long, was trying to get as much sound on the screen as it possibly could. People speak of the talkies, but singing had as much to do with the advent of sound as conversation did.
Historically I agree that this film is important, but as my brothers wrote, it hasn't aged very well. Without taking the historical context into account it would be impossible to imagine that it won the Best Picture award. It surely must be the most frivolous film to ever hold that honor.
Photos © Copyright MGM (1929)
Related Review