Movie Review
Broadway Melody of 1938
All singing, all dancing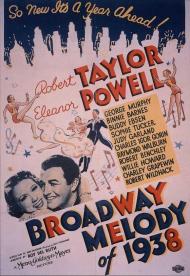 US Release Date: 08-20-1937
Directed by: Roy Del Ruth
Starring
▸
▾
Robert Taylor

,

as

Steve Raleigh
Eleanor Powell

,

as

Sally Lee
Buddy Ebsen

,

as

Peter Trot
Sophie Tucker

,

as

Alice Clayton
Judy Garland

,

as

Betty Clayton
George Murphy

,

as

Sonny Ledford
Binnie Barnes

,

as

Caroline Whipple
Charles Igor Gorin

,

as

Nicki Papaloopas
Charley Grapewin

,

as

James K. Blakeley, Trainer
Robert Wildhack

,

as

The Sneezer
Billy Gilbert

,

as

George Papaloopas, Barber
Barnett Parker

,

as

Jerry Jason, Brown's Receptionist
Raymond Walburn

,

as

Herman J. Whipple
Robert Benchley

,

as

Duffy, Raleigh's P.R. Man
Willie Howard

,

as

The Waiter
Carole Landis

as

Chorus Girl
Reviewed on:
April 9th, 2003
Judy Garland sings to Dear Mr. Gable.
Broadway Melody of 1938 has something for everyone, great songs, energetic dance numbers, horse-racing, ambitious Broadway producers, wide-eyed ingénue's, old-time Vaudeville troupers, a breezy baritone, tap dancers, young hucksters and even a sneeze expert. Apparently MGM didn't want to leave anyone or anything out of this musical extravaganza.
Steve Raleigh (Robert Taylor) yearns to produce a show on Broadway. He manages to secure a backer and a star-struck leading lady, Sally Lee (Eleanor Powell). But problems arise when the backer's wife insists on a proven star instead of the newcomer. The cliché ridden plot also involves a horse that Sally purchases (she used to train the animal on her parents farm before the depression), and with two ex-vaudevillians, Sonny Ledford (George Murphy) and Peter Trot (Buddy Ebsen) she trains it to win a race, therefore providing the money Steve needs for his show.
The story also contains several subplots. One involves a young singer named Betty Clayton (Judy Garland) and her stage mother and former Broadway star Alice Clayton (Sophie Tucker). Garland gets a few good numbers, most famously her ode to the King of Hollywood. "Dear Mr. Gable, I am writing this to you, and I hope that you will read it so you'll know…" Sophie Tucker does a nostalgic version of her classic 'Some of these Days' proving why she was known as 'The Last of the Red Hot Mama's'. And yet another subplot involves a promising young Italian opera singer and his stereotypically Italian uncle.
Musicals were evolving during the nineteen-thirties and MGM was leading the way. Technicolor hadn't yet become common, but a recent innovation was that musical numbers no longer had to make sense story-wise. Now a character was free to break into song or start dancing anytime and anyplace.
Overall this one is mediocre, but it is worth checking out for the talents of Judy Garland and Eleanor Powell, the greatest female singer and the greatest female dancer (respectively) that The Movies ever produced.
Photos © Copyright MGM (1937)
Related Review