Movie Review
Bringing Up Baby
Classic screwball comedy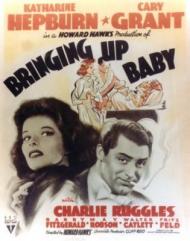 US Release Date: 02-18-1938
Directed by: Howard Hawks
Starring
▸
▾
Katharine Hepburn

,

as

Susan
Cary Grant

,

as

David
Charles Ruggles

,

as

Major Applegate
Walter Catlett

,

as

Slocum
Barry Fitzgerald

,

as

Mr. Gogarty
May Robson

,

as

Aunt Elizabeth
Fritz Feld

,

as

Dr. Lehman
Leona Roberts

,

as

Mrs. Gogarty
Ward Bond

,

as

Motorcycle Cop at Jail
Jack Carson

as

Circus Roustabout

Reviewed on:
April 12th, 2003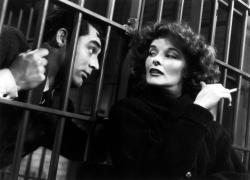 Cary Grant and Katharine Hepburn in Bringing Up Baby.
Bringing Up Baby is a truly hilarious movie that weaves an enchanting spell, similar in spirit and style to It Happened One Night (only much sillier). Cary Grant and Katharine Hepburn match each other verbal spar for verbal spar and the manic pace never lets up. Howard Hawks directs with skill and aplomb, keeping the zaniness and frenetically absurd plot twists coming in such rapid succession that the viewer never has a chance to question the outlandish situations. Don't try to make sense of the characters populating this ridiculous world, just sit back and get ready to laugh.
Cary Grant is David, a mild mannered and slightly befuddled paleontologist. As the movie opens he is engaged to a control freak named Alice, is anxiously awaiting the arrival of the final bone in a Brontosaurus skeleton he has been painstakingly assembling and is trying to land a million dollar grant to continue his archaeological studies. But then he meets Katharine Hepburn's Susan, a spoiled, self-absorbed, scatterbrained, manipulative heiress. She is really more of a force of nature than a person and it is not until later in the movie that she exhibits any endearing qualities at all. Susan completely takes over David's life. Through a series of escalating outrageous misadventures that include - but are not limited to - a pet leopard, a stolen automobile, an annoying dog that buries the dinosaur bone, a pompous big game hunter, a slightly sinister psychiatrist, and a wild leopard that escapes from a traveling circus and gets confused with the tame leopard.
What makes Bringing Up Baby so great is the nonstop tension and chemistry between the two leads; Grant helplessly trying to make sense of the insane goings on while Hepburn streaks along at breakneck speed arguing childishly with any and everyone she meets.
The dialogue is priceless, whether it's Grant's frustrated cries of - "I'll be with you in a minute Mr. Peabody!" or Susan ludicrously stating - "There is a leopard on your roof and it's my leopard and I have to get it and to get it I have to sing." or when she breaks out with her trilling shrill of a laugh. And then there is my favorite line of all, Cary Grant in a flouncy bathrobe shrieking - "Because I just went gay all of a sudden!"
Fans of the Barbra Streisand classic What's Up, Doc? will be pleasantly surprised to see where many of that movies funny ideas originated.

Reviewed on:
April 18th, 2003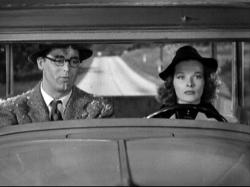 Cary Grant and Katharine Hepburn in Bringing Up Baby.
I don't care how many awards Meryl Streep gets nominated for or wins. She can break Katharine Hepburn's Oscar record all she likes. I will never consider her a greater actress than Hepburn because of Bringing Up Baby. Streep has never done a great comedy. Postcards From the Edge was a mediocre chick flick comedy at best.
Bringing Up Baby is that rare comedy where the female lead gets all the good jokes. Cary Grant is the quintessential straight man here. Hepburn is the dizzy whirlwind that spins this story into a comedic frenzy. As Patrick wrote; she is "a force of nature" in this movie. At first I was not sure if her character, Susan is actually crazy or just a real obnoxious extrovert.
Also, as Patrick wrote, the chemistry between the two leads is impeccable. They play off each other perfectly. It is probably why they did two later movies together, Holiday and The Philadelphia Story.
Not only were many parts of Bringing Up Baby ripped off in What's Up, Doc?, it was also copied by Who's That Girl?. Barbra Streisand and Ryan O'Neal had the chemistry to make What's Up, Doc? work, however, Madonna and Griffin Dunne just didn't have the charm. They even kept the leopard in the story line, but the movie still stinks. Bringing Up Baby is the first and best of these movies.
Everyone remembers Hepburn as a great dramatic actress. With Bringing Up Baby she proves that she was also a great comedic actress. Even with all of her accented roles, Meryl Streep has yet to demonstrate that.
Reviewed on:
September 20th, 2005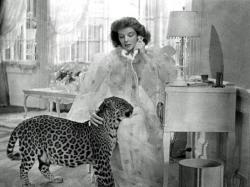 Katharine Hepburn with Baby in Bringing Up Baby.
Bringing up Baby is one of those movies that I always meant to see, but never seemed to get around to it. Well finally, I got the chance and I have to say it was well worth the wait. It is truly a classic screwball comedy.
Like Eric, I was impressed by Hepburn's comedic powers since she is best remembered as a powerful dramatic actress, but here she is enchantingly comic, although I do disagree that Grant is merely the straight man. While Kate might get the more overtly funny lines, Cary still slips in some very funny stuff. The dinner scene where he keeps getting up from the table to follow George the dog around is precious.
Having been a fan of What's up Doc for many years, I did enjoy spotting the many plot elements that were lifted from this film. The one thing this movie doesn't have that Doc did, is of course Madeline Kahn. In Baby, the equivalent role is played completely straight with no redeeming features, whereas Kahn steals that later movie.
Every now and then it seems, a modern filmmaker will try to remake a screwball comedy, but they never seem to work. Apart from Doc in the 70s, it seems to be a lost art, which is a pity. But maybe it's time to try again.
Photos © Copyright RKO (1938)
Related Reviews