Movie Review
Brick Mansions
Undercover and never Outgunned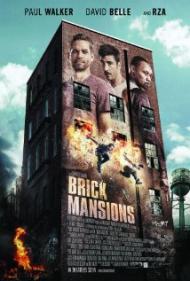 US Release Date: 04-25-2014
Directed by: Camille Delamarre
Starring
▸
▾
Paul Walker

,

as

Damien Collier
David Belle

,

as

Lino
RZA

,

as

Tremaine Alexander
Gouchy Boy

,

as

K2
Catalina Denis

,

as

Lola
Ayisha Issa

,

as

Rayzah
Carlo Rota

,

as

George the Greek
Andreas Apergis

,

as

Berringer
Richard Zeman

,

as

Major Reno
Robert Maillet

,

as

Yeti
Bruce Ramsay

,

as

Mayor
Frank Fontaine

as

Grandfather Collier

Reviewed on:
April 30th, 2014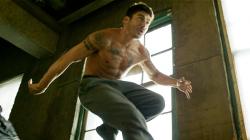 David Belle in motion is classic film making not seen since silent films.
Brick Mansions is a remake of Luc Besson's and Pierre Morel's French hit District B13 (2004). It found a large European audience but not an American one. This English language make over slightly changes some details but by no means improves upon the original product.
It takes place in a not too hard to imagine Detroit of the near future, where a crime ridden neighborhood, called Brick Mansions, has been walled off from the rest of the city. To leave or enter you must go through a check point. A gang, controlled by Tremaine Alexander, runs the place, selling drugs and enforcing his rules with gun toting members.
Lino lives there, and fights crime in his own way. The movie opens with some men chasing after him as he just destroyed a large shipment of their cocaine. David Belle runs through hallways, stairwells and over buildings, fighting off and avoiding his pursuers. As with the original movie, it is the film's best moment. Lino ends up arrested by police and his girlfriend, Lola, abducted by Tremaine.
Meanwhile, Damien Collier, a Detroit undercover police officer with a grudge, is given the assignment to team up with Lino and find a bomb that has been is stolen and taken into Brick Mansions. Damien wants revenge on Tremaine, while Lino wants to rescue Lola. We are quickly put into the action, and it rarely lets up. This makes for a decent pace, but little characterization.
The entire film has a depressing tone about it. The fact that this takes place in the recently bankrupt city of Detroit adds a level of haunting realism. It creates a similar feeling every time Paul Walker jumps into a car. Did he always make movies where there was a car chase?
Although the selling point for this film is Walker, David Belle is the best thing about it. The opening scene with Belle doing Parkour, which Belle invented, steals the film and it never again comes close to being as exciting. There is one moment worth a smile when Belle and Walker are being chased and Belle does a maneuver that propels himself over a wall while Walker looks on in amazement. David Belle is reminiscent of a classic silent film star. Like Douglas Fairbanks or Buster Keaton, the movie comes to life whenever he is in motion.
With the action being the focus, there is little emotional connection to anything going on with these people. There is no chemistry between Lino and Lola. They may as well have been siblings as they were in the original film. The biggest detriment to the entire proceedings is the clunky dialogue that these actors are forced to recite.
The only time in the entire film that I felt any emotion was after the film ended and we are shown a photo of Walker with the simple caption of "In Loving Memory."
Photos © Copyright Brick Mansions Productions (2014)
Related Review