Movie Review
Be Yourself!
US Release Date: 02-08-1930
Directed by: Thornton Freeland
Starring
▸
▾
Fanny Brice

,

as

Fannie Field
Robert Armstrong

,

as

Jerry Moore
Harry Green

,

as

Harry Field
G. Pat Collins

,

as

McCloskey (Mack)
Gertrude Astor

,

as

Lillian
Budd Fine

,

as

Step
Marjorie Kane

,

as

Lola
Rita Flynn

as

Jessica


Reviewed on:
January 16th, 2015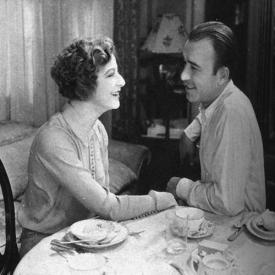 Fanny Brice and Robert Armstrong in Be Yourself
The only thing I ever really knew about Fanny Brice, before watching this, was what I saw in Funny Girl (1968) and Funny Lady (1975). When this film was made it was more during Brice's Funny Lady time period. Brice made her film debut in 1928's My Man, whose title song is the finale number in Funny Girl. There is not a complete copy of My Man known to exist, making Be Yourself! her earliest available work. Brice made only a handful of films and this one captures her at her best.
Brice plays a night club singer who has eyes for a shy acting lug, Jerry, who often comes to see her perform. I laughed when she literally knocks another girl away from her man's table. Brice also has to deal with the admiration of a notable boxer, Mack, who likewise comes to her shows. After one of her performances, the two men get into a fight, with Jerry making quite an impression. Before you can say "The Main Event" Fanny, with the help of her lawyer brother, is financing and managing Jerry's boxing career.
I could not watch this film without thinking of Barbra Streisand. After seeing this movie, I have a greater appreciation for her performance as Brice. Streisand had her mannerisms and facial expressions down pat. Clearly the Funny Lady filmmakers studied Be Yourself before making their movie. Some of Streisand's costumes and musical performances are obviously influenced by some of what we see here. The most notable moment though, is when Jerry says to Fanny, "You're a funny girl, Fanny". One of my favorite jokes is when Fanny talks to Jerry about his drinking. "It's a racket." Jerry complains. Fanny comes back with, "So's tennis but ya gotta be sober to play it."
What separates Brice from Streisand is that Brice was a much braver comedienne while Streisand is a much better chanteuse. Brice embraced her awkward looks and was not afraid to look absurd in order to garner a laugh. Streisand has spent much of her career trying to seem as attractive as possible. Brice never embarrasses herself in song but she does not have Streisand's voice.
Be yourself! is a delightful comedy showcasing Brice's comedic, vocal and acting talents. It is also a must see for Streisand fans interested in just how good she actually was playing her. I am utterly shocked that my brother Patrick has yet to review it.
Reviewed on:
January 17th, 2015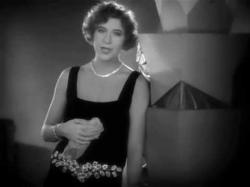 Fanny Brice in Be Yourself!.
Despite being a huge lifelong Barbra Streisand fan, I have never delved too deeply into the career of Fanny Brice. I have seen the three pictures she made for MGM: The Great Ziegfeld, Everybody Sing, and Ziegfeld Follies but I was previously unaware of Be Yourself! Although Brice was a huge star of stage and radio, she never really made it as a movie star.
Of those three movies she made for MGM, only one gave her a substantial part. In Everybody Sing she plays Judy Garland's maid and they memorably share a duet with Brice as Baby Snooks. In the other two pictures she plays herself in cameo roles. Therefore I was pleasantly surprised to watch Be Yourself!, her sole surviving starring role on film.
As Eric said, there are many parallels between the careers of Brice and Streisand. Both were rather odd looking women with natural comedic talents, plenty of charisma, and impressive singing voices. No other performer could have captured Brice's unique talents like Barbra did on stage and on screen.
I was unaware of just how closely they copied certain performances that Brice does in this movie in both Funny Girl and Funny Lady. Brice performs a comical number where she plays a swan who gets shot by a hunter. In Funny Girl this became the famous Swan Lake Ballet number. The gospel tinged, "Great Day" in Funny Lady was clearly inspired by the "Kickin a Hole in the Sky" number, even copying the staging with Brice at the top of some stairs while her chorus sings on the stage below. Also, as my brother wrote, the gowns that Bob Mackie designed for Funny Lady were clearly modeled after the outfits worn by Brice in this film. Clearly the makers of those two biopics did their homework and seeing Be Yourself! adds to the veracity of the two Streisand pictures.
The plot to Be Yourself! is fairly generic but it does contain some humor. I laughed at Brice's lawyer brother. He brags about winning his first case, although he earned just three cents, and he's constantly looking to sue anyone he can. Yes, he's a walking, talking Jewish stereotype but then so was Brice in some ways (and Streisand too for that matter).
Her costar, Robert Armstrong would go on to screen immortality a few years later playing intrepid filmmaker Carl Denham in King Kong. The rest of the supporting cast is filled with faces that would have been familiar with movie audiences of the day, but Be Yourself! is first and foremost a showcase for Fanny Brice. It is the best surviving record of her very original talents and a must see for Streisand fanatics everywhere.
Reviewed on:
November 29th, 2015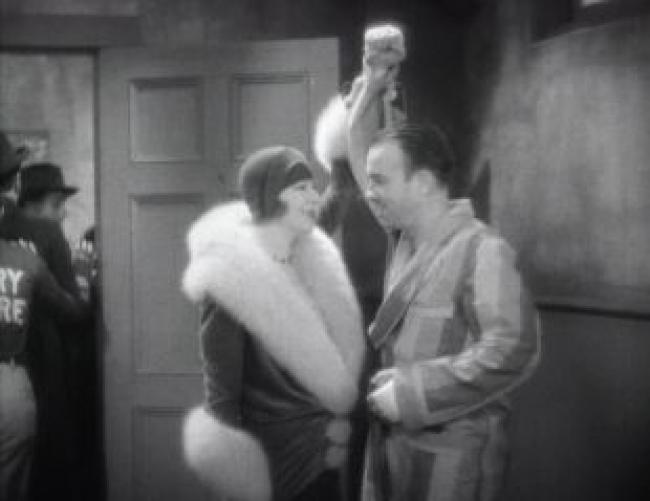 Fannie Brice and Robert Young in Be Yourself!.
Like my brothers, and I suspect most people these days, my knowledge of Fanny Brice comes from Funny Girl and Funny Lady. Brice was a huge star on stage, in both the Follies and in shows produced and written by her third husband, Billy Rose. In fact, he wrote all of the songs featured in this movie. She would later find even more fame on the radio doing her Baby Snooks character. Her movie career however, as Patrick indicated, was less than successful.
Warner Bros. hired Brice to star in My Man, intending for it to be the female version of The Jazz Singer. It wasn't a hit, despite featuring all of her most well known songs, including "I'd Rather Be Blue", "Second Hand Rose", and the title song. United Artists signed her to a two picture deal, of which this one, the oddly titled Be Yourself! (Why the exclamation point?) was to be the first. It flopped so hard they never made the second film. Over the course of her whole career, she only made 8 movies and would confess later in life that she never felt comfortable in front of a camera.
Although I doubt her discomfort is what lead to her failed movie career. Even now, 85 years later, Hollywood still has trouble making movies where the leading lady isn't conventionally good looking. If Streisand had completely embraced her awkward looks, as Eric suggested, and not attempted to make herself beautiful, she too might have had a great career on radio.
The failure of this movie certainly is no indication of a lack of talent. Brice may have felt uncomfortable, but she doesn't look it. She sings, is funny, and even acts well enough. She's better than the material, which is cliched and creaky, even for a movie made in 1930. And that's the film's biggest problem. It's obvious where it's going from the very start. The romance is also lackluster. Brice sells it with a tragic love song, but Robert Young plays his side of the love affair like a cold fish. I wasn't exactly pining to see the two of them reunited. Harry Green, as Fannie's fast talking, oh-so-very-Jewish, lawyer brother provides a few laughs even if they are, as Patrick said, all based on stereotypes.
I could find no proof online that The Main Event was in any way based on this movie, but the search did reveal plenty of speculation among Streisand fans. I can only assume that Streisand, in her research into the part of Fanny Brice, was at least aware of this movie. It seems far too much of a coincidence for that not to be the case. If it's true, somehow I don't think Brice would have minded. Indeed, she should be grateful. Streisand has kept Brice's memory alive long after it would otherwise have been forgotten.
Photos © Copyright Joseph M. Schenck Productions (1930)
Related Reviews