Movie Review
Funny Girl
People Who See Funny Girl Are The Luckiest People In The World!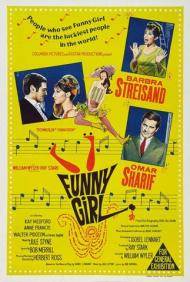 US Release Date: 09-19-1968
Directed by: William Wyler
Starring
▸
▾
Barbra Streisand

,

as

Fanny Brice
Omar Sharif

,

as

Nick Arnstein
Kay Medford

,

as

Rose Brice
Anne Francis

,

as

Georgia James
Walter Pidgeon

,

as

Florenz Ziegfeld
Lee Allen

,

as

Eddie Ryan
Mae Questel

,

as

Mrs. Strakosh
Gerald Mohr

,

as

Branca
Frank Faylen

as

Keeney

Reviewed on:
September 19th, 2001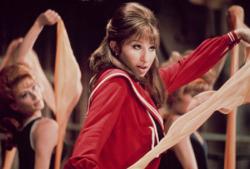 Barbra Streisand in Funny Girl.
One of the most auspicious movie debuts in Hollywood history. The then 26 year old Barbra Streisand fresh from her hugely successful Broadway run; her Emmy winning television specials; her Grammy winning gold albums and her attendance record setting Central Park concert. That she was able to take this success and translate it into movie stardom as well, is still unparalleled in the industry.
This film tells the story of vaudevillian Fanny Brice who, like Streisand, was a homely Jewish girl from Brooklyn with a big voice and comedic gifts. From her humble beginnings to her meteoric rise to fame through her marriage to Nick Arnstein (Omar Sharif).
The songs 'Don't Rain on My Parade', 'I'm the Greatest Star', 'My Man' and of course 'People' are classic. All delivered with that distinctive Streisand belt.
The legendary William Wyler of The Best Years of Our Lives and Ben Hur, directs. This is the only musical he ever made.
Barbra is pure talent, pure chutzpah, pure movie star. That rare thing in Hollywood an 'original'.
Funny Girl was a big hit at the box office and it surprised very few when Streisand's name was announced at the Academy Awards as Best Actress. This film will make you laugh, cry and sing along.

Reviewed on:
September 19th, 2002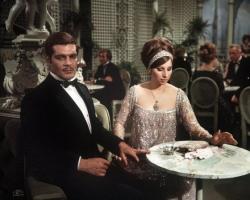 Barbra Streisand and Omar Sharif in Funny Girl.
Although I do not worship at the altar of Barbra Streisand as Patrick does, I do acknowledge that she can sing, and, in this movie anyway, act.
Omar Sharif plays her boyfriend/husband, but there is no chemistry. For that, see The Way We Were. Sharif's exotic, foreign look and accent go with Streisand's nasal Brooklynese like potatoes and lasagna. I laughed the first time I saw the roller-skate rag number. I was moved by her 'My Man' song.
Yes, this is one on the best demonstrations of sheer talent ever put on film. Which means simply this; if you like Barbra Streisand, then you'll love this movie. For anyone else, stay away.
Reviewed on:
September 19th, 2003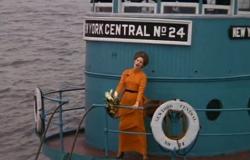 Barbra Streisand in Funny Girl.
One of the last of the old school Hollywood Musicals, Funny Girl stands as one of Barbra's best films. And I don't think you necessarily have to be a fan of hers to enjoy this movie, like you do to enjoy her later works, where her footprint is all over the thing.
Now certainly, if you are not a fan of musicals, this isn't the film for you. But bar that, there is little here to keep you from enjoying it.
As Patrick pointed out, there are some classic songs, some good laughs, and real emotion in this movie. Unlike it's sad sequel, which had none of those things.
The only problem I had with this movie, was its length. A little shorter, a little tighter, and I think it would have worked even better.
Oh, and I must just point out that when Barbra won her Oscar for Funny Girl, she did in fact tie with Katharine Hepburn. Something that did, I'll bet, surprise a few people.
Photos © Copyright Columbia Pictures (1968)
Related Reviews