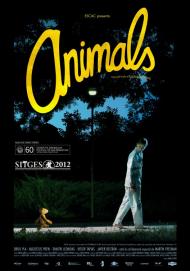 Spain Release Date: 10-26-2012
Directed by: Marcal Fores
Starring
▸
▾
Oriol Pla

,

as

Pol
Augustus Prew

,

as

Ikari
Dimitri Leonidas

,

as

Mark
Roser Tapias

,

as

Laia
Javier Beltran

,

as

Llorenc
Martin Freeman

,

as

Albert
Maria Rodriguez Soto

,

as

Clara
Katia Klein

,

as

Silvia
Mia Lacostena

as

Sara

Reviewed on:
November 25th, 2014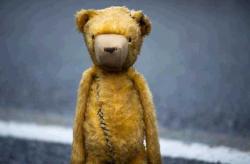 Deerhoof in Animals.
For anyone needing a reference point, Animals shares one major similarity with the Seth MacFarlane movie Ted, which coincidentally was released in the same year as Animals. Both movies feature a main character with a talking Teddy Bear best friend. But that is where any similarity ends. Whereas Ted is a mainstream comedy/fantasy, Animals is a dark, sad, haunting film, closer in tone and theme to Donnie Darko. Another major difference from Ted is that instead of using CGI, the Teddy Bear in Animals is a real puppet filmed the old fashioned way (see photo). Animals is dreamlike. It's essentially a coming of age story in which the protagonist is afraid of growing up. His Teddy Bear symbolizes this inner conflict in a very literal way.
Pol is 17, he lives with his older brother and a secret - he still talks to his childhood Teddy Bear named Deerhoof. And not only that, Deerhoof talks back and even plays the drums in Pol's band. While Pol and almost everyone else in the movie speaks Catalan, Deerhoof speaks English. His voice is computerized and he sounds a bit like HAL from 2001. The only other person who knows about Deerhoof is Pol's older brother. At one point in an attempt to help Pol, his brother buries Deerhoof in their backyard.
Pol and Deerhoof play in the woods together. Christopher Robin and Winnie the Pooh in the Hundred Acre Wood they're not. They discuss comic books, music and philosophy. Even Pol's closest friends in school know nothing of Deerhoof. Eventually Pol realizes that he must grow up and he reluctantly gets rid of his bear in a very dramatic fashion. Around this time he also begins a budding sexual relationship with the enigmatic-but-hot new boy in school. A classmate turns up dead in the nearby lake and the movie gets even darker as it goes along.
If you aren't a fan of ambiguous movies this one probably isn't for you. Animals doesn't explain itself but rather blurs the lines between reality and fantasy. It is left to the viewer's imagination whether or not Deerhoof is real. It is a hauntingly poetic film with beautifully shot cinematography. The setting with the woods, mountains and lakes is like a fairytale. As the title suggests animals play an important role in the story although just what the title specifically refers to is anybody's guess. Perhaps he's saying we're all animals and that sometimes instinct is stronger than rational thought?
The themes of death and sex are interwoven in a disturbing manner. Clearly Pol is a troubled young man and the movie offers very few clues as to exactly how he became this way. He spends the movie conflicted between his need for Deerhoof and his rejection of him. He pushes his childhood away with one hand while clinging desperately to it with the other. He's an innocent spirit ill-prepared for the intensity and complexity of sex and romance. Once these things enter his world he becomes an easily influenced victim. Oriol Pla plays Pol. He does a good job of revealing this sad young man's conflicted emotions.
Nearly the entire film is told from the point of view of the young characters. The only adult with speaking lines (apart from the older brother) is an English teacher played by Martin Freeman. There is a minor subplot involving a Columbine style school shooting that turns out unexpectedly. But it is the image of Pol and Deerhoof walking through the woods or playing music together that will stay with you. Anyone looking for a strange, intense, elegiac, entirely original film should see Animals.

Reviewed on:
December 3rd, 2014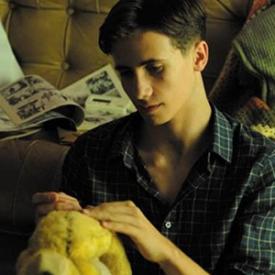 Oriol Pla in Animals
I did not care for Donnie Darko and laughed through much of Ted. Yes Patrick, as you commented, I did not like much of this film. The plot is made overly complicated and the narrative is all over the place. Worst of all is just how damn depressing the whole thing is.
The movie opens with a girl diving into a lake to swim with her friends. It takes far too long for her to surface, causing her friends to panic. We then meet Pol who likes to spend time in the woods being followed by a small yellow bear who talks to Pol. We have no idea what the girl in the lake has to do with Pol and we do not find out until later.
As Patrick wrote, Pol is afraid of growing up. His toy bear, Deerhoof, is his connection to his youth. We do not know if Deerhoof actually talks to Pol or is merely in Pol's imagination. Note that Deerhoof shows up whenever Pol is in need of companionship. Pol does not want to grow up. He is content strolling in the woods and playing guitar with just Deerhoof as company.
Pol's brother asks him about his conversations when he is alone, but Pol does not try to explain anything to him. Pol getting rid of Deerhoof is not something he wants to do but feels compelled by others to do. Pol's life seems to be one of doing what others expect of him. Pol has a brief sexual relationship with a new kid in school but it is the other boy who initiates the act and no details are given as to what they actually do. Pol explores some hetero sex when he puts his hand on his girlfriend's thigh and then moves it up to a distracting place.
I am not sure what Pol's sexuality is as he never seems too interested in it one way or the other. He always retreats to his teddy bear when life gets too complicated. The scene where Deerhoof walks up to a sulking Pol and hugs his leg is quite touching.
It is clear that Pol is in serious need of some psychological help. He seems lost in his own skin as well as the world around him. He is achingly adrift but the film never gives us much background on him and his parents. He and his brother are, for some reason, not close. Pol wants to hide from the uncertainty of adolescence, even though the people around him unintentionally try to pull him along.
The pacing is sometimes plodding but then something horrendous comes out of nowhere to shake us up. It was as if the film makers were making a point to keep us guessing and off balance. The lack of answers is frustrating. If a movie wants me to work this hard, I expect a huge pay off. Unfortunately there is not one. At best, it stays true to itself but it left me wondering why it went to all the trouble if this was how it was going to conclude.
Animals is sometimes touching yet sometimes confusing. Telling a story in a creative way does not necessarily make it a better film. The tone is too often dark and depressing. Pol is a moody teenager who is in serious need, but of what, I have no idea.
Photos © Copyright Artsploitation Films (2012)
Related Reviews