Movie Review
Zoolander 2
Long time no Z.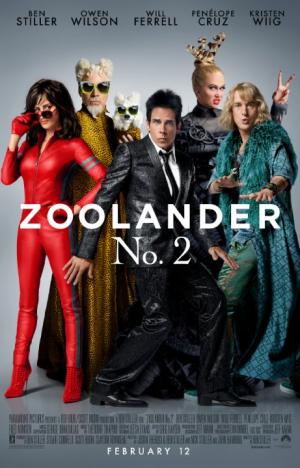 US Release Date: 02-12-2016
Directed by: Ben Stiller
Starring
▸
▾
Ben Stiller

,

as

Derek Zoolander
Owen Wilson

,

as

Hansel
Penélope Cruz

,

as

Valentina
Kristen Wiig

,

as

Alexanya Atoz
Will Ferrell

,

as

Mugatu
Justin Theroux

,

as

Evil DJ
Milla Jovovich

,

as

Katinka
Benedict Cumberbatch

,

as

All
Cyrus Arnold

,

as

Derek Zoolander Jr.
Christine Taylor

,

as

Matilda Jeffries
Fred Armisen

,

as

VIP
Kyle Mooney

,

as

Don Atari
Billy Zane

,

as

Billy Zane
Sting

,

as

Sting
Justin Bieber

,

as

Justin Bieber
Olivia Munn

,

as

Olivia Munn
Ariana Grande

,

as

Bondage Girl
Susan Sarandon

,

as

Susan Sarandon
Demi Lovato

,

as

Demi Lovato
Katy Perry

,

as

Katy Perry
Kiefer Sutherland

,

as

Kiefer Sutherland
Jerry Stiller

,

as

Maury Ballstein (archive footage)
John Malkovich

,

as

Skip Taylor
Anna Wintour

,

as

Anna Wintour
Lenny Kravitz

,

as

Lenny Kravitz
Neil deGrasse Tyson

,

as

Neil deGrasse Tyson
Kate Moss

,

as

Kate Moss
Lewis Hamilton

,

as

Lewis Hamilton
Karlie Kloss

,

as

Susan Boyle

,

as

Susan Boyle
Tommy Hilfiger

,

as

Tommy Hilfiger
Matt Lauer

,

as

Matt Lauer
Valentino Garavani

,

as

Valentino Garavani
Katie Couric

,

as

Katie Couric
M.C. Hammer

,

as

MC Hammer
Marc Jacobs

,

as

Marc Jacobs
Christiane Amanpour

,

as

Christiane Amanpour
Natalie Morales

,

as

Natalie Morales
Skrillex

,

as

Skrillex
Soledad O'Brien

,

as

Soledad O'Brien
Alexander Wang

,

as

Alexander Wang
Jim Lehrer

,

as

Jim Lehrer
Don Lemon

as

Don Lemon
Reviewed on:
February 16th, 2016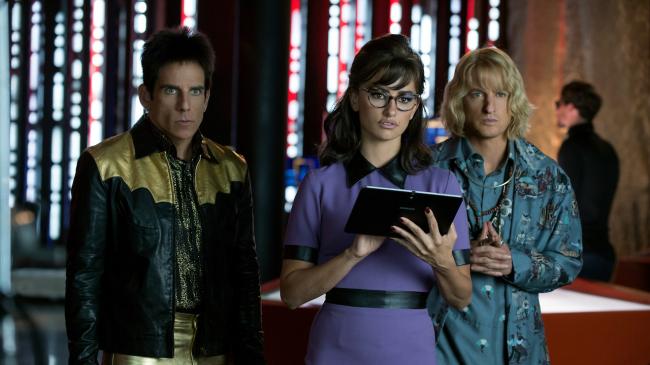 Ben Stiller, Penélope Cruz, Owen Wilson in Zoolander 2.
Although I only gave the original Zoolander a lukewarm review, the film has grown on me over the years. Its exuberant silliness makes it a light and funny watch. Apparently I'm not the only one to have a change of heart over it. It was poorly received critically when released and didn't exactly break the bank at the box office, even though it did achieve a profit. Being released 2 weeks after 9/11 certainly did it no favors. In the years since its initial release however, the film has gained something of a following and while I don't think anyone would ever declare it a work of art, its reputation has certainly increased. This is why, 15 years later, we're finally seeing a sequel.
In case you've forgotten, the film opens with a recap of the events that ended the first film and the subsequent events. Derek, after defeating the evil fashion designer Mugatu (Will Ferrell), had opened "The Derek Zoolander Center for Kids Who Can't Read Good and Who Wanna Learn to Do Other Stuff Good Too" with his wife Matilda (played by Stiller's real life wife Christine Taylor) and their newly born son, Derek Junior. Sadly, the Center was put together using the same materials as were used to build the model, including popsicle sticks and rubber cement and it collapsed almost as soon as it opened, killing Matilda in the process and "disfiguring" fellow male model Hansel (Owen Wilson).

The story then jumps to the modern day where we find Derek and Hansel living in seclusion on opposite sides of the country. Derek's son has been taken away from him because basically he's just too stupid to be trusted to raise him. They are both pulled out of retirement when someone starts killing off the world's pop stars, all of whom die with one of Derek's famous "looks" on their faces. They are recruited by Valentina (Penélope Cruz), an interpol agent in the Fashion Division and former swimsuit model. Not only do Derek and Hansel see this as their chance to return to the limelight, but Derek hopes that it might lead him back to his son.
While the first film featured a few celebrity cameos, this one goes overboard. It is filled with celebrities from the worlds of pop music and fashion. The very first scene is one that many around the world have dreamed of, featuring the death of Justin Bieber. And the heads of several of the most famous fashion houses around the world poke fun of themselves as a cabal of super-villains. Several Saturday Night Live veterans show up in small parts. Even astrophysicist Neil Degrasse Tyson shows up to poke fun at himself. And of course, nearly everyone from the first film returns as well.
Since I've warmed to the original, I would like to say that I loved the sequel, but, despite laughing throughout, and getting a kick out of seeing these characters again, I really can't say that I did. With 15 years to work on it, surely something better than this could have been created. Too much of it feels tired. The cameos go overboard and simply become a series of, "Hey, that's....", without a punchline. Will Ferrell's arrival halfway through gives the film a burst of energy and I wish he'd been in it more. An almost unrecognizable Kristen Wiig plays the villain for the film's first half, but she's more odd than funny. Penélope Cruz looks good and she's still the owner of the sexiest accent on the planet, but there's little chemistry between her and Stiller.

There are things to enjoy here and fans of the original will no doubt get a kick out of it, but like most cult films--which the original has become--it's probably best that we just leave them well enough alone. Trying to recapture the quirky magic that attracts a cult following is nearly impossible and this one doesn't manage it.

Photos © Copyright Red Hour Films (2016)
Related Review