Movie Review
Zombieland
Nut up or shut up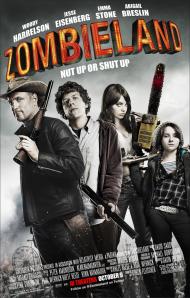 US Release Date: 10-02-2009
Directed by: Ruben Fleischer
Starring
▸
▾
Jesse Eisenberg

,

as

Columbus
Woody Harrelson

,

as

Tallahassee
Emma Stone

,

as

Wichita
Abigail Breslin

,

as

Little Rock
Bill Murray

,

as

Himself
Amber Heard

as

406

Reviewed on:
October 3rd, 2009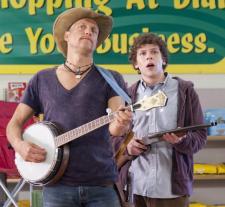 Zombieland is the most fun you are likely to have at the movies all year.
Since I first saw Night of the Living Dead as a child I have always been a sucker for zombie movies. There's something about a small group of survivors fighting off hoards of undead that I've always found compelling. Until Shaun of the Dead though, I never thought that zombies and comedy could mix. With its combination of zombie action and hilarious comedy, Zombieland proves that Shaun of the Dead was no fluke. It is, without a doubt, one of the most entertaining movies of the year so far.
Jesse Eisenberg (Adventureland, The Squid and the Whale) stars as Columbus, a young man making his way across America following a zombie apocalypse. Traveling from Texas to Ohio, he has survived by virtue of a list of rules that he's created, such as the importance of good cardio, always wear your seat belt and always shoot a zombie twice to make sure they are dead.
Like all good road movies, Columbus meets up with others on the way. Woody Harrelson plays Tallahassee, a violent, quirky guy who enjoys killing zombies and has a Twinkie obsession. Emma Stone and Abigail Breslin (Little Miss Sunshine) play con-artist sisters Wichita and Little Rock. Together they journey to an amusement park outside of Los Angeles which they have heard is a zombie free zone. While in L.A., they end up sleeping in Bill Murray's house in a scene that features one of the best and funniest celebrity cameos of all time.
It's a rare movie indeed that can both scare you and make you laugh your ass off. Although later the comedy becomes more prevalent, the beginning actually contains a few scenes that will make you jump, while at the same time remaining quite funny. And be warned, there is plenty of blood and gore, much more than you usually see in a comedy. You should also be prepared for humor that is definitely quite dark.
While the entire cast is great, it is Harrelson who steals the movie. He doesn't just kill zombies to survive, he does it because he enjoys it and he likes to be inventive in how he does it; using a banjo, hedge clippers and just about anything else he can get his hands on. The script even gives him a touch of dramatic motivation for this and in a way that deepens his character without lessening the humor at all. The tone of the story is so free-form that I honestly didn't know what would happen with his character, but it doesn't disappoint.
It's been a very long time since I've had such a good time at the movies. And probably even longer since I laughed so much at one. No question, Zombieland is one of the most entertaining movies of the year.

Reviewed on:
October 5th, 2009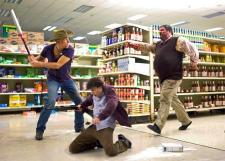 Columbus and Tallahasse team up to kill zombies.
Although Harrelson is perfectly cast as the enthusiastic zombie killer, Eisenberg has the more fascinating role playing a socially stunted college student, without making him seem socially retarded. Columbus is shy, but not because of some fear of the world, but from modern conveniences. Prior to the zombie breakout, he played lots of video games, and socialized through the internet. His biggest moment with a girl came when he almost brushed some hair back from his neighbor's face. Years ago he would have been considered a social reject. Today he is as much the rule as the exception. Modern technology has made human communication faster, but not better. As such, Columbus is intellectual, but not at all able to deal with or understand other people. You will likely see yourself in him far more than you will in Tallahassee.
Like the Church Steeple scene in Hot Fuzz, the gore in Zombieland is often over-the-top, and used to great comic affect. Tallahassee kills zombies with the intensity and joy of a little leaguer swinging for the fences. I will make you a guarantee; after watching one particularly gruesome scene, you will put on your seatbelt the next time you get in a car.
Zombieland is the most fun to be had at the movies this year. At under 90 minutes, the movie flies by. I will fault it for one thing only. It has an open ending. Other than the characters learning to get along, and Columbus gaining some social experience, nothing changes as far as their situation. Although that makes for an incomplete story, it does leave open the possibility for a sequel. My fingers are crossed!
Reviewed on:
May 20th, 2011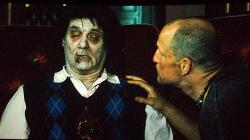 Bill Murray and Woody Harrelson in Zombieland.
Any movie that begins with a paraphrase of Margo Channing's most famous line is off to a great start in my book. Eisenberg's Columbus, in voice-over, warns us to, "Fasten your seat belts. This is going to be a bumpy ride." He's absolutely right. Zombieland is an exhilarating rollercoaster of gory action and quirky laughs.
And as Scott mentioned it even adds an underlying layer of heart. Besides Tallahassee's dramatic motivation I enjoyed the conversation Columbus and Wichita have about the year 1997. It is funny but also sentimental without being the least bit sappy. And Eric is right about Columbus being the character that this movie's target audience (young video game playing males) is supposed to identify with.
I also agree with Eric about the ending. Couldn't they at least have found an island somewhere that was zombie free? If they hadn't bothered to flesh out the characters it wouldn't have mattered so much. But since this movie wants us to care about these four people it needed a slightly more satisfying conclusion.
Bill Murray's cameo is brilliant and will probably be remembered as Zombieland's most famous scene. There are a few other famous faces in bit parts as well. In a scene that serves as an example of one of Columbus' rules for survival, Mike White gets killed in a bathroom by John C. Reilly as a zombie.
There is now a bit of unintended irony in the dialogue spoken by Eisenberg. At one point he says, "You want to know the best thing about Z-land? No Facebook status updates." Eisenberg, of course, played Facebook founder Mark Zuckerberg in The Social Network.
Zombieland is a fun guilty-pleasure of a movie but instead of ending it sort of just stops.

Photos © Copyright Sony Pictures (2009)