Movie Review
Zack and Miri Make a Porno
A movie so tittilating that we can only show you this drawing.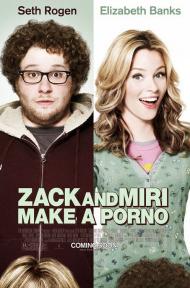 US Release Date: 10-31-2008
Directed by: Kevin Smith
Starring
▸
▾
Elizabeth Banks

,

as

Miriam Linky
Seth Rogen

,

as

Zack Brown
Jason Mewes

,

as

Lester
Katie Morgan

,

as

Stacey
Craig Robinson

,

as

Delaney
Traci Lords

,

as

Bubbles
Ricky Mabe

,

as

Barry
Brandon Routh

,

as

Bobby Long
Justin Long

,

as

Brandon St. Randy
Tisha Campbell-Martin

as

Wife


Reviewed on:
February 4th, 2009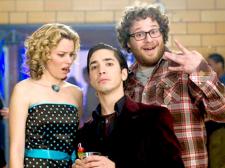 Justin Long should have gotten more screen in Zack and Miri Make a Porno.
Zack and Miri Make a Porno is a romantic comedy with full frontal nudity, graphic sex and plenty of four letter words. Think of it as a porn version of When Harry Met Sally.
Zack and Miri are best friends who live together as platonic roommates. They have known each other since grade school. When they get too far into debt they decide to make a porno. After Miri tells Zack, "Nobody wants to see us fuck, Zack!" He responds, "EVERYBODY wants to see ANYBODY fuck. I hate Rosie O'Donell, but if somebody said "I got a tape of Rosie O'Donell getting fucked stupid" I'd be like "Why the fuck aren't we watching that right now?"" They get a porn cast and crew and make the film in the coffee shop, after hours, where Zack works. Zack and Miri cast themselves, for some reason, as well.
In one scene, two cast members are having sex on the counter top in one of those sexual positions that are only in porn movies or used by people who think they are fucking like porn stars. Right in mid hump they stop as a drunk wanders into the coffee shop and asks for coffee. They say "hey" to each other and then go back at it after he leaves. When Zack and Miri do their scene, they start off talking and awkwardly going through the motions but then their passion gets going and the two end up humping and kissing in the missionary position. It makes for bad porn but they get so into it they do not care about anything at that moment but the passion they are experiencing. They then find themselves in love with each other but neither knows how to tell the other.
The message of the film is that there is a difference between fucking and making love. When Harry Met Sally made the same point as Harry dated and bedded many women before making love with Sally and realizing that he loved her. Zack and Miri Make a Porno takes porn out of the closet, but it does not make for a very good date movie. One scene involving the camera man filming a particular sex scene is gross beyond what any words can express. I did like the names of the Star Wars porn films they were going to make, Star Whores, The Phantom Man Ass, Revenge of the Shit.
Dialogue is Kevin Smiths best asset. When a gay porn actor, played by Justin Long, tells Zack that he stars in male only movies, Zack asks, "All male casts? Like "Glengarry Glen Ross", like that?" The porn star replies, "Like "Glen and Gary Suck Ross's Meaty Cock and Drop Their Hairy Nuts in His Eager Mouth". Zack then asks, "Is that like a sequel?" Justin Long steals every scene he is in. Unfortunately he is only in a few of them, but stay till the end because he shows back up in a hilarious infomercial.
Reviewed on:
May 3rd, 2009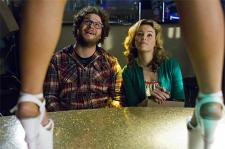 Seth Rogen and Elizabeth Banks in Kevin Smith's Zack and Miri Make a Porno.
I think every guy who's ever watched a porno (or in other words, every guy) has imagined that they could make one, as is the central premise of this movie. Kevin Smith plays up that idea for some nice humor, but I wish he'd taken it even further.
Just Long is great with his Jeff Stryker impersonation and it's the moments like his that make the movie enjoyable. The scene you mentioned Eric with the drunk in the coffee shop and the scene with Lester's very grouchy wife and the initial porn ideas they throw around, those are the best and funniest scenes. Smith also makes good comedic use of profanity. I'm not one to titter over fucking bad language, but it is so relentless and so extreme at times, that you almost can't help but laugh.
The romance is the weak part. I never really buy it. Maybe it's because I've never seen the charm of Seth Rogen. What does Miri (or anyone else for that matter) see in him? Not that you necessarily want it in a comedy of this nature, but you never really learn anything about the two characters to explain why they're both such losers in life. They make great comedy characters, but for a love story to work, you really need some kind of realism to become truly invested in their relationship.
I agree with you Eric that this is hardly a good date movie and is more likely to be enjoyed by guys than women, so why bother with the romance angle at all? I know, I know, guys can enjoy romance too, but clearly when you put "make a porno" in the title and cast real life porn star Katie Morgan and one time porn star Traci Lords, people are going to watch this movie for the sex and the comedy and not the romance.
Reviewed on:
July 20th, 2010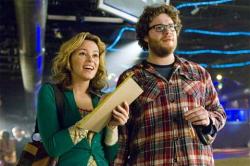 funny movie but no chemistry between these two.
Yeah it works more as a comedy than a romance. The sex jokes are all offensively funny. I agree that Justin Long steals his scenes and should have had a bigger part. This is such a man's fantasy though. Never in a million years could Seth Rogen get Elizabeth Banks to fall in love with him. Not in the real world anyway. The scene where they try to fuck but end up making love does not seem believable. Otherwise this is a funny and entertaining movie.
Photos © Copyright Weinstein Company, The (2008)