Movie Review
You've Got Mail
At odds in life... in love on-line.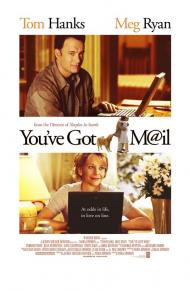 US Release Date: 12-18-1998
Directed by: Nora Ephron
Starring
▸
▾
Tom Hanks

,

as

Joe Fox
Meg Ryan

,

as

Kathleen Kelly
Greg Kinnear

,

as

Frank Navasky
Parker Posey

,

as

Patricia Eden
Jean Stapleton

,

as

Birdie Conrad
Steve Zahn

,

as

George Pappas
Heather Burns

,

as

Christina Plutzker
Dave Chappelle

,

as

Kevin Jackson
Dabney Coleman

,

as

Nelson Fox
John Randolph

,

as

Schuyler Fox
Hallee Hirsh

,

as

Annabelle Fox
Cara Seymour

,

as

Gillian Quinn
Katie Finneran

,

as

Maureen, the Nanny
Sara Ramirez

,

as

Rose
Chris Messina

as

Fox Salesperson

Reviewed on:
September 19th, 2010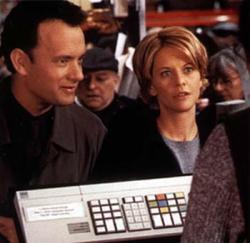 Tom Hanks and Meg Ryan in You've Got Mail.
You've Got Mail is the third pairing of Tom Hanks and Meg Ryan following Joe vs. the Volcano and Sleepless in Seattle. Although it's a bit dated and runs for too long, they prove once again that in the '90s they were two of the most charming actors working and they definitely shared a certain chemistry together that worked onscreen.
Hanks plays Joe Fox, part owner of Fox Books, a large Barnes & Noble type bookstore chain. Ryan is Kathleen Kelly, the owner of The Shop Around the Corner, an independent children's bookstore. They meet online in an America Online chatroom (Hanks, Ryan and AOL. Can you get any more 1990s than that?), although they don't reveal their real identities. Soon they strike up a friendship that borders on romance despite the fact that a branch of Fox Books is driving The Shop Around the Corner out of business.
Although Hanks and Ryan are the stars, the supporting cast provides a lot of the humor. Greg Kinnear plays Kathleen Kelly's technophobic boyfriend who states that radio is a technology he can get behind and that he'd like to write a book about something contemporary like the Luddite movement of the 19th century. He's described by scene-stealer Parker Posey as the greatest living expert on Julius and Ethel Rosenberg. Posey is Joe's girlfriend, whom he describes as someone who makes coffee nervous. Enriching the rest of the supporting cast is Dabney Coleman, Jean Stapleton, an underused Steve Zahn and Dave Chappelle among others.
While the movie is fairly entertaining, it does run a bit long at nearly two hours. Joe and Kathleen exchange many emails at the beginning of the movie that are really just writer/director Nora Ephron's way of slipping in a few observations of her own on things like Starbucks and New York in the fall. Some of these moments are cute, but they're no friend to the running-time.
Along with the love story between Joe and Kathleen, the whole movie is a love story between Ephron and the Upper West Side of Manhattan. Several landmarks of the neighborhood are highlighted, such as H&H Bagels, Zabars grocery store and Lincoln Square Cinemas. Riverside Park is featured multiple times including the film's final moment. Sure it's a rather romantic view of the city and the neighborhood, but it does capture the spirit of the area.
Although the love story is rather generic, there's no denying the likability of the entire cast. Hanks and Ryan are just so damn nice that you can't help but want them to find happiness. Sure their meeting is supremely coincidental, but you just have to let that part go and accept it.
Not a classic Romantic Comedy by any means, but it is an enjoyable one. The romance is rather tame, but the comedy is quite good.
Reviewed on:
February 12th, 2013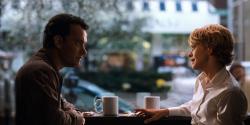 Tom Hanks and Meg Ryan in You've Got Mail.
You've Got Mail was (at least) the fifth incarnation of the original 1937 Hungarian play Parfumerie by Miklós László. In 1940 Ernst Lubitsch directed the first movie version called The Shop Around the Corner. In 1949 Judy Garland starred in a musical version called In the Good Old Summertime, and in 1963 it was re-imagined as a Broadway musical called She Loves Me. All of them share the same basic plot device of a feuding couple who are, unbeknownst to themselves, also romantic pen pals.
I agree with Scott that it works better as a comedy than a romance. I never really bought the relationship between Joe and Kathleen. In other versions they are coworkers. Ephron changed it for this movie and it hurts the central romance. I never believed that Kathleen would fall for the guy that put her mother's cherished bookstore out of business. It just doesn't ring true at the end when they meet in Riverside Park and she tells him, "I wanted it to be you. I wanted it to be you so badly."
This movie is very evocative of the late 1990s. As such it is now a relic from an earlier epoch. This was at the dawn of the internet age and terms like cyber-sex and chat-rooms get tossed around like a Frisbee at the beach. The sight and sound of those bulky old computers dialing up the internet is quite unintentionally hilarious. On a personal note this movie takes me back to New York City as I first saw it in the summer of 1999.
Hanks and Ryan have decent comic chemistry together but lack the necessary spark of romance that is at the heart of the story. I agree with Scott that it runs a bit long and that the supporting cast is terrific. This was one of the last movies to feature Jean Stapleton. The legendary star of television and Broadway is still living as of this writing. She recently celebrated her 90th birthday.
As a romantic comedy You've Got Mail is just about average, but as a time-capsule of the late 1990s it's priceless.

Reviewed on:
February 27th, 2013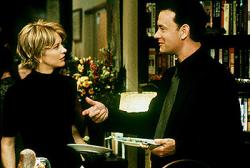 Meg Ryan and Tom Hanks in You've Got Mail
As my brothers wrote, You've Got Mail thrives solely on the charm of its stars. Were there any more likable actors than Tom Hanks and Meg Ryan in 1998? You cannot help but want them both to find all the happiness in the world.
Besides being a nice little time capsule, You've Got Mail also demonstrates the hypocrisy of consumerism. In one scene, Tom Hanks and Dave Chappelle continue each others sentences, referring to the neighborhood where they are building their new book store. "They're gonna hate us. Soon as they hear, they're gonna be lining up... to picket the big bad chain store...that's out to destroy...everything they hold dear." Picketers are later shown protesting the construction site.
Every time a new Walmart is built we hear about how they will put other businesses out, and they do. We hear negative reaction from people who do not want it built, much as is shown in this film about the book store chain. However, once the Walmart opens, people flock to it because as the conversation in the film continues, "But we'll get 'em in the end...Because we're going to sell them cheap books and legal addictive stimulants." Sure we all love our warm welcoming mom and pop stores, but we obviously love saving money even more. If we want the independent stores to stay open we have to do something more affective than a protest. We have to chose to shop them and not the large chain stores.
The most telling line for me was when Hanks says to Ryan, "I think you'd discover a lot of things if you really knew me." Ryan comes back with, "If I really knew you, I know what I would find. Instead of a brain, a cash register. Instead of a heart, a bottom line." I am pretty sure that Ryan's "Shop Around the Corner" sold books and did not give them away. She wants to sound superior to the larger book store, but they are both businesses equally after their customer's money. The only thing she has over them is that she was there first.
Photos © Copyright Warner Bros. (1998)
Related Reviews