Movie Review
Yours, Mine and Ours
18 kids. 2 families. 1 force of nature.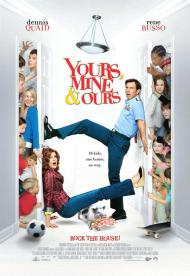 US Release Date: 11-23-2005
Directed by: Raja Gosnell
Starring
▸
▾
Dennis Quaid

,

as

Frank Beardsley
Rene Russo

,

as

Helen North
Rip Torn

,

as

Commandant Sherman
Linda Hunt

,

as

Mrs. Munion
Jerry O'Connell

,

as

Max
Sean Faris

,

as

William Beardsley
Katija Pevec

,

as

Christina Beardsley
Dean Collins

,

as

Harry Beardsley
Tyler Patrick Jones

,

as

Michael Beardsley
Haley Ramm

,

as

Kelly Beardsley
Danielle Panabaker

,

as

Phoebe North
Drake Bell

,

as

Dylan North
Miranda Cosgrove

as

Joni North

Reviewed on:
December 4th, 2005
Dennis Quaid and Rene Russo in Yours, Mine and Ours.
Yours, Mine and Ours is a very light hearted sitcom-ish movie that is worth a smile or two. Although all realism is thrown out the window and most of the characters act in ways that you would never find in real life, this movie is still a pleasant enough watch.
A remake of the 1968 Henry Fonda/Lucille Ball movie, Yours, Mine and Ours tells the story of a man with 8 kids who marries a woman with 10. Quaid plays a Coast Guard Admiral, Frank. He is the Hollywood stereotype of a military man. He is very organized and strict. Russo plays Helen, who designs purses. She is the free spirit who adopted half her kids and allows them to express themselves around the house by making absolutely any and every mess they feel like. The movie never explains who cleans up after them. Frank and Helen are both single parents who were in love when they were in school. They meet again and get married. Their children, at first, can't stand each other and constantly fight. Eventually they join forces to break up the parents but in the process form sibling bonds.
Every aspect of this movie is completely predictable and unrealistic. Every joke and situation can be seen long before it happens. The kids constantly make unbelievably huge messes and Helen never bats an eye. The luxury of movie magic where paint is spilled every where and in the next scene all is perfect again without anyone actually doing anything. Still, the sheer like-ability of the family unit keeps you rooting for it all to work out, even though you know walking into the theater that it will.
The movie could have added some mature dialogue by having Helen's liberal views clash more with Frank's conservative opinions. For no reason other than being politically correct, Helen's adopted children cover many ethnic backgrounds. In one scene, Helen gets slightly bothered by the refrigerator being filled with meat. It is a hint that she is a vegetarian. The makers of this movie could have explored these angles further, but then again, this is a kids film. My sons enjoyed recognizing Drake Bell and Miranda Cosgrove from Nickelodeon's Drake and Josh television show. A few more intellectual jokes for us adults, though, could have helped.
I often moaned about Hollywood's lack of family films. Although this is an unconventional family, it does celebrate the family unit and that alone makes it stand out.
Photos © Copyright MGM (2005)