Movie Review
Yours, Mine and Ours
Their wedding night set new attendence records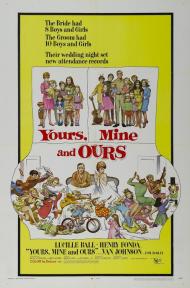 US Release Date: 04-24-1968
Directed by: Melville Shavelson
Starring
▸
▾
Lucille Ball

,

as

Helen North Beardsley
Henry Fonda

,

as

Frank Beardsley
Van Johnson

,

as

Warrant Officer Darrel Harrison
Louise Troy

,

as

Madeleine Love
Sidney Miller

,

as

Dr. Ashford
Tom Bosley

,

as

Family Doctor
Nancy Howard

,

as

Nancy Beardsley
Walter Brooke

,

as

Howard Beardsley
Tim Matheson

,

as

Mike Beardsley
Eric Shea

as

Phillip North

Reviewed on:
December 21st, 2005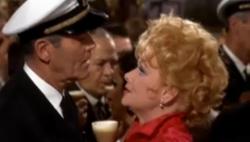 Henry Fonda and Lucille Ball in Yours, Mine and Ours.
Yours, Mine and Ours is based on the book written by the actual mother of nineteen. The remake with Dennis Quaid and Rene Russo pales in comparison to this earlier version. Where as the new one tries to combine two opposite families, this one is about two families with a lot in common. The remake centers on the kids getting along. The original is more about the romance between the parents.
The great Lucille Ball stars as a widowed nurse who works at a Naval hospital. Henry Fonda is a naval officer stationed on the base. Mutual friend, Van Johnson, sets the two up. In a series of humorous dates they fall in love. One their first date Ball loses her slip and then an eyelash in Johnson's drink. "Your Irish coffee is winking at me." He says. When she first meets Fonda's children the oldest boys spike her drink and get her drunk. "Boy, if this damn room would stop rolling around maybe I could find some place to be sick!" She laughs. Both scenes give Ball the opportunity to demonstrate her classic comic abilities.
The remake is a completely sanitized, politically correct film. The original version is surprisingly more mature. Fonda is always hearing from Johnson about how he needs to get laid. Of course the dialogue is not that direct but you know what they are talking about. Ball's oldest daughter is constantly getting pressured by her boyfriend to have sex. Ball finds her oldest boy in bed looking at a Playboy magazine.
According to the host on AMC, Ball made this movie because she thought there was too much sex and violence in films at the time and wanted to do a wholesome family film. Funny that 30 years later a remake is even more innocent. However, the original does contain religion. The children go to catholic school and there is a nativity set on the piano at Christmas. The new version is completely void of any religious references.
This original version of Yours, Mine and Ours is much more realistic. The parents meeting makes sense in that they work on the same base. The families coming together makes more sense in that they are both children of military fathers. The remake is about opposites attract. The original is about commonality breeding comfort.
Photos © Copyright United Artists (1968)