Movie Review
Young Frankenstein
The Scariest Comedy Of All Time!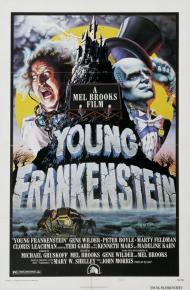 US Release Date: 12-15-1974
Directed by: Mel Brooks
Starring
▸
▾
Gene Wilder

,

as

Dr. Frederick Frankenstein
Marty Feldman

,

as

Igor
Madeline Kahn

,

as

Elizabeth
Teri Garr

,

as

Inga
Cloris Leachman

,

as

Frau Blucher
Peter Boyle

,

as

The Monster
Gene Hackman

,

as

Blind Monk
Kenneth Mars

,

as

Police Inspector Kemp
Richard Haydn

,

as

Herr Falkstein
Liam Dunn

,

as

Mr. Hilltop
Danny Goldman

,

as

Medical Student
Mel Brooks

as

Werewolf / Cat Hit by Dart / Victor Frankenstein (voice)


Reviewed on:
December 15th, 2001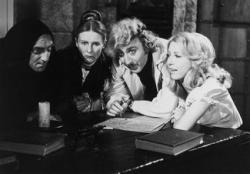 Marty Feldman, Cloris Leachman, Gene Wilder and Teri Garr in Young Frankenstein.
This is a hilarious satire of the old 1931 Frankenstein movie and subsequent sequels.
Director Mel Brooks has spoofed other movies with Robin Hood Men In Tights and High Anxiety. None are as good as this one. Even his very funny, lowbrow Blazing Saddles comes in second to this one.
The screenplay, written by Brooks and Gene Wilder, deserves a lot of the credit. I, however, feel it is the cast that makes this movie the complete comedy classic that it is.
The always funny, Madeline Kahn is great as the snobbish fiancée. She adds so much to a joke with the raising of her eyebrows or a smirk on her face. Her scenes with the monster are very memorable. Even when talking about 'poo poo undies.'
Marty Feldman as Igor is a stitch. Popping up nearly as often as his hump changes sides. With his bug eyes and snide remarks, he steals nearly every scene he's in.
The movie though, belongs to Gene Wilder.
In many movies, a role could be played by any number of actors. Ben Afleck, Leonardo Di Caprio, or any other pretty faced young man could have played Matt Damons part in Saving Private Ryan, and probably better. No one, however, could play the role of Dr. Frankenstein with such hysterics as Gene Wilder. Screaming such lines as 'Throw it I say', 'It! Could! Work!'. and 'Sedagive!'
His performance is so incredibly droll.
Reviewed on:
December 15th, 2002
Madeline Kahn in Young Frankenstein.
A screamingly funny movie that is most certainly the high water mark of Mel Brooks career as a film maker. This is also Gene Wilder's best performance with the possible exception of Willie Wonka. As Eric points out, the late Madeline Kahn is a stand out. In fact the ensemble cast is one of the best ever assembled, including Teri Garr, Cloris Leachman and Peter Boyle as the monster.
Filmed in black and white, this is a winning tribute as well as hilarious spoof of the Frankenstein franchise. I laughed the hardest during the scene where Gene Wilder's Doctor Frankenstein (pronounced Fronkensteen) discovers the secret passage behind the bookcase. "Put the candle back."
Musical numbers are a staple of virtually all of Mr. Brooks movies and Young Frankenstein doesn't disappoint. Featuring an inspired soft shoe duet of Irving Berlin's Putting On the Ritz by the doctor and his creation.
Seven years earlier Gene Wilder had a cameo in Bonnie and Clyde which featured Gene Hackman. In Young Frankenstein Hackman returns the compliment as the blind man.
Reviewed on:
December 15th, 2003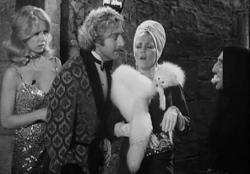 Teri Garr, Gene Wilder, Madeline Kahn and Marty Feldman in Young Frankenstein.
Remember when Mel Brooks was funny?
With Young Frankenstein, he proves that he is not only funny, he is a comedic genius! Firing jokes at such a rapid pace, you never stop laughing. This is one of his best films and the least likely to offend.
Another thing about this movie, which is often overlooked, and Patrick touched upon, is that this movie is a tribute to the old horror films, and is beautifully filmed with great care. More care then you might expect from a comedy.
Eric contends that Gene Wilder is the funniest one in this movie, and I agree that he is great, but I always laugh hardest at Igor.
Photos © Copyright 20th Century Fox (1974)
Related Reviews