Movie Review
You Will Meet a Tall Dark Stranger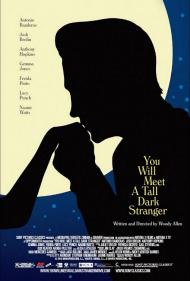 US Release Date: 09-22-2010
Directed by: Woody Allen
Starring
▸
▾
Anthony Hopkins

,

as

Alfie
Gemma Jones

,

as

Helena
Naomi Watts

,

as

Sally
Josh Brolin

,

as

Roy
Freida Pinto

,

as

Dia
Antonio Banderas

,

as

Greg
Lucy Punch

,

as

Charmaine
Pauline Collins

,

as

Cristal
Neil Jackson

,

as

Alan
Ewen Bremner

,

as

Henry Strangler
Theo James

as

Ray

Reviewed on:
October 10th, 2010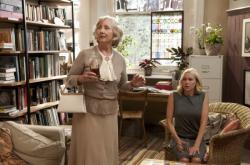 Gemma Jones and Naomi Watts.
It's nice to know that in a world constantly in flux some things never change. Woody Allen movies still open with plain white titles against a black background while a jazz standard plays over the credits. You Will Meet a Tall Dark Stranger breaks no new ground for the venerable and incredibly prolific writer/director (this is the 39th feature length, theatrically released film he has both scripted and helmed since 1969 and he hasn't missed a year without a new release since 1981!) but it is also nowhere near being a misstep like some of his recent output. And by recent I mean movies he's made this millennium. He deals with all his familiar themes of death, sex and human relationships between the sexes with an equal amount of humor and pathos. This is definitely Woody in cinematic comfort food mode.

His movies may not make much noise at the box office these days but it is a testament to his legendary reputation that A-list actors still clamor to work with him. This time around Sir Anthony Hopkins plays the Woody role, you know the aging Lothario obsessing about his mortality, dumping his wife of 40 years (Gemma Jones) and getting involved with a much younger woman (Lucy Punch). At the behest of their daughter (Naomi Watts) his ex-wife begins seeing a psychic who feeds her copious amounts of feel-good fortunetelling as well as scotch. The art dealer daughter is in a disintegrating marriage to a struggling novelist (Josh Brolin) who has the hots for the sexy woman next door (Freida Pinto) whom he watches constantly through their adjoining windows. Meanwhile the wife is attracted to her handsome boss (Antonio Banderas).
Critics used to complain that Woody's earlier absurdist movies were his best work. Ironically his worst movie of the past decade was one where he went strictly for laughs, Hollywood Ending. Tall Dark Stranger is similar in tone to his most successful recent movie Vicki Cristina Barcelona as well as such classics as Annie Hall and Hannah and Her Sisters. All of them are essentially comedies but they are all tinged with sadness and a sense of the complex tragedy of the human condition.
Not to suggest that this is in the same league with those films because it isn't funny enough or touching enough to compare. Gemma Jones as the mother, continuously quoting her psychic Cristal and the always hilarious Lucy Punch are the only truly funny characters. Too much time is spent with Josh Brolin and Naomi Watts, neither of their characters is all that compelling or laugh inducing. The ending, however, is a nice bit of irony even if it is pretty clear where things are headed well before it happens.
It seems London has replaced New York City as the setting for his cinematic postcards. He manages to make good use of the city without creating a tourist brochure. You Will Meet a Tall Dark Stranger is yet another solidly entertaining movie from Woody Allen, just don't expect anything new and you won't be disappointed.
Reviewed on:
August 14th, 2014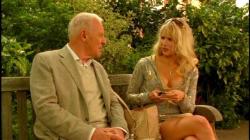 Anthony Hopkins and Lucy Punch in You Will Meet a Tall Dark Stranger.
Although he has since branched out to mainland Europe, for a short while Woody Allen did become a London based filmmaker. This was his fourth film to be set in the British capital following Match Point (2005), Scoop (2006), and Cassandra's Dream (2007). While I agree with Patrick that he shows off these foreign locales to good effect, his writing remains firmly American. There's nothing intrinsically British about any of his characters here (apart from the actors playing them) in the way that so many of his characters in his earlier films were intrinsically New Yorkers.
I agree with Patrick that this isn't one of Woody's worst movies, but it's also far from being one of his best. Generally his movies are either really good or really bad, but this one falls too much in the middle. Neither good enough to love or bad enough to hate. In truth, it's a rather dull affair filled with unsympathetic characters who fail to generate much emotion from the audience. The story is a series of vignettes connected only because the characters are related to each other. With a movie of that type, you hope that the different threads are woven so tightly together that the removal of one strand would destroy the fabric of the film, but not so here where almost any of the storylines could easily be dropped with no loss.
In an interview in the New York Times, Allen said that the initial inspiration for the film came from the idea that "The people who successfully delude themselves seem happier than the people who can't." He starts off with that idea with Helena (Gemma Jones) going to see the fortune teller, but he never really follows through with it. By the end of the film her delusions seem to be bordering on insanity. Instead of happy, she seems crazy. More sad than comical.
Perhaps the film's biggest problem is the lack of a decent protagonist. The characters consist of a husband and wife who are both contemplating cheating on the other. A failed author who steals from a friend. A sad old man trying to recapture his youth by having a misguided relationship with a hooker, who, unsurprisingly, is sleeping with other men. And the aforementioned delusional woman who seems to be slowly losing her grip. With such a cast of sad sacks the script needed to be much funnier or more insightful. As it is, the laughs are rare--with Lucy Punch providing the only real humor--and the insights even rarer. Again agreeing with Patrick, this is ground Woody has covered before and in much better films.
At Woody's advanced age, perhaps it is only his films that keep him going. However, given how uneven his work often is, perhaps it would be better if he didn't try to maintain his annual output. Maybe taking a little longer between each project might allow him to recharge his creative batteries. They certainly seemed to be low on spark when he made this one.

Reviewed on:
October 17th, 2014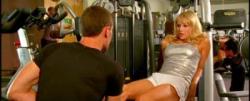 Theo James and Lucy Punch in You Will Meet a Tall Dark Stranger
I am with Scott on this one. I did not like anyone on screen. There is no worthwhile protagonist. All that happens is that a bunch of relationships fail horribly. Everyone is miserable through most of the movie. I cared not for what happened to anyone. Most jokes are routinely dull. In reference to Lucy Punch claiming to be an actress, Naomi Watts complains, "Actress, my foot! The only acting she's ever done is faking an orgasm." I would expect that line from a mediocre sitcom, not Woody Allen.
Okay! To be honest, I enjoyed Lucy Punch as Charmaine. She is the only one worth spending time with. Perhaps because she is a prostitute, she is the only one with a clear view of relationships. She uses others but is never under the illusion of love as an excuse for bad behavior, as everyone does.
She is not too bright but she has a clear picture of what she wants and how to get it. While everyone else is making false promises, she is an open book. I do not even fault her for marrying Anthony Hopkins and then having an affair on him with Theo James. Hopkins knew he had married a whore one third his age. There was only one obvious way their love story was going to play out.
As Patrick wrote, Lucy Punch is the funniest cast member. The whole movie should have centered on her. After Hopkins catches Punch in a compromising position with James, and gets beat up by him, Punch tries to make it better with, "I know it looked bad and your face hurts and all…"
Photos © Copyright Sony Pictures Classics (2010)