Movie Review
Yes Man
One word can change everything.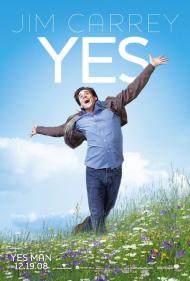 US Release Date: 12-19-2008
Directed by: Peyton Reed
Starring
▸
▾
Jim Carrey

,

as

Carl Allen
Zooey Deschanel

,

as

Allison
Bradley Cooper

,

as

Peter
John Michael Higgins

,

as

Nick
Rhys Darby

,

as

Norman
Danny Masterson

,

as

Rooney
Fionnula Flanagan

,

as

Tillie
Terence Stamp

,

as

Terrence Bundley
Patrick Labyorteaux

as

Marv Winchell


Reviewed on:
December 25th, 2008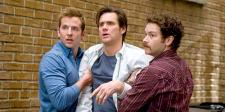 Carl getting helped by his much younger best friends.
Is it just me, or has it been awhile since Jim Carrey has done a "Jim Carrey" type comedy? You know, the kind where he gets to make all kinds of ridiculous faces and voices. Well, apparently he thought so too, because Yes Man is a return to his original star making comic form.
Yes Man finds Carrey playing a depressed, recently divorced bank loan officer. He avoids his friends. He has little inspiration to do anything but sit at home and watch movies alone. One day he runs into an old friend who takes him to an inspirational speaker and he decides to give the speakers mantra of saying, "Yes" to everything a try.
This of course leads to plenty of opportunities for Carrey to act up and entertain. "I do want to take guitar lessons. I do want to learn how to fly. Yes, I would like to learn Korean." His new look at life also lets him fall in love and make friends with his nerdy British boss. But there is also the horny old neighbor lady and the bum who needs a ride that lead to comic, as well as uncomfortable, situations.
The lesson of the movie being that life is a risk, but you are not really living unless you get out there and face the good as well as the bad. Spontaneity is the spice of life. Where as this movie tries to say something encouraging, the whole plot seems a bit of a retread of Liar Liar, in which Carrey plays a man forced to tell the truth.
The parts where he starts to give high risk loans to everyone seems particularly topical, as the recent bailout of Wall Street was partially due to giving loans to folks who could not pay them back. Thankfully though, the movie stays clear of politics, leaving Carrey to do what he does best. However, the whole movie seems a bit like a throwaway film he whipped together to remind his fans that he still can make us laugh.
Reviewed on:
May 22nd, 2009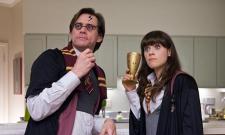 Jim Carrey and Zooey Deschanel in Yes Man.
This is definitely a lightweight movie, but since it had been a very long time since I saw Liar, Liar I didn't really see it as a retread of that one. Plus, wasn't he compelled somehow to tell the truth in that movie? At least here he has the option of saying no, he just chooses to avoid saying it.
The message of the movie is positive, but rather than it saying that life is a risk, I thought more that it was trying to say that you have to make things happen, they don't just happen to you. You can't avoid life and live it at the same time. Thankfully, while there is a message to this movie, it doesn't bang you over the head with it.
One problem I had is that Carrey seems about 20 years older than the rest of the cast. His girlfriend and his best friend are both much younger than him. To his credit, he still manages to bring his manic energy to the role even at 46 year's of age. The jogging scene after his all night Red Bull binge is a good example and one of the funniest moments in the movie.
Deschanel is cute and bubbly, but clearly any woman in this part is just there to be window dressing to Carrey (see Jennifer Aniston in Bruce Almighty). Fionnula Flanagan manages to steal her brief scene though, as the horny old neighbor lady in the scene I laughed the hardest at. And John Michael Higgins (whom you might know from several Christopher Guest films) is another scene-stealer as the guy who gets Carrey into the Yes program.
Sure, this is a part Carrey could play in his sleep and maybe it was a throwaway movie. It still manages to be entertaining and funny enough so that you won't regret saying yes to watching it.
Photos © Copyright Warner Bros. Pictures (2008)