Movie Review
xXx
A New Breed Of Secret Agent.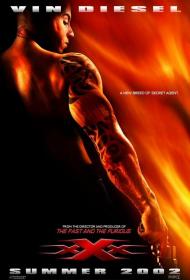 US Release Date: 08-09-2002
Directed by: Rob Cohen
Starring
▸
▾
Vin Diesel

,

as

Xander Cage
Samuel L. Jackson

,

as

Agent Augustus Gibbons
Asia Argento

,

as

Yelena
Marton Csokas

,

as

Yorgi
Michael Roof

,

as

Agent Toby Lee Shavers
Richy Muller

,

as

Milan Sova
Werner Dahn

,

as

Kirill
Petr Jakl

as

Kolya

Reviewed on:
August 11th, 2002
Vin Diesel in xXx.
xXx is one great action flick. It is what Die Another Day should have been. In fact, the opening scene is a direct slam on James Bond. You know how Bond always seems to fit in no matter where he goes. No matter how exotic the locale, Bond just walks in and blends. The opening scene of this movie is of a tuxedo wearing secret agent running from some baddies. He walks into a euro punk nightclub where he stands out like Jennifer Lopez at a Weight Watchers meeting. He is easily found and killed. Take that Mr. Bond.
It is then decided that a new agent is required to infiltrate this younger group of terrorists. Three criminals get put through a couple of ridiculous tests until they eliminate them down to just one, xXx. xXx is an extreme sports enthusiast. This means he has balls and no fears. With the option of either going to prison or being a secret agent he begrudgingly agrees to the assignment.
From here on out it is a direct lift from every James Bond movie ever made. See if any of this sounds like a Bond movie. xXx pretends to be someone else so he can meet the head of the bad guys. The bad guy's girl turns out to be a good agent under cover. He sleeps with some wench. He blows lots of stuff up, including the bad guys strong hold. He mountain climbs. He skies in front of an avalanche. (a much better scene than the one of Bond escaping the iceberg in Die Another Die). He has a scientist type guy give him and explain his equipment and gadgets. Only instead of being an old fuddy duddy like Q this one is a nerd from ITT who wishes to be a secret agent like xXx. And of course the movie ends with xXx in a romantic situation with the girl agent while HQ tries to get a hold of him.
This movie could have so easily went over the top, and the beginning of the movie does. The actual mission though is suspenseful and exciting. xXx is not an actual agent so a few moments are thrown into the movie that belittle his lack of experience. At one point he has this big gun and goes to shoot a bunch odd baddies but nothing happens. "You have to turn the safety off," informs the female agent.
It is moments like these and Vin Diesel's charm that give much to this film. All the plot devices are old news. The action sequences are not all original but are all very well done. This movie, like the Bond films, rests entirely on the shoulders of the main character. xXx is sometimes obnoxious, yelling out lines like "I love this shit." He is also human. He looks genuinely disgusted when he watches a group of men get killed by some gas.
Vin Diesel is a big muscle head. With the bald dome and deep voice he has a lot of presence. If this character is to become a franchise I hope they keep him as humbled as possible. When he is in Europe he doesn't speak any foreign languages. Things go on around him that he doesn't always understand. It is in these qualities that differs him from Bond. Where as Bond knows everything, xXx learns on his toes.
Photos © Copyright Revolution Studios (2002)