Movie Review
xXx: State of the Union
Prepare for the next level.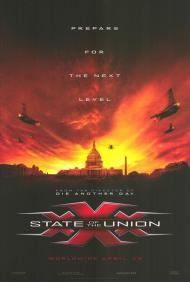 US Release Date: 04-29-2005
Directed by: Lee Tamahori
Starring
▸
▾
Ice Cube

,

as

XXX/Darius Stone
Samuel L. Jackson

,

as

Agent Augustus Gibbons
Willem Dafoe

,

as

Gen. George Octavius Deckert
Scott Speedman

,

as

Agent Kyle Steele
Peter Strauss

,

as

President James Sanford
Xzibit

,

as

Zeke
Michael Roof

,

as

Toby Lee Shavers
Sunny Mabrey

,

as

Charlie
Nona M. Gaye

as

Lola Jackson
Reviewed on:
May 1st, 2005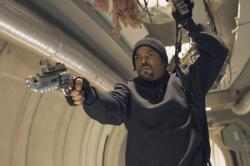 Ice Cube in xXx: State of the Union.
xXx: State of the Union is a completely generic action film with nothing to hold your attention and no one for you to care about. It is completely mindless, humorless and even lacks the distinction of being completely awful. If it were truly awful, that would evoke an emotional response. And evoking any kind of emotion from the audience is precisely what xXx: State of the Union fails to do.
I'll admit right up front that I never saw the first xXx, but believe me, this isn't the kind of movie that requires you to know anything before going in to see it. I can only assume that the first movie was better than this one. The only reference to it here is the very brief mention that Xander Cage (Vin Diesel) was killed recently.
If you really want to know the plot, I'll tell you, but obviously if you're the kind of person who's interested in things like plot, you're reading about the wrong movie.
When an attack is made upon a secret NSA base, Agent Gibbons (Jackson) narrowly escapes with his life. In an attempt to discover who was behind the attack, he recruits a new xXx, this time in the form of ex-Navy Seal, Darius Stone (Ice Cube). Stone is currently serving 20 years in prison for assaulting a General (Dafoe) during a mission nine years ago. That General is now Secretary of State and still quite obviously up to no good. It is of course of up to xXx to stop him before he does whatever it is that he's going to do.
There are many little details in this movie that are just sloppy. Such as, why was Dafoe's character a former General? Since he was ordering Navy Seals around, shouldn't he have been an Admiral? And since when do Generals or Admirals lead Seals into battle anyway? As for the title, it refers to the fact that the climax of the movie takes place during the President's State of the Union address. Now for as long as I can remember that speech has taken place during the winter, yet here it seems to be summer. Why is that?
Who cares about such minor details? Well, a) there isn't anything to hold your attention besides the little details and b) it's just as easy to get the small stuff right as it is wrong and if you can't do that, just how well do you thing they did on the big stuff?
As the hero, the usually likable Ice Cube is incredibly bland. Apart from being your robotic action hero, his one and only character trait is a craving for fries and a milkshake. Jackson's character, missing for 2/3's of the film, is much more interesting, but isn't given enough to do.
Since the idea of this series seems to be to get a new xXx agent for every film, it seems that the filmmakers are missing out on a great opportunity. If the star isn't coming back for the next film, why not kill him off? I mean come on, an action movie where the hero dies? When's the last time that happened? But wait, that would have meant adding something original to this movie, which apparently was something they were trying to avoid.
Photos © Copyright Columbia Pictures (2005)