Movie Review
The Wrestler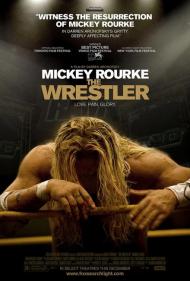 US Release Date: 12-17-2008
Directed by: Darren Aronofsky
Starring
▸
▾
Mickey Rourke

,

as

Randy The Ram Robinson
Marisa Tomei

,

as

Cassidy
Evan Rachel Wood

,

as

Stephanie Robinson
Mark Margolis

,

as

Lenny
Todd Barry

,

as

Wayne
Wass Stevens

,

as

Nick Volpe
Judah Friedlander

,

as

Scott Brumberg
Ernest Miller

as

The Ayatollah

Reviewed on:
January 10th, 2009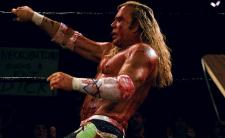 Rourke uses his personal baggage to aid his performance.
I'll admit it. The only reason I watched this movie is because it looks like Mickey Rourke will be nominated for an Oscar for this part and each year I try to see as many of the nominated movies as possible. It turned out to be pretty much what I expected. Some good acting in a downer of a movie that I will never care to watch again.
Rourke plays Randy "The Ram" an aging wrestler whose glory days in the ring are far behind him. He's old, broken down and living alone in a trailer park (when he can afford to pay his rent and in the back of his van when he can't). He survives by participating in a few low level wrestling matches, making a few personal appearances and working a few nights at his local grocery store as a stocker and eventually behind the deli counter.
His only social contact outside of wrestling is with a stripper played by Marisa Tomei. After he has a heart attack, she urges him to reconcile with his daughter Stephanie, played by Evan Rachel Wood. Unfortunately for Randy, the heart attack has also stopped him from doing anymore wrestling. Except of course that near the beginning of the movie Randy is offered the chance to wrestle in a rematch of his most famous match on its 20th anniversary, so you can probably figure out what happens.
Part of what really makes this work is that it parallels Rourke's acting career in some ways. Rourke's glory days are far behind him and this movie is a chance for him to recapture some of the magic. If a nobody had played this part would it even be in the running for an Oscar? The combination of his real life baggage and his still considerable acting skills do combine to create a believable vision of a broken man in the twilight of his life.
Tomei, Wood and Rourke all do turn in good acting jobs, but I can't honestly say I was really entertained by this movie. It's a depressing movie and it feels longer than it actually is. All of the scenes seem grey and cold, which is the final feeling I had towards the movie.
I've said it before and I'll repeat it here that I can enjoy any movie no matter whether it leaves me feeling sad, mad or glad, but not one that leaves me feeling depressed. I'm reminded of last year's Oscar contender, Julie Christie, for her work in Away from Her. She gave a great performance, but the movie was so depressing I really didn't care.

Reviewed on:
February 4th, 2009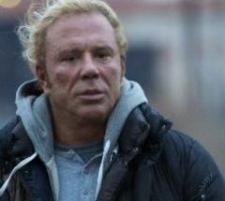 Mickey Rourke in The Wrestler.
The Wrestler is not a depressing movie. It is about balancing ones personal life with ones professional life. Randy sacrificed his relationship with his daughter for his job. They were never close as he concentrated more on his career and less on being an attentive father. Cassidy is a stripper whose real name is Pam. She is a single mother, and makes the point to keep her job and her private life separate. However, she has feelings for Randy, who pays her for lap dances, but she tries hard to keep him at a distance. She is better at balancing her professional and personal life than Randy, but she still struggles with it.
The most interesting scene is when he works at the deli. Just before going out to the service counter he puts on his apron and his hairnet, just as he put on his wrestling tights and pads before a match. When he wrestled he put on his game face and entertained the crowd. As a deli clerk, he has to put on his customer service face and deal with customers who are sometimes quite picky. It shows that no matter what our job is, we all have two aspects of our life, personal and professional, that often compete with each other.
Randy is a hero to the neighborhood kids, but even they tire of him. Randy has given so much to his career as a wrestler that it is all he has left. He works out, goes to a tanning salon, a hair dresser and takes steroids to stay in shape, and look the part of his wrestling persona. If he put half the effort into his daughter that he does his career, they would likely have a great relationship.
The ending of The Wrestler is not a depressing one as it features Randy back in the ring doing what he loves most in the world. His speech before the fight explains this. He even calls the audience his family. His happiest moments are when he goes back to the locker room after a fight, and the other wrestlers applaud him. This would have only been a depressing movie had Randy not gotten back in the ring.
Reviewed on:
February 13th, 2009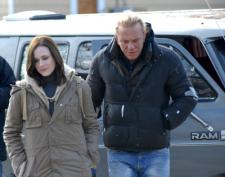 Evan Rachel Wood and Mickey Rourke.
The Wrestler is Rocky with a 21st Century complexion. I have to side with Eric that the ending isn't at all depressing. Tragic yes, depressing no. We are all here for a finite period of time; can you honestly think of a more glorious ending for Randy? When you live life on the edge you are bound to get sliced up a bit before eventually falling off. Randy, at least, got to climb back up for another moment in the sun.
A perfect cast. The scene where Randy quits his job at the deli counter is overdone but that's a very minor complaint. Well done.
Photos © Copyright Fox Searchlight (2008)