Movie Review
World Trade Center
A True Story Of Courage And Survival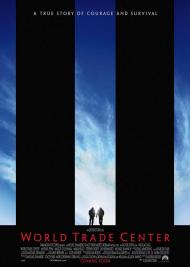 US Release Date: 08-09-2006
Directed by: Oliver Stone
Starring
▸
▾
Nicolas Cage

,

as

John McLoughlin
Michael Pena

,

as

Will Jimeno
Jay Hernandez

,

as

Dominick Pezzulo
Armando Riesco

,

as

Antonio Rodrigues
Maria Bello

,

as

Donna McLoughlin
Maggie Gyllenhaal

,

as

Allison Jimeno
Donna Murphy

as

Judy Jonas

Reviewed on:
August 12th, 2006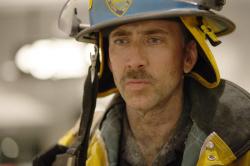 Nicolas Cage in World Trade Center.
When I heard that Oliver Stone was making a movie about 9/11 I certainly didn't expect the result to be so bland and sentimental. I expected it to be laced with conspiracy theories and liberal politics. And while I probably would have disagreed with most of it, it would have been a more interesting movie than this one.
The plot revolves around the true story of Port Authority Police Officers John McLoughlin and Will Jimeno. They were the two Officers who were buried in the rubble following the collapse of the towers and then pulled out hours later. They were 2 of only 20 people who were pulled from the rubble. Along with their story, the movie also is told from the perspective of their wives. It is this side of the story that resembles a soap opera. In fact, the whole movie has a Lifetime Movie of the Week feel.
Right from the beginning the movie sets a tone of melodrama that belies the stark reality of that day. It opens with dawn over New York City, but rather than portraying it as a normal morning, the scenes around the city are covered by sentimental music that seem to portend something is coming. And the people they show are all uniformly nice and polite to each other. Two strangers on a subway pass chatter about Derek Jeter. A cop politely asks a homeless guy to move off of the Jackie Gleason statue out side the Port Authority Bus Terminal and the homeless guy politely banters back. Why not show New York in all its hurried, brash rudeness. (And yes, some of us in New York are polite, but to show it as such an idyllic morning is wrong.) Following these shots, the cop outside Port Authority, notices the shadow of the first plane to hit the towers pass overhead. All these shots build to the thing that finally happens, which is the destruction of the towers. The thing about that morning though, is that it was just another morning with no foreshadowing of the horror that was to come.
The final resolution of the story also goes on to point out how the tragedy did end up bringing people together. And it did have that effect. Suddenly New Yorkers did pull together, united by a common catastrophe, so why not accentuate that by showing how in the morning we were just a bunch of strangers on a train riding into our individual jobs and lives, but in a few hours we would all be connected in a way we could never have imagined.
A large part of the movie takes place with McLoughlin and Jimeno trapped underground and these scenes are the best part of the movie as they keep each other talking, striving to hang in there together. Although the choice of showing Jesus carrying the bottle of water seems out of place, although it fits more with my idea of an Oliver Stone movie than the sentimentality does.
This was the first movie I've ever seen that depicted events that I have personally witnessed. I wasn't at the towers, but I was at work in my office that morning in Manhattan. I was close enough to vividly see the towers burning and then fall. I was close enough that I saw dust covered (some bloodied) people walking up from downtown. Maybe it would be impossible for any movie to convey the true horror of that day, but this one doesn't even come close.
Seeing as how the fifth anniversary of 9/11 is fast approaching, it would have been nice if this movie could have ended with shots of a renewed downtown with building underway on either a memorial or a new tower on the site of the World Trade Center. Unfortunately, thanks to politics and infighting, there is still a gaping hole where the towers once stood, and looking down on the hole stands the black shrouded spectre of the Deutsche Bank building, which remains empty, waiting to be torn down. People have asked whether or not it's too early to make movies about the World Trade Center, which may or may not be the case, but it is certainly well past the point where something needs to made in the real world there.
Reviewed on:
August 17th, 2006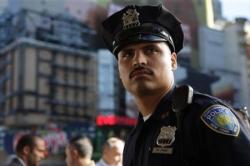 Michael Pena in World Trade Center.
I don't think Stone was trying to truly convey the horror of 9/11. This isn't an epic movie covering every possible angle of that fateful day. It is instead the miraculous true story of how these 2 men survived against nearly impossible odds. The entire tragedy is seen as it happened to them and their families.
For me this made the movie more powerfully moving and also uplifting. By focusing on these survivors Stone is able to leave us with hope and what is essentially a happy ending. What we don't need is a movie exploiting the horror and sadness of that day. Stone has wisely gone another route and also steers refreshingly clear of politics.
The acting is first rate. Nicolas Cage, Maria Bello and Maggie Gyllenhaal are all completely believable, but it is Michael Pena who steals the movie. He broke out in last year's Best Picture winner Crash and now seems destined for stardom. He has a knack for playing likable, average guys with lots of heart.
The theater in Manhattan where my partner Rich and I saw this movie was pretty empty. It seems many New Yorkers are either not ready or just not interested in the subject matter. I think those who see World Trade Center will get something other than what they were expecting. And I hope that those who lost loved ones that day will be able to share even a tiny bit of the joy these 2 families experienced when Will and John were pulled alive from the ruins.

Reviewed on:
March 6th, 2009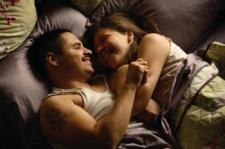 Michael Pena and Maggie Gyllenhaal.
Stones best decision in making this movie was keeping it focused on the two men and their families. This made the movie intimate and very personal. It never shows the towers come down as it was shown on the news countless times. You experience it from the inside of the tower as it happened.
I have never been a Cage fan, and this movie did not change my opinion of him. He is always so wooden, especially in a drama. He does decent work in comedies where his ugly mug does not have to be taken seriously. Here he never comes across very realistically. Even his character says, at one point, that he rarely smiles. Cage never brings John to life the way Pena does for Will.
Patrick is correct about Pena. He has the good guy routine down. He comes across as joe average, and as such represents America at it's very core. He is a guy of obvious ethnic background who is living the American dream. He is married with children and works for the NYPD. Bringing him out of the wreckage is like bringing America out from it. Likewise the fireman in Wisconsin spoke for countless Americans when he said, "BASTARDS!" While watching the coverage on television. I also must mention the marine who returns to uniform much like many men did after the attack.
Some people get very emotional when thinking about 9/11, while others find it merely a sad moment in our history. I am the former. My heart stopped when Stone showed a body fall from one of the towers. It is a quick moment that represents the very hell the people in those buildings experienced during their last moments on this world. Call it patriotism or national pride, but stories of 9/11 always choke me up.
Photos © Copyright Paramount Pictures (2006)
Related Reviews