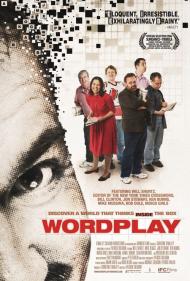 US Release Date: 06-16-2006
Directed by: Patrick Creadon
Starring
▸
▾
Will Shortz

,

as

Himself
Merl Reagle

,

as

Himself
Jon Stewart

,

as

Himself
Ken Burns

,

as

Himself
Indigo Girls

,

as

Themselves
Mike Mussina

,

as

Himself
Bill Clinton

,

as

Himself
Daniel Okrent

,

as

Himself
Bob Dole

,

as

Himself
Bill Clinton

,

as

Himself
Jon Delfin

,

as

Himself
Tyler Hinman

,

as

Himself
Ellen Ripstein

as

Herself

Reviewed on:
November 22nd, 2006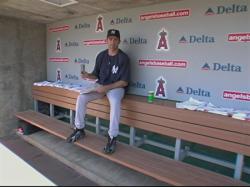 Major League Baseball Pitcher Mike Mussina in Wordplay.
Normally I don't review documentaries. In fact, I rarely even watch them. Not that I have anything against them, it's just usually when I have time to watch a movie I want to be entertained, not educated. Plus, when a documentary is about a topic I don't know that much about, I always wonder, am I really learning the truth about this subject or am I just getting some skewed version of the subject, so that instead of a documentary what I'm really watching is a propaganda film (or in other words, every "documentary" Michael Moore has ever made).
When it came to Wordplay however, I figured I was pretty safe from the propaganda, it came highly recommended and to top it all off, it features Mike Mussina, my favorite New York Yankee pitcher.
The subject of Wordplay is crossword puzzles. It might not seem like the most enthralling of subjects, but this movie is done so well that even if you're like me and don't do crossword puzzles, you'll still be entertained.
Will Shortz is the main human subject of the documentary. He's the current editor of the New York Times Crossword puzzles, which pretty much makes him the king of Crosswords. Many years ago he started the premiere Crossword Puzzle Tournament, which is still going on today. Various contestants and followers of Shortz' puzzles are interviewed as well, many of them well known celebrities. Jon Stewart, Bill Clinton, Ken Burns and Mike Mussina are among the better known who are interviewed.
While it's interesting to hear the celebs comments, more interesting are the people for whom crosswords are their life. I've been to a few Sci-Fi conventions in my time and I never thought I would see a group of people more socially challenged than some of the people I saw at them. Crossword geeks, however, could easily give them a run for their money, although I'm sure there are some crossovers between the two groups. These are people who can do the NY Times Crossword in less than five minutes. If you've ever attempted to even complete one of their crosswords, you'll appreciate just how hard that is. They take the Tournament very, very seriously.
Okay, so this might not seem like the most obvious choice for a movie to watch when you're browsing the DVD racks at your local video store, but hey give it a chance. I guarantee by the end of it you'll be reaching for your newspaper and a pencil.

Reviewed on:
November 29th, 2007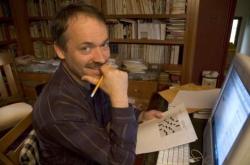 New York Times Crossword Editor Will Shortz in Wordplay.
I have one crossword puzzle story. I was in boot camp and all of the guys were in a rare down moment, reading letters and writing. Someone had a newspaper, I cannot remember which one, and it was opened to the crossword. I grabbed it and started doing it. Other guys joined in and soon a bunch of us recruits were trying to figure it out. This may not seem like much of a story but it stands out because it was the one moment for me in boot camp where we were not talking about what we were going through or how much we missed what we left behind. The puzzle provided a much needed distraction.
I am not, by any means, a crossword afficionado like the folks in the movie. These people can do the New York Times crossword puzzle in a few minutes! It was fascinating seeing Mike Mussina, whom I was a fan of long before Scott. It was fun trying to decipher what Clinton was really saying when he kept going on about how people need to be nurtured. However, it was the common folk who take center stage. Their brief stories demonstrate that everyone can be good at something and no matter what it is, you are not alone. The documentary should have scuttled the celebrities and focused more on the crossword nerds. The movie builds to a championship match but it could have been far more tense had we been given more time to get to know the players.
Photos © Copyright IFC Films (2006)