Movie Review
The Women
It's all about men!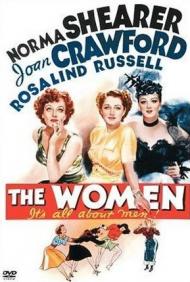 US Release Date: 01-09-1939
Directed by: George Cukor
Starring
▸
▾
Norma Shearer

,

as

Mrs. Stephen Haines (Mary)
Joan Crawford

,

as

Crystal Allen
Rosalind Russell

,

as

Mrs. Howard Fowler (Sylvia)
Mary Boland

,

as

The Countess DeLave (Flora)
Paulette Goddard

,

as

Miriam Aarons
Joan Fontaine

,

as

Mrs. John Day (Peggy)
Hedda Hopper

,

as

Dolly Dupuyster
Butterfly McQueen

as

Lulu

Reviewed on:
April 26th, 2003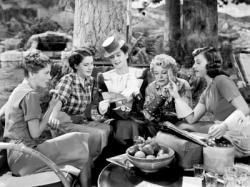 The Women
The great-grandmother of all chick flicks, The Women is a nonstop catfight and bitch-fest from beginning to end. There isn't a man in sight, but the ladies in this movie obsess constantly about them, to the point where every word and deed seems to revolve around the fact of them. Hell, even the tagline screams, "It's all about men!" Imagine a pre-WWII Sex and the City, minus the graphic sex talk, and you have a pretty good picture of The Women.
This George Cukor directed dramedy boasts an all-star cast from the fabled MGM stable that includes Norma Shearer, Joan Crawford, Rosalind Russell, Joan Fontaine and Paulette Goddard. Anita Loos adapted the screenplay (with an uncredited assist by F. Scott Fitzgerald) from the Broadway hit by Clare Boothe Luce. Shot in glorious black and white, The Women does include a Technicolor fashion show sequence featuring eye-popping gowns by the imaginative designer Adrian. As fun and refreshing as this is, it does nothing to advance the story, and it slows down an already fairly lengthy movie.
The plot centers around Mary Haines (Shearer). A lovely wife and mother happily married to a wealthy Manhattan businessman. That is until she finds out he's cheating on her with a tacky shop girl named Crystal Allen (Crawford). This knowledge sets off an interesting chain of events, but to be honest the details of this soap opera are not as important as the colorful characters and incredibly witty dialogue they spew nonstop.
Rosalind Russell (as the two-faced Sylvia) demonstrates her double-threat talent for rapid-fire line delivery as well as her unique physical comedy gifts. Mary Boland steals a few scenes as The Countess DeLave, giddily proclaiming "L'amour, l'amour!" Still, it is the emotional tug of war between the virtuous Norma Shearer, "No pride at all! That's a luxury a woman in love can't afford!" and the gold digging Joan Crawford, "You noble wives and mothers bore the brains outta me." that anchors the flighty goings on in this estrogen filled celebration.
Reviewed on:
June 27th, 2005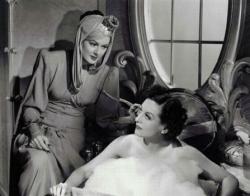 The Women
The biggest problem I had with this movie is simply how dated the attitudes are. It rivals High Society in finding excuses for men to cheat on their wives. The other problem, as Patrick mentioned, is its length. Cutting the aforementioned fashion show, which was obviously included simply to dazzle an audience -- used to a diet of black and white films -- with its colorful display. However, as Patrick also mentioned, the movie's saving graces are its stars, especially Rosalind Russell and Joan Crawford, who both turn in scene-stealing and funny performances.
There is also some very witty dialogue bantered around over the course of the film, usually fired off at machine gun pace. As when Crawford's Crystal says, "There is a name for you, ladies. But it isn't used in high society... outside of a kennel." Or Russell's Sylvia, "Oh, you remember the awful things they said about what's-her-name before she jumped out the window? There. You see? I can't even remember her name so who cares?" There's so much cattiness going on over the course of this film, it should come with a saucer of milk.
The Women is enjoyable for the most part, but a good editing job to trim it down to less than two hours would have made it even more so.

Reviewed on:
March 11th, 2009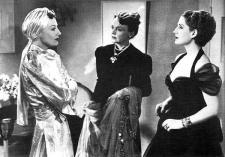 She may be a slut, but at least Crystal earned her fancy dress.
What in the hell did Mary have to complain about? She spends all day doing absolutely nothing but having fun. She played with her daughter or laid around a spa. When things got dull she lunched with her friends or went to a fashion show. Her husband worked all day and provided her with a life that royalty would have been jealous of. They had an apartment full of servants. Her one and only duty was to please her husband, and she obviously failed at that as he sought sex elsewhere. For the life he provided for her, Mary should have sent her husband off to work every morning with a blow job. Not only should she have excused his affair, but she should have helped him arrange as many sexual encounters with other women that he wanted. She does not cook or clean for her husband. She left on a Bermuda vacation with her mother, on a moments notice, leaving her daughter behind. Child care must not have been an issue either. The one and only duty she had in their marriage was to provide him with sex. No wonder he had an affair. Sure, Crystal was in it for the money, but she had to earn it. Mary's husband got something out that relationship. Mary did jack shit, while leading a care free, stressless life of luxury at her husbands expense. I agree with Crystal's opinion of her. What a bitch!
Photos © Copyright MGM (1939)