Movie Review
Woman in Gold
Justice is priceless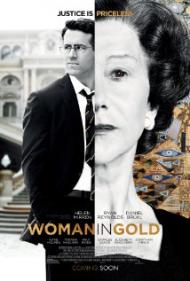 US Release Date: 04-01-2015
Directed by: Simon Curtis
Starring
▸
▾
Helen Mirren

,

as

Maria Altmann
Ryan Reynolds

,

as

Randol Schoenberg
Daniel Bruhl

,

as

Hubertus Czernin
Katie Holmes

,

as

Pam
Tatiana Maslany

,

as

Young Maria Altmann
Max Irons

,

as

Fritz
Charles Dance

,

as

Sherman
Antje Traue

,

as

Adele Bloch Bauer
Elizabeth McGovern

,

as

Judge Florence-Marie Cooper
Frances Fisher

,

as

Barbara Schoenberg
Moritz Bleibtreu

,

as

Gustav Klimt
Tom Schilling

,

as

Heinrich
Jonathan Pryce

,

as

Chief Justice William Rehnquist
Ben Miles

as

Ronald Lauder

Reviewed on:
April 16th, 2015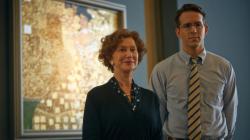 Helen Mirren and Ryan Reynolds posing in front of "The Woman in Gold."
The Woman in Gold works as a companion piece to The Monuments Men (2014), about the discovery of a cache of Nazi treasure and the recovery of stolen art work. Although both films tackle a similar subject, The Monuments Men failed to create any personal connection with the audience as there was no emotional center for the viewers to root for. The Woman in Gold tells of a personal journey of one elderly woman to retrieve a painting that was confiscated from her family by the Nazis and later claimed by the Austrian government. With the help of a likable and dedicated lawyer, we are easily drawn into their fight for something that is rightfully hers.
Helen Mirren stars as Maria Altman, an elderly widow living in California who discovers some information upon going through her recently deceased sister's papers. It seems that their long dead uncle left them his five Klimt paintings, including a very famous one called "The Woman in Gold", which is a portrait of their Aunt Adele. If you have had any exposure to art you have likely seen this painting in print. Maria asks Randy Schoenberg, the son of a longtime friend, to look into it. Ryan Reynolds plays Randy, a lawyer and grandson of a famous Austrian composer. It is his and Maria's shared ethnic and religious history that makes them trust each other and develop a sense of real purpose.
At first, Randy is interested in helping Maria as he discovers that the painting is worth 100 million dollars and a commission on that would surely benefit his wife and children. Upon visiting Vienna and a Holocaust monument with Maria, he rediscovers his roots. He sees the ethical and personal need to return the stolen masterpiece to its rightful owner beyond just the monetary gain. An historical injustice has been done and his mission becomes one to right an old wrong.
They attempt to get restitution but the Austrian government and the board of the Belvedere museum in Vienna have no desire to lose what one journalist calls, "The Mona Lisa of Austria." Even after Randy produces paper work that supports Maria's proprietorship, the Board rejects her claim. It forces Randy and Maria to sue the Austrian government in the United States Supreme Court.
You can look up the true story of what became of "The Woman in Gold" but that is not the point of this film. Through flashbacks we meet Maria as a child and a young woman. We meet her aunt Adele, her parents, sister and her husband, an opera singer. We see them loving each other and we see them threatened by the Nazi occupation. One exciting sequence even involves a dramatic escape.
The cynics among us can easily dismiss Altman's determination to get the painting as a money grab but the film works over time getting you to see it more as the correcting of an injustice. Both Maria and Randy are of Austrian descent and it is their connection to the past that so makes their plight personal and interestingly patriotic. At one point Maria tells Randy that not all Austrians objected to the Nazi occupation.
Helen Mirren, employing a thick Austrian accent, delivers as solid a performance as we have come to expect from her. She can break your heart one moment, when remembering her long dead relatives but then make you laugh the next when acting motherly to Randy. It is Ryan Reynolds who is truly a surprise. Mostly gone is his easy going charm and cock sure attitude he has built most of his career on. He has several scenes where he gets misty eyed, revealing some acting range that may expand his future role choices.
Some of The Woman in Gold feels like old cliches. A couple waiting on a tarmac for a plane to take them away from pursuing Nazis was first done in Casablanca (1943). However, this one woman's journey to obtain that which was stolen from a close relative in such a horrible situation got to me. This film drips with historical sentiment and it made me want to learn more about our distant relatives who lived in Holland during the war. I always appreciate movies that make me wonder or think afterwards.
Photos © Copyright Origin Pictures (2015)
Related Review