Movie Review
The Wiz
The Motown remake of The Wizard of Oz!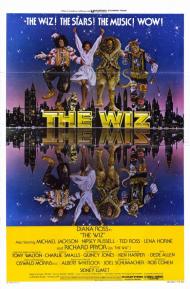 US Release Date: 10-24-1978
Directed by: Sidney Lumet
Starring
▸
▾
Diana Ross

,

as

Dorothy
Michael Jackson

,

as

Scarecrow
Nipsey Russell

,

as

Tinman
Ted Ross

,

as

Lion / Fleetwood Coupe de Ville
Mabel King

,

as

Evillene
Theresa Merritt

,

as

Aunt Emma
Thelma Carpenter

,

as

Miss One
Lena Horne

,

as

Glinda the Good
Richard Pryor

,

as

The Wiz
Stanley Greene

as

Uncle Henry

Reviewed on:
January 17th, 2011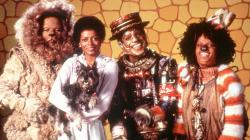 Ted Ross, Diana Ross, Nipsey Russell, Michael Jackson and Toto too in The Wiz.
For anyone that doesn't know, The Wiz is a re-imagining of L. Frank Baum's classic American fairy tale The Wonderful Wizard of Oz with an all black cast. This big budget screen adaptation of the hit Broadway musical provides moments of grand entertainment even though it was over-produced, features some fairly lackluster sets, and its star, Diana Ross, was 15 years too old for the role of Dorothy.
Ross was given the part over the Tony Award winning originator of the Broadway version, Stephanie Mills. It ain't called Show BUSINESS for nothin'. It's not at all unusual for a studio to choose a big name box office talent over an unknown and untried stage performer in a big budget movie. Just look at Barbra Streisand getting Hello Dolly over Carol Channing. Whereas Streisand was too young for Dolly, Ross was too old for Dorothy.
This problem is addressed by making Dorothy a 24 year old elementary school teacher who's "never been South of 125th Street" in Harlem. To her credit Diana Ross gives it her all and manages to express a certain naiveté and childish sense of wonder. Nevertheless her Dorothy is an emotionally stunted odd duck. She does however stretch her pretty, but rather thin, singing voice to heights she had never before (or since) achieved. Although purists will always prefer Stephanie Mills' version, Ross's "Home" is a vocal powerhouse packing an undeniable emotional wallop.
Michael Jackson gave his one and only starring performance in a major motion picture as the Scarecrow. He is discovered by Dorothy while being tormented by a group of funky crows. He sings the gospel tinged, blue's number "You Can't Win" and stops the movie with his talent. Then he and Ross perform the movies' most famous song and dance, "Ease on Down the Road" a disco update of the Wizard of Oz's "Follow the Yellow Brick Road/We're Off to See the Wizard". Michael and Diana dance and sing their butt's off on this one with Michael doing many of his trademark quick spins. The image of them dancing across this urban Yellow Brick Bridge is iconic.
Instead of straw this Scarecrow is stuffed with newspaper and book clippings. He has a famous quote for almost any occasion, sometimes apropos nothing. At the end of the movie he realizes he has had a brain all along when he says this quote to Dorothy. "Success, Fame and Fortune, they are all illusions. The only thing that is real is the friendship that two can share." Dorothy exclaims, "That's beautiful! Who said it?" The Scarecrow: "I did."
Nipsy Russell's Tin Man is a sideshow carnie they happen upon at Coney Island. (Geographically The Wiz takes poetic license with New York City. Beginning in Harlem the story moves randomly and haphazardly around the city from Manhattan to Brooklyn and back again with stops at the Public Library in mid-town and the World Trade Center downtown, where the Wiz himself resides.) The Cowardly Lion pops out of one of the lion statues in front of the main branch of the New York Public Library. Ted Ross, like Bert Lahr 40 years earlier, steals the movie as the sniveling King of Beasts bursting with false braggadocio. He was the only member of Dorothy's companions from the Broadway hit that recreated his part for the big screen.
Mabel King was also from the stage version. Her Wicked Witch of the West is a hoot. She brings down the house with her show stopping number "No Bad News". She is called Evillene and is portrayed as the owner of a sweat shop, whereas the Good Witch is a bookie called Miss One. Evillene is destroyed thus liberating the Winkies from bondage at the hands of this truly wicked witch. The celebratory "Brand New Day" follows. It is the "11:00 o'clock number" in the movie. Sure the slavery symbolism is a bit obvious, but it is a great uplifting song and provides the emotional high point of the story.
I can't wrap up a review for The Wiz without mentioning Richard Pryor as the title character. His reclusive humbug wizard is a sad and lonely man. You never really felt sympathy for Frank Morgan but Pryor makes you aware of his sad situation. The legendary Lena Horne shows up as Glinda and sings one great song "Believe in Yourself". As Miss One says about her, "She's a real star."
Finally the message of The Wiz is actually the polar opposite of The Wizard of Oz. In that movie Dorothy discovers there's "No place like home." And that happiness can be found in your own backyard. The moral of The Wiz is that you can't hide yourself away from the world and that you must begin the search for fulfillment by letting others see the real you.


Reviewed on:
June 13th, 2011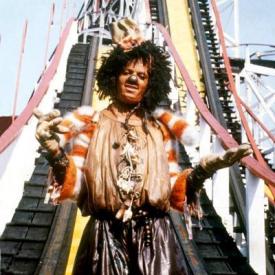 Michael Jackson in The Wiz
If you were going to make an all black cast film in 1978 you could not get a more famous cast than what is gathered here. Diana Ross was the most famous black woman in America having been the lead singer in the most successful American pop group ever, The Supremes. They scored more #1 songs than any other group. Look it up. She had likewise found success as a solo singer. This was her third movie, having been nominated for an Oscar for her screen debut in Lady Sings the Blues. Yet, as Patrick wrote, she was horribly miscast. If I was to guess her age based on how she looks in this movie, I would put her at 40. She was 33.
Stephanie Mills had a much bigger voice, and was 20 years old when this was filmed. She is also short in height, helping with the illusion that she is supposed to be a child. She was the better choice, but she did not have the name recognition. She would go on to a notable recording career, including the classic disco hit "Never Knew Love Like This Before".
Looking at this from today, you would think that putting Michael Jackson in a musical would be a stroke of genius, and you would be correct. The problem is that it was made a few years before he had perfected his world famous dancing. In the scene where we meet him he just hangs on a wired post while some crows dance at his feet. What a wasted moment. If this movie had been made 10 years later that scene would have no doubt been re-worked to have him dance. The most interesting thing about Jackson's performance is that he sings in a way you would never again hear him. He does not use his trademark high pitch "hee he." He even hits some lower notes that he would never use again.
Although the cast is not all at their best, they are hardly the film's biggest problem. The Wiz runs a staggering 134 minutes, and you feel every friggging one of them. Some songs seem to drag on and on, and then when they finally end and you hope the movie will finally start to roll along, it stops dead in its tracks to do another number. The only memorable song, and the film's brightest moment is Ross and Jackson doing "Ease on Down the Road".
Sidney Lumet is not known for being a musical director. He has in fact made some very great dramatic films like 12 Angry Men (1957) and Network (1976). How anyone decided to hire him for a musical is beyond me, as he clearly got lost on that yellow brick road.
Photos © Copyright Universal Pictures (1978)
Related Reviews