Movie Review
Witness for the Prosecution
Once in 50 years suspense like this!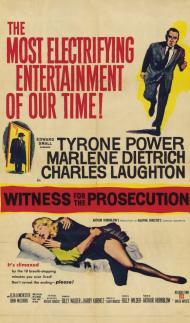 US Release Date: 02-06-1958
Directed by: Billy Wilder
Starring
▸
▾
Tyrone Power

,

as

Leonard Vole
Marlene Dietrich

,

as

Christine Helm
Charles Laughton

,

as

Sir Wilfrid Robarts
Elsa Lanchester

,

as

Miss Plimsoll
John Williams

,

as

Brogan-Moore
Henry Daniell

,

as

Mayhew
Ian Wolfe

,

as

Carter
Torin Thatcher

,

as

Mr. Myers
Norma Varden

,

as

Emily French
Una O'Connor

,

as

Janet McKenzie
Francis Compton

,

as

Judge
Philip Tonge

,

as

Inspector Hearne
Ruta Lee

as

Diana

Reviewed on:
October 15th, 2008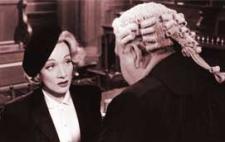 Marlene Dietrich and Charles Laughton square off.
Witness for the Prosecution is a quintessential movie buff's movie. It was quite successful at the time of its release, garnering Oscar nominations for Picture, Actor, Supporting Actress and Direction. It also features an impressive list of collaborators both in front of and behind the camera: directed by Billy Wilder from Agatha Christie's play and starring Tyrone Power (in his last screen appearance), Marlene Dietrich and Charles Laughton. Despite all this, Witness for the Prosecution is virtually unknown today outside of classic movie fans.
For my money this is the most entertaining of the old-time courtroom dramas. The characters are vivid, the dialogue crackles, and the plot has just enough twists in it to keep you guessing. Surprise endings were common in Agatha Christie novels and this one holds up well after more than 50 years. Thanks to the interplay between Laughton and his real life wife Elsa Lanchester the drama is balanced with well-played humor. The first half hour moves a bit slowly but once the gears start turning it glides along effortlessly.
Power and Dietrich play husband and wife. He's accused of murder and she's the titular witness. Charles Laughton defends him and is the real star of the movie. Billy Wilder called him the greatest actor he ever worked with. He could instantly give any line half a dozen different readings. He had a mellifluous voice and a brilliant delivery. The most famous line of the movie comes during his cross-examination of Dietrich's character. He rhetorically asks, "Are you not, in fact, a chronic and habitual LIAR!" Exploding on the last word.
Because the ending is so essential to the enjoyment of this movie I won't spoil it here. Wilder was so intent on keeping it a secret at the time that he included a message during the end credits asking audience members not to give it away. It was The Crying Game of its day. Marlene Dietrich gives the best performance of her career and she is matched by Tyrone Power's desperate charm and Charles Laughton's clever verbosity.
Reviewed on:
November 2nd, 2013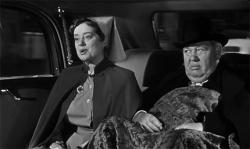 Elsa Lanchester and Charles Laughton in Witness for the Prosecution.
Witness for the Prosecution feels more like an Alfred Hitchcock film than a Billy Wilder one. In fact, Hitchcock himself once said, "Many times, people have told me how much they enjoyed Witness for the Prosecution. They thought it was my film instead of Billy Wilder's." Only the humor, which reportedly Wilder added to the film and which wasn't in the original play, gives away the identity of the director. In either case, it's a very entertaining film.
Although the character of Leonard Vole is an Englishman, the part was offered almost exclusively to American actors.Frequent Wilder collaborator William Holden was first offered the part, but he was unavailable, so they turned to Tyrone Power, who turned them down. Other American actors considered were Gene Kelly, Kirk Douglas, Glenn Ford and Jack Lemmon, along with the only Englishman, Roger Moore. Finally though, Tyrone Power accepted the part with the condition that he would also star in Solomon and Sheba, although he would pass away from a heart attack before finishing that second film.
56 year old Marlene Dietrich, who looks remarkably good for her age (although reportedly not without a little help), does a good job as the wife called upon to testify in the trial against her husband, particularly in one specific scene that is tied to the film's twist ending. Reportedly, it was she who lobbied Wilder to take on the film, in part because it would help her land the role of Christine.
Despite the presence of two former A-List movie stars in the twilight of their respective careers, it is character actor Charles Laughton who steals the film, particularly in the scenes with his real-life wife, Elsa Lanchester as his nurse. Their comic banter is one of the highlights of the movie. They could have turned this character into a franchise and I'd happily have watched them all so long as these two appeared together in all of them. Patrick called the first half-hour slow, but because of those two, that section of the film contains some nice humor.
If there's a disappointing element to the film, it's the twist ending that isn't really that twisty. Of course part of the problem is that this film is known for having a twist ending so I was on the lookout for it and was therefore able to see most of the ending coming, although the identity of one character did come as a surprise to me.
One thing that did surprise me was how much John Cleese must have been influenced by this film when he wrote A Fish Called Wanda. Jamie Lee Curtis's testimony in that film seems almost like a parody of Dietrich's in this one. They are far too similar to be a coincidence.
I agree with Patrick. This is one of the best of the old time courtroom dramas. The serious side is helped enormously by the lighter moments.

Reviewed on:
November 6th, 2013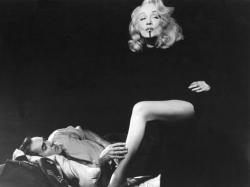 Tyrone Power and Marlene Dietrich in a publicity still for Witness for the Prosecution
Considering that 12 Angry Men was made in 1957 and Judgment at Nuremberg in 1961, court room dramas were very much in vogue when Witness for the Prosecution was made in 1958. As my brothers wrote, the solid performances and intriguing murder mystery draws you in and keeps your attention. I was not so sure of the twist ending and found it very satisfying.
Scott wrote that Marlene Dietrich looks remarkably good for her age and I agree. The same cannot be said of Tyrone Power. Prior to World War II, his boyish good looks, not his acting, earned him roles in many films. Famous romance novelist Barbara Cartland was once asked how, as a virgin, could she write such steamy books, she answered, "We didn't need sex. We had Tyrone Power".The sexiest scene in this film is when Power kisses Dietrich, holds her in his arms and asks, "How are you fixed for sugar?" and she answers, "I could use some."
After serving as a pilot in the war, Power returned to Hollywood to some success but never again reached the same matinee idol heights he once knew. He seemed to age quickly but received some good notices such as for his performance here. Power was aware of how people saw him and reportedly once said, "Someday I will show all the motherfuckers who say I was a success just because of my pretty face." He does a decent job here, but let's be honest. If he had looked like Charles Laughton, no one would have ever heard of Tyrone Power.
Speaking of Laughton, I agree with my brothers that he does a marvelous job. He is great in the dramatic moments such as the "Liar!" scene Patrick mentioned. He is also great in the comedic scenes that Scott so liked. I enjoyed his delivery of the line, "I am constantly surprised that women's hats do not provoke more murders." It is a reference to a scene where Powers is in a movie theater watching a movie about Jesse James. It is a nod to Tyrone Power's 1939 film, Jesse James, in which he played the lead.
Early in the film, Power tells in flashback how he met the murder victim. "It was the 3rd of September…" he begins. I am not sure if that date is supposed to be symbolic or just a random date. On September 3rd, 1939 the United Kingdom, France, New Zealand and Australia declared war on Germany after they invaded Poland. On September 3rd, 1941 the first gas chamber experiments using Zyklon B were conducted at Auschwitz on Soviet prisoners. The Allied invasion of Italy began on September 3rd 1943. A year later, on September 3rd, Anne Frank and her family were put on a transport to Auschwitz. I also wonder if Motown songwriters Norman Whitfield and Barrett Strong had seen this movie as the first lyrics to their song "Papa Was a Rollin' Stone" are, "It was the 3rd of September…" I may have rambled but like the mystery presented here, I find most coincidences too obvious to be believed.
Photos © Copyright United Artists (1958)