Movie Review
Without Love
The story of a KISSLESS BRIDE...and the man who WALKED IN HIS SLEEP!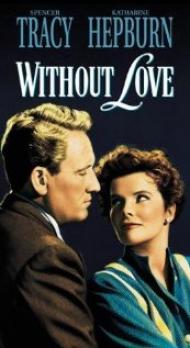 US Release Date: 03-22-1945
Directed by: Harold S. Bucquet
Starring
▸
▾
Spencer Tracy

,

as

Pat Jamieson
Katharine Hepburn

,

as

Jamie Rowan
Lucille Ball

,

as

Kitty Trimble
Keenan Wynn

,

as

Quentin Ladd
Carl Esmond

,

as

Paul Carrell
Patricia Morison

,

as

Edwina Collins
Felix Bressart

,

as

Prof. Ginza
Emily Massey

,

as

Anna
Gloria Grahame

as

Flower Girl


Reviewed on:
August 1st, 2012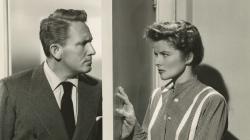 Spencer Tracy and Katharine Hepburn in Without Love
Without Love is based on a Broadway play that Katharine Hepburn starred in a few years earlier. It teams her with her favorite film co-star Spencer Tracy. Like so many of their films together, it is about a slightly unconventional relationship.
Tracy plays Pat, a scientist working on a secret oxygen and altitude experiment for the war department. As the film starts, he arrives in Washington DC but cannot find a place to stay. He meets a drunk who often stays in a big townhouse owned by his widowed socialite cousin Jamie, played by Hepburn. She allows Pat to stay on and work on his project in her basement.
They start to have eyes for each other right away. After commenting that Jamie should never keep wine locked away, Pat adds, "...but you seem to be a girl whose kept a lot of precious things locked up for a great many precious years." wink wink, nudge nudge. Despite an attraction for each other, they both share a late night conversation where they both express why neither wants to fall in love again. Pat had his heart broken by a flirtatious girl, while Jamie lost her loving husband to an accident. As Hepburn states to Tracy, "You never want love in your life again and I never want it in mine. But our reasons are as different as the sun is from the moon. You don't want it because you've had all the worst of it. I don't want it because I've had all the best."
Hepburn proposes that she and Pat get married as they would make great partners, with her helping him with his experiments. They would have companionship and never be alone. Hepburn has most of the dialogue in this scene as the camera never leaves her. She had some real lines to remember, but since she was trained for the theater it was probably not as hard for her as it seems. They agree to have, "A good and happy marriage without love." They get around the sex question with Hepburn saying shyly, "There is one thing though." To which Tracy quickly responds, "Madam you would never have to give that a thought."
Things seem to move along smoothly with the two acting like best friends working together. Then a man shows up that turns Jamie on. They share a kiss and Jamie starts to remember what it feels like to be a woman with desires. Pat on the other hand has to deal with the reappearance of his old flame Lila.
Without Love is a predictable romantic comedy, but then all of them are. Where it really succeeds is in the casting of two of the greatest actors of their generation. Hepburn and Tracy loved like no one else. They always played couples who learned to respect each other before they desired each other.
Without Love also provides some genuine laughs. Pat is a sleep walker and Jamie's reaction to finding him in her bed is priceless. The supporting cast also helps out greatly. Keenan Wynn is a hilarious drunk. Lucille Ball was quite a dish here playing a socially active girl, but has little to do.
We know how this will all play out, but it is about the journey and not the destination, and with Tracy and Hepburn as your traveling companions the trip can be as routine as it wants.
Reviewed on:
November 8th, 2013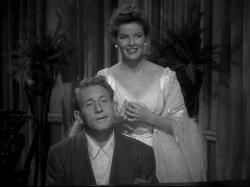 Tracy and Hepburn in Without Love.
Katharine Hepburn combined regal beauty, fiery passion, and brilliant comic timing in one remarkable package. Like a fine wine, she seemed to ripen and improve with age. Spencer Tracy possessed a low key personality with average looks. He specialized in a natural style of acting that was ahead of its time. In Without Love -like in all their pictures together- they spar verbally and are often at odds with each other before the never-in-doubt, happy ending.
As Eric wrote, in romantic comedies (and life itself) the journey is more important than the destination. And with these two titans of the screen together, the details of the story don't really matter all that much. I agree they are eminently watchable in all their pictures together, but this is not one of their best. The set-up is particularly weak. I didn't buy the scene where she proposes to him. It felt rushed and contrived. The pacing is likewise problematic. It runs nearly two hours and yet it seems as if they share relatively little screentime.
The stage role of Jamie Rowan was written specifically for Miss Hepburn by her famous playwright friend Philip Barry, as he had previously done for her with Tracy Lord in the hugely successful The Philadelphia Story (trivia bonus: the 1938 Katharine Hepburn/Cary Grant comedy Holiday was also based on a Barry play). He writes clever dialogue, "She writes horseback." It's just too bad this cinematic adaptation feels claustrophobic and stage-bound, something more easily forgivable in those early 30's talkies than a movie released in 1945.
Lucille Ball is indeed wasted in a small role. Her comic timing and distinct wisecracking speaking voice are there but she somehow seems older here than she does on I Love Lucy, which didn't premier for another six years. Lucy and Kate had previously worked together on the 1937 backstage classic Stage Door. At the time I doubt anyone would have guessed that they would become two of the biggest female icons of the 20th Century. Movie buffs will get a kick out of Gloria Grahame's brief but funny appearance as a flower girl who suffers from hay fever.
I will say that as a couple Tracy and Hepburn have never looked better (see photo). Tracy looks almost boyishly handsome in some scenes while Hepburn is simply radiant. He has more screentime but as usual she gets the showiest scene. She shows off her comedic flair in the final act, imitating his old flame with a very long cigarette holder as a prop. It's easily the film's comic highlight.
Without Love isn't a terrible movie but it's certainly not up to the high standards of the very best of Hepburn and Tracy.
Photos © Copyright Metro-Goldwyn-Mayer (MGM) (1945)
Related Reviews