Movie Review
Wish I Was Here
Life is an occasion. Rise to it.
US Release Date: 07-18-2014
Directed by: Zach Braff
Starring
▸
▾
Zach Braff

,

as

Aidan
Kate Hudson

,

as

Sarah
Mandy Patinkin

,

as

Gabe
Josh Gad

,

as

Noah
Joey King

,

as

Grace
Pierce Gagnon

,

as

Tucker
Ashley Greene

,

as

Janine
Alexander Chaplin

,

as

Rabbi Rosenberg
Jim Parsons

,

as

Paul
Donald Faison

,

as

Anthony
Mark Thudium

,

as

Terry
Allan Rich

,

as

Rabbi Twersky
Michael Weston

as

Jerry
Reviewed on:
July 19th, 2014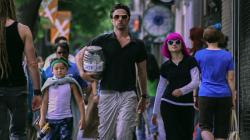 Pierce Gagnon, Zach Braff, and Joey King in Wish I was Here.
10 years after his directorial debut, Zach Braff returns as writer/director/star in Wish I was Here, a family drama with a healthy dose of comedy. It's an ambitious film that despite feeling as though Braff has tried to pack too much into one story, still manages to entertain, while providing a nice change of pace from the special effects heavy comic book movies packing theaters this summer.
Braff plays Aidan, an aging wannabe actor whose career has never really taken off. His last "big" part was in a dandruff commercial. With no money coming in from his career, it's up to his wife Sarah (Hudson) to support the family, while Aidan's father Gabe (Patinkin) pays for Aidan and Sarah's children's private school. When Gabe reveals that he has cancer and will be using his savings to battle the disease, Aidan faces some life decisions. Can he still afford to pursue his dream, or is it time for him to face up to life's responsibilities? Yes, in a way this is a coming of age story, but instead of an adolescent facing adulthood, this is the coming of age of a man to the realities of life.
The heart of the story are the relationships between Aidan and his father and between Aidan and his family. There's nothing overly melodramatic in the relationship between Aidan and Gabe, which is a nice change. Gabe has been a distant and disapproving father, but now with the end of his life, there's a chance for reconciliation, and also the chance for Aidan to take a more active role in his own children's lives. It's in these moments that the film really shines.
Unfortunately, perhaps because it's been 10 years and Braff has had a lot of ideas in the meantime, the story often strays from its central premise. At 2 full hours, there's plenty of room for editing. There are a few scenes featuring friends of Braff's, including a couple of former Scrubs castmates, that should have been removed. Aidan's brother Noah also feels superfluous. He's never as fully fleshed out as Aidan and his relationship with Gabe doesn't carry nearly as much weight as Aidan's does. There's also a recurring Sci-Fi fantasy of Aidan's that never really works and likewise needed to be cut.
The central cast is one of the film's greatest strengths. Braff doesn't possess great range as an actor, but he always remains likeable. Patinkin does a great job as the dying father and Hudson, whose career has never really given her room to stretch, gets a couple of nice moments that proves her talent goes beyond just her looks. And Joey King is quite touching as Grace, Aidan and Sarah's daughter. She's struggling with religion and finding her own identity.
Although I enjoyed this movie, it does feel as though Braff is trying too hard at times. He wants to say something important and significant, but sometimes the earnestness of his writing takes itself too seriously. The sentiment comes on strong in several scenes. Its best moments are those where the drama is tempered with humor.
Rather famously, Braff took to Kickstarter to raise the money he needed to make this film. One of the reasons he did so was because no studio would allow him to have final cut rights and so he went it alone. I'm sure he would disagree, but I can't help but feel this was a mistake. You get the feeling while watching and from reading press materials about the film that Braff feels as those this film is his baby and so it's understandable that he would have a problem cutting parts of it. However, someone without a personal stake in the project really needed to take a cold hard look at it and trim it appropriately.
Despite its flaws, Wish I was Here is still good enough that I hope Braff doesn't take another 10 years to make his next film. I would much rather sit through another film like this than have to watch one more bloated CGI spectacle like Transformers.
Photos © Copyright Focus Features (2014)