Movie Review
Winnie the Pooh
Back where they belong. In theaters everywhere.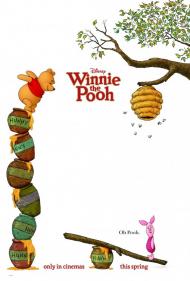 US Release Date: 07-15-2011
Directed by: Stephen J. Anderson and Don Hall
Starring
▸
▾
John Cleese

,

as

Narrator (voice)
Jim Cummings

,

as

Winnie the Pooh / Tigger (voice)
Bud Luckey

,

as

Eeyore (voice)
Craig Ferguson

,

as

Owl (voice)
Jack Boulter

,

as

Christopher Robin (voice)
Travis Oates

,

as

Piglet (voice)
Kristen Anderson-Lopez

,

as

Kanga (voice)
Wyatt Dean Hall

,

as

Roo (voice)
Tom Kenny

,

as

Rabbit (voice)
Huell Howser

as

Backson

Reviewed on:
July 17th, 2011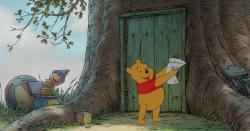 Pooh is back in this delightfully old-fashioned cartoon.
This Disney release of a new Winnie the Pooh cartoon feels satisfyingly old-fashioned. Apart from one out of place Raiders of the Lost Ark reference you'd never know when it was released. I found this somewhat comforting, as I did the fact that the restless pack of young children in the theater quieted down for the entire short run of the film. It's good to know that Pooh still has the power to captivate.
The plot is an amalgam of stories from the A. A. Milne Pooh books. Eeyore, the depressed donkey has lost his tail and the denizens of the 100 Acre Wood set out to find him a replacement. Later a note left by Christopher Robin leads to some confusion. His, "Back soon" is mistaken for "Backson", which the animals believe is a hideous monster that has kidnapped Christopher and they set out to rescue him.
With every movie released these days featuring computer generated graphics and most in 3-D, the hand drawn animation and water color styled backgrounds are soothing to the eye and nostalgia inducing to the mind. The characters are all well done and exactly as I remembered them from my own childhood, which is exactly how it should be. Pooh and friends should never be modernized. A 3-D, CGI Pooh would be criminal.
The gentle humor is clearly aimed at quite young children. Anything north of 5 and you'd probably be pushing it. Apart from the nostalgia factor though, there are a few jokes that are funny to all ages. My favorite moment is when the animals think they've captured the Backson in their pit (although it's actually Pooh who fell for the Honeypot trap), but no one wants to go look and see for themselves and so they rather ruthlessly volunteer Piglet.
The voice work is all first rate. John Cleese acts as narrator, quite often interacting with the characters as they interact with the words on the page that he is reading. Craig Ferguson is good as Owl while Jim Cummings does double-duty, perfectly capturing Pooh and Tigger both.
If I was to complain about anything in this short film, it might be the songs. They're pretty unmemorable, but thankfully quite short.
At just over an hour the story simply flies by. It's old fashioned entertainment for the very young and for those looking for a little nostalgia from their childhood.

Reviewed on:
July 21st, 2011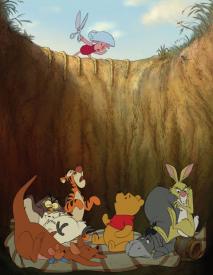 Piglet must find a way to save Pooh and friends.
The Winnie the Pooh stories are the very epitome of pre-school innocence. The inhabitants of the 100 acre woods are as safe and secure as a nursery. Never is the tiniest of threats to be found there. The child like friends have a very limited understanding of the world around them, thus a misread note leads to an adventure of their own making.
Although this is aimed directly at youngsters, I found some moments of laughter. Since they all have the mentality of a four year old, they are constantly confused. Eyore and Pooh believe Owl is sneezing whenever he says, "...issue." "He's doing it again. You must be catching a cold."
When everyone but Piglet is stuck in the hole, they yell up to him to tie a rope in knots. What follows is a "not" confusing conversation, "Um, I cannot knot." The best joke in the film comes shortly later when Owl flies out of the pit, gives Piglet a speech and then flies back in again. All of the friends give Owl an incredulous look, but not for the reason you are thinking.
Like Scott, I enjoyed the artistry. The water colors are warm and calming. The use of the typed words in the novel that John Cleese is supposedly reading from is ingeniously incorporated into the actual action of the movie. Pooh and friends walk, crash and climb onto the letters.
Often, films and stories seem to encourage children to learn and grow up, but not Winnie the Pooh. He revels in his toddler ignorant innocence, enjoying the simple little safe world of the 100 acre woods. It also serves to remind us older folks that life, youth and innocence is fleeting. Winnie the Pooh gives us a small glimpse back into those brief moment of our life when all you needed to be happy was your imagination and someone to share it with.
Reviewed on:
December 20th, 2011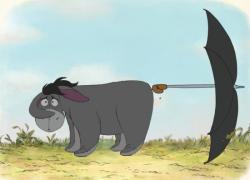 Eeyore tries out a new tail in Winnie the Pooh.
How refreshing to see an animated movie that is hand drawn and gently innocent. The filmmakers didn't lower Pooh to making vomit or poop jokes like most of today's animated movies. Although it lacks in originality it is a great way to introduce another generation to the charms of Pooh Bear and all his friends in the Hundred Acre Woods.
The story of Eeyore losing his tail has been done in a Pooh movie before as has the idea of the Backson, which was originally called a Heffalump. In both versions Pooh winds up in the pit. The animation is simple yet very effective. I too liked the inclusion of the actual words on the page. It is a nice little idea that has served Pooh well in the past.
John Cleese does a good job of imitating Sebastian Cabot, Pooh's original narrator. Likewise Jim Cummings successfully channels Sterling Holloway as Pooh. If you close your eyes you can hardly tell the difference. In fact all of the voice work sounds remarkably similar to the original versions.
I agree that the songs are lacking. None of them had me humming along. I also wish Tigger had been given more to do. Still with such a short running time and by staying so true to the spirit and style of the original cartoons, Winnie the Pooh (2011) is a winner.

Photos © Copyright Walt Disney (2011)