Movie Review
Winner Take All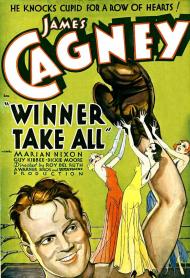 US Release Date: 07-16-1932
Directed by: Roy Del Ruth
Starring
▸
▾
James Cagney

,

as

Jimmy Kane
Marian Nixon

,

as

Peggy Harmon
Guy Kibbee

,

as

Pop Slavin
Dickie Moore

,

as

Dickie Harmon
Virginia Bruce

,

as

Joan Gibson
Alan Mowbray

,

as

Forbes
Esther Howard

,

as

Ann
Clarence Muse

,

as

Rosebud, Jimmy's trainer
Clarence Wilson

,

as

Ben Isaacs
Ralf Harolde

,

as

Legs Davis
John Roche

,

as

Roger Elliot
Gabby Hayes

,

as

Intern at Rosario Ranch
Charles Coleman

,

as

Joan's Butler
Allan Lane

as

Monty
Reviewed on:
August 6th, 2014
James Cagney in Winner Take All.
In Winner Take All James Cagney plays punch-drunk pugilist Jim Kane. As with many of Cagney's early films, his performance overshadows the script. The story is formulaic but told with a few unexpected twists that keeps it more interesting than you might think. This was the first of four times Cagney would play a prize fighter in his career. The others are The Irish in Us (1935), City for Conquest (1940), and the 1984 made for television movie Terrible Joe Moran (Cagney's final film), which showed clips from this picture of Jimmy in the ring.
The plot goes like this. After overdoing the wine and women, welterweight Jim Kane leaves New York City for some R&R in the New Mexico desert. While he's there he meets a pretty young widow (Marian Nixon) who's the mother of a little boy played by Dickie Moore. When Kane learns that she's destitute he goes back in the ring to raise money for her. He wins the purse but gets a broken nose and cauliflower ear for his troubles. His success in that fight, however, sends him back to the east coast where he quickly reverts to his old ways.
He meets a society dame (Virginia Bruce) and falls hard for her. After a chance remark on his appearance, Kane has plastic surgery to fix his nose and ear. He also attempts to improve himself with elocution and etiquette lessons that don't effect any noticable change in his manners. To protect his new looks, he changes his boxing style to one where he dances around and jabs. The crowds begin to boo him and at the same time his society girlfriend no longer finds him attractive. Blah, blah, blah, the ending is never really in doubt. We know he will end up with the down to earth mother, instead of the fickle society dame. The fun is in watching Cagney get there.
James Cagney excelled at making unlikable characters likable. He does it again here as the uneducated, egotistical fighter. Jim Kane is selfish and even callous towards his women. He treats the first one like a doormat to be taken for granted. He just knows she'll be waiting for him in the end. The society dame he treats like his personal property. Telling – not asking – her that they are going to be married. All the while oblivious to the fact that she doesn't even like him anymore, let alone being in love with him.
Cagney threw himself into the role. He speaks with even poorer grammar than usual and has the hitching gait of someone who's been hit in the head a few too many times. He also sports a prosthetic nose and ear in a few scenes that make him look like the prototype for Robert De Niro in Raging Bull. To believably pull off the role of a professional boxer Cagney trained with ex-welterweight fighter Harvey Perry, who also appears in the film. By modern standards the scenes in the ring aren't anything special, but they don't detract from the movie either.
Of the women, neither really gets a chance to shine. Virginia Bruce was a beauty but not a particularly memorable presence on screen. Marian Nixon was more so. She sounded a bit like Jean Arthur and looked a bit like Myrna Loy; and that, my friend, is not a bad combination. The supporting cast also includes Guy Kibbee and Alan Mowbray, with Gabby Hayes showing up in an uncredited cameo as an intern at the health ranch early in the picture. Of historical interest is the fact that Winner Take All includes a clip from what is now considered to be a lost film. George Raft and Texas Guinan appear in a scene taken from the 1929 talkie Queen of the Night Clubs.
Like virtually all his movies, the success of Winner Take All depends entirely on the presence of the one and only James Cagney. And once again, he doesn't disappoint.
Photos © Copyright Warner Bros. (1932)