Movie Review
The Window
Thrills and Chills!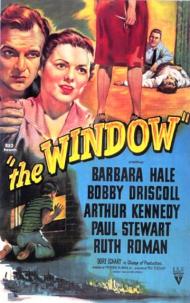 US Release Date: 08-06-1949
Directed by: Ted Tetzlaff
Starring
▸
▾
Barbara Hale

,

as

Mrs. Mary Woodry
Arthur Kennedy

,

as

Mr. Ed Woodry
Paul Stewart

,

as

Joe Kellerson
Ruth Roman

,

as

Mrs. Jean Kellerson
Bobby Driscoll

,

as

Tommy Woodry
Richard Benedict

,

as

Drunken Seaman
Anthony Ross

,

as

Detective Ross
Jim Nolan

,

as

Stranger on street
Eric Mack

,

as

Police officer
Lee Phelps

,

as

Police officer
Charles Flynn

,

as

Police officer
Budd Fine

as

Police officer
Reviewed on:
February 15th, 2013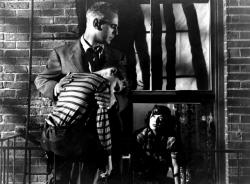 Paul Stewart, Bobby Driscoll and Ruth Roman in The Window.
The Window, based on the short story "The Boy Cried Murder" by Cornell Woolrich, has a simple yet compelling plot. A young boy living with his parents in a tenement on New York's Lower East Side goes out on the fire escape to sleep one steamy summer night and witnesses his upstairs neighbors committing a murder. Tommy, a nine-year-old boy with a vivid imagination, is forever telling tall tales, or "crying wolf" as the case may be. Therefore no one believes his story even after Tommy goes to the police with it.
When Tommy's mom makes him apologize to Mrs. Kellerson (of the upstairs neighbors) for spreading vicious lies about them, they realize that Tommy is the sole witness to their dastardly act. That night Tommy's mother gets a telegram and must go visit a sick relative while Tommy's dad is at work, leaving Tommy all alone in the apartment with the killers upstairs knowing he knows their secret. All of this leads to an extremely taut and tension-filled climax as Tommy is hunted by the Kellersons.
The Window was shot on location in Manhattan and it makes great use of the city streets and tenement buildings. The tenement building itself is like a character in the story. Director Ted Tetzlaff keeps the camera in almost constant motion. He had previously cut his teeth as a cinematographer on more than 100 movies including Notorious for Alfred Hitchcock. Apparently he learned a thing or two about creating and maintaining suspense from the master.
The Window is an unusual example of film noir in that it features a child in the starring role. Bobby Driscoll, a Walt Disney discovery who appeared in Song of the South, So Dear to My Heart and Treasure Island, as well as providing the voice of Peter Pan in the animated classic, gives a performance of startling authenticity. He brilliantly conveys genuine and unrelenting terror during the final 30 minutes of the film.
Ironically, in real life the adult Bobby Driscoll spiraled into drug addiction and wound up on the streets. On March 30, 1968 his body was discovered by two kids playing in an abandoned East Village tenement. He was buried in an unmarked pauper's grave on Hart Island. Bobby Driscoll was just 31 years old.
The Window was made by RKO Pictures for a mere $210,000. It was a box office and critical hit upon its release in 1949. It had actually been filmed two years earlier but had been temporarily shelved by the studio's eccentric owner Howard Hughes. It has been remade on three different occasions, as The Boy Cried Murder in 1966, as Eyewitness in 1970 and, most recently, as Cloak & Dagger in 1984.
This B&W noir is a little gem of a film. It runs just an hour and 15 minutes but packs in plenty of story. You will find yourself caught up in Tommy's ordeal as he learns the hard way the consequences of crying wolf too often. The four main adult characters are all given fine interpretations by the cast, with Ruth Roman standing out as Mrs. Kellerson. She is especially good in the scene with Tommy and his mother. The Window pops up every now and then on Turner Classic Movies. I highly recommend you peer in if you come across it while channel surfing late one night.
Photos © Copyright RKO Radio Pictures (1949)