Movie Review
Win a Date with Tad Hamilton!
In every love story, there's only room for one leading man.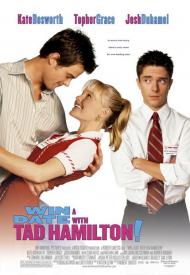 US Release Date: 01-23-2004
Directed by: Robert Luketic
Starring
▸
▾
Kate Bosworth

,

as

Rosalee Futch
Josh Duhamel

,

as

Tad Hamilton
Topher Grace

,

as

Pete Monash
Ginnifer Goodwin

,

as

Cathy Feely
Sean Hayes

,

as

Richard Levy
Nathan Lane

,

as

Richard Levy
Gary Cole

,

as

Henry Futch
Kathryn Hahn

,

as

Angelica
Stephen Tobolowsky

,

as

George Ruddy
Octavia Spencer

as

Janine

Reviewed on:
January 22nd, 2004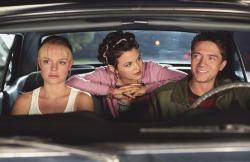 Kate Bosworth, Ginnifer Goodwin and Topher Grace in Win a Date with Tad Hamilton!
In time for Valentine's Day comes this sweetly innocuous romantic comedy. There may not be an original moment during the entire movie but it still has the power to amuse, and if you see it with that special someone you may feel a sentimental tug on your heartstrings, even though the ending is visible from the opening scene, literally.
Fortunately the rehashed script is tempered by the wonderful cast. Everyone in it is pitch perfect for their role. Josh Duhamel has the charisma and larger than life qualities neccessary to pull off huge movie star Tad Hamilton. He also demonstrates a nice flair for comedy. Kate Bosworth (seen recently in Wonderland) is the all-American girl next door. Her virginity is practically stamped on her forehead. She has the prerequisite ability to dazzle with her smile as well as let her eyes fill up with tears during the dramatic moments. Topher Grace (That '70's Show) is an Andrew McCarthy-type for the new millenium. He is a completely average guy who uses his ' vicious rhetoric' to get by in an unfair world. Ginnifer Goodwin (Mona Lisa Smile) was born to play the good-for-a-laugh, heart-of-gold best friend.
Nathan Lane and Sean Hayes provide moments of slapstick silliness as Tad's agent, Richard Levy and Tad's manager, also named Richard Levy.
Rosalee, Pete and Cathy are lifelong best friends and current coworkers at the local Piggly Wiggly in Fraziers Bottom, West Virginia. Rosalee and Cathy pine for matinee idol Tad Hamilton while Pete is secretly in love with Rosalee. When Rosalee heads off to Hollywood after winning her dream date contest with the handsome movie star, Pete's parting words to her at the airport are, 'guard your carnal treasure!' What Rosalee, in her rural innocence, is unaware of, is the fact that Tad Hamilton is in reality a Hollywood bad boy. The contest was cooked up by the two Richard Levy's as a way of changing his public image in order for Tad to land a much coveted part in an important picture. Nathan Lane gets one of the best lines when he holds up a tabloid snapshot of Tad and says, 'Congratulations. You're actually drinking, driving, smoking, leering and groping at the same time.' Of course once Tad spends some time in the company of such virtue he changes his stripes and follows Rosalee back to West Virginia in the hopes that some of her goodness will rub off on him. This leads to some funny moments, such as Rosalee's father's reaction to meeting the movie star. Wanting to appear like a hip insider he wears a Project Greenlight t-shirt and as Tad prepares to take Rosalee out on a date tells him, 'Have her back by dawn and don't let her do any cocaine.'
As January movies go, you could do much worse than Win a Date with Tad Hamilton!.

Reviewed on:
February 6th, 2004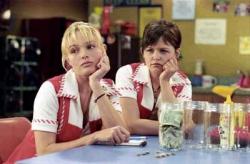 Kate Bosworth and Ginnifer Goodwin in Win a Date with Tad Hamilton!
Win a Date with Tad Hamilton is an adorable romantic comedy. You will laugh at a few scenes and cringe at a few others. The rest of the time you will simply be in awe of just how damn cute the cast is.
The scene where Pete walks in on Tad as he is sitting on the toilet had the audience roaring. Pete is in a melancholy mood with the need to talk, while Tad is in a position not to argue. It could have been a vulgar scene but comes off not being toilet humor at all.
'Guard your carnal treasure!' Rosalee doesn't have virgin stamped on her forehead Patrick. She doesn't need to. It is the subject of several scenes. It is obvious that Pete is likewise a virgin. It is a nice change to have 22 year old virgins in a movie. However they labor the point to exhaustion. When Rosalee refuses to come into Tad's house, who obviously has seduction on his mind, he tells her 'Good for you.' He is impressed by her virtue!
This film is uneven. It has many scenes that work and many plot devices that don't. The scene where the bartender explains to Pete that he is a 'Tad Hamilton,' to her, is brilliant. Yet Tad's entire motivation to be near Rosalee's 'goodness' is unbelievable on any level.
The movie needed more scenes with Pete and Tad. The heart of the movie is their attraction to Rosalee. The only purpose she plays is to be an object of desire. Early in the movie, a scene cuts back and forth between Tad at his home and Pete at his. Tad is saying goodbye to an attractive woman he just met and slept with. Pete is singing to his dog and making a sandwich. These scenes reveal that both men are lonely. Both scenes end with them each sitting alone eating something.
The part where Pete is desperately trying to show up Tad is pure gold. You can't possibly watch those scenes without feeling Pete's frustration. The movie is a classic love triangle. However the real friction and interest is in the competition between 'joe average' and 'joe movie star'. The writers should have kept more focus on the tension between the two rivals.
Photos © Copyright DreamWorks Pictures (2004)