Movie Review
Wimbledon
She's the golden girl. He's the longshot. It's a match made in...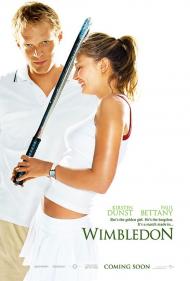 US Release Date: 09-17-2004
Directed by: Richard Loncraine
Starring
▸
▾
Kirsten Dunst

,

as

Lizzie Bradbury
Paul Bettany

,

as

Peter Colt
Eleanor Bron

,

as

Augusta Colt
Nikolaj Coster-Waldau

,

as

Dieter Proll
Jon Favreau

,

as

Ron Roth
Bernard Hill

,

as

Edward Colt
Barry Lee-Thomas

,

as

Final Umpire
Sam Neill

,

as

Dennis Bradbury
James McAvoy

,

as

Carl Colt
John McEnroe

,

as

Himself
Chris Evert

,

as

Herself
Mary Carillo

as

Herself

Reviewed on:
September 16th, 2004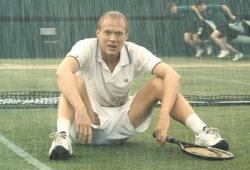 Paul Bettany in Wimbledon.
After countless underdog sports movies involving every sport from Dodgeball to Hockey, Hollywood finally got around to doing one about tennis. Unfortunately, the plot is also saddled with a somewhat awkward love story that never works as well as the scenes on the court, despite the charm and talent of its two leads.
Paul Bettany stars as Peter Colt, a 32 year-old British player ranked 119th in the world, playing in his very last Wimbledon. His retirement plans go completely unnoticed by the press as all of their attention is turned on the young up and coming players, such as the American woman making her Wimbledon debut, Lizzie Bradbury (Dunst). Peter's chances of winning are so low that even his own brother bets against him.
When Peter meets Lizzie and sleeps with her, his tennis playing becomes inspired. He starts a winning streak that soon has everyone paying attention to him, including Lizzie's overprotective father (Sam Neill).
The best moments in the movie are those on the court. Bettany is superb in the role. His inner soliloquies are the funniest and most heart felt moments in the film. It's very easy to root for him as he plays against much younger opponents and the occasional old friend.
It's the time off the court where the movie suffers. And this movie spends a lot of time off the court. So much time that at times it's hard to remember that Wimbledon is still going on somewhere in the background as Peter and Lizzie go to dinner, drive to the beach, sleep together and just generally make goo-goo eyes while doing everything but play tennis.
This wouldn't be so bad if the love story was better, but it's really not. Peter and Lizzie meet, have sex the same night, and then BAM they're in love. The only obstacle to their relationship is the half-hearted effort Lizzie's father makes to keep them apart. There's never a question of them getting together and very little chemistry when they do, although not through any fault of the stars.
In the end, there's not much to Wimbledon. It's formulaic, predictable, and lightweight. It is only thanks to Bettany's performance that the movie manages to rise above itself. Dunst who is cute and charming as always, just doesn't have enough to do. The tennis is entertaining, but not so much that I expect to see a horde of tennis related movies coming out in the near future.
Bettany, who's been seen mostly in supporting roles, might be hoping this will be the movie that makes him a leading man star. He obviously has the talent and the charm, as he proved in his earlier films, but it's doubtful this movie will be the one to make him a star.

Reviewed on:
July 29th, 2005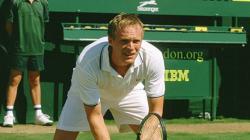 Paul Bettany in Wimbledon.
Paul Bettany is a very talented and entertaining actor. He delivers his lines with the proper amount of wit. Listen to how he says such lines as, "Shouldn't he be off discovering masturbation somewhere?" and "My parents are still together, which proves that love isn't just blind, it's bloody stupid." However, he lacks real leading man charm. He makes a great sidekick and co-star. See A Knights Tale for a perfect example.
Like Scott, I liked Peter's inner monologues and found his family to be quite funny. His dad lives in a tree house. The rest of the movie just seems to be a mess. It contains a cliched romantic love song montage. Peter's best friend Dieter, sticks around for no apparent reason. Sure, they share some dialogue about love, but can't Peter give that exposition during one of his narrative moments. Lizzie's father tries to break up the couple but fails so miserably that he might as well not have even tried.
I like Bettany and Dunst as actors, and each has done better work than this. Bettany tries too hard to be Hugh Grant, and fails. Dunst is not fully convincing as a tennis pro. Am I the only one who thinks she is not as good looking as she acts like she is?
Wimbledon is a convoluted love story. It feels too forced to enjoy. I felt like playing tennis afterwards but have no desire to ever watch this movie again.
Reviewed on:
January 28th, 2012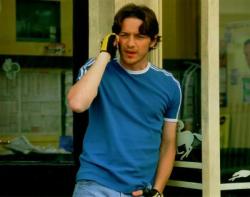 A young James McAvoy in Wimbledon.
The DVD case boasts that Wimbledon "…is one of the year's best romantic comedies". Well let me tell you, whether you are talking about 2004 or 2012, this movie is neither romantic nor funny. I agree with my brothers as far as the love story between Bettany and Dunst is concerned. It's contrived and lacks even a spark of genuine romance.
Unlike my brothers, I didn't find Wimbledon to be that amusing either. I guess I chuckled a few times near the beginning when everyone keeps getting Peter's career high ranking wrong. Tennis Club Member: "Oh look, there's Peter Colt. Once ranked 17 in the world." Peter: "ELEVENTH!"
Without laughs or romance to keep me occupied I was quite bored. I disagree with Scott's assessment of the scenes of Peter competing on the tennis court. I didn't find them particularly well done. To pass the time I kept comparing the actual Wimbledon tournament to the way it is represented here. There were a few glaring inaccuracies. The biggest one being that in this movie the Men's and Ladies' semi-finals are held at the same time and neither one is played on Center Court.
Also in one scene it begins to rain in the middle of one of Peter's matches and the play is allowed to continue far longer than in real life. Anyone who knows anything about Wimbledon (which seems to me would be a large portion of this movie's audience) would know that because of how quickly the grass gets wet and slippery play is halted immediately with the first sprinkles of rain.
Finally, the fact that Peter is a Brit who wins Wimbledon is a complete and utter fantasy. The last time that happened was in 1936 when Fred Perry hoisted the trophy. No British male has even played in the finals since 1938! In real life the press in London would have reacted much bigger than what is shown here. I'm sure a national holiday would be declared and the Queen herself would attend the finals if this ever happened.
A young, then unknown, James McAvoy plays Bettany's opportunistic younger brother. He livens up a few scenes, his charismatic screen presence already in evidence. I agree with Eric that Bettany is better in supporting parts. Dunst, although top-billed, gets short changed in this so-called sports romance, which is just another of its many flaws. Game, set and match, Wimbledon loses.

Photos © Copyright Universal Pictures (2004)