Movie Review
Willy Wonka & the Chocolate Factory
It's Everybody's Non-pollutionary, Anti-institutionary, Pro-confectionery Factory Of Fun!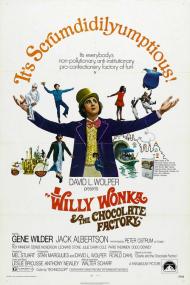 US Release Date: 06-30-1971
Directed by: Mel Stuart
Starring
▸
▾
Gene Wilder

,

as

Willy Wonka
Jack Albertson

,

as

Grandpa Joe
Peter Ostrum

,

as

Charlie Bucket
Julie Dawn Cole

,

as

Veruca Salt
Denise Nickerson

,

as

Violet Beauregarde
Paris Themmen

,

as

Mike Teevee
Michael Bollner

,

as

Augustus Gloop
Diana Sowle

,

as

Mrs. Bucket
Aubrey Woods

,

as

Bill, candy store owner
Günter Meisner

as

Arthur Slugworth


Reviewed on:
June 30th, 2001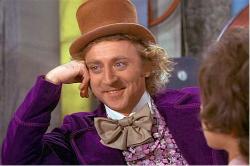 Gene Wilder in Willy Wonka and the Chocolate Factory.
Willy Wonka is a movie that is special to me. Excuse me as I reminisce for a moment, but as a child our family did not have a lot of money. A single piece of candy was a major treat. Once a week we got a can of pop as a special goody. So imagine me watching a movie where the prize for the best child is an entire candy factory. I wanted desperately to be Charlie and win that prize.
Charlie Bucket is one of several children who has found a golden ticket inside a Wonka candy bar. The ticket invites them all to meet Willy Wonka, who owns the factory, and tour the facilities. Since the factory is always kept locked up it is a wonderful prize to enter the top secret place.
Willy Wonka is played by the great Gene Wilder. He steals every scene he is in and has all the best lines. 'A little nonsense now and then is relished by the wisest men.' Wilder specializes in playing eccentric characters and he does not disappoint here. Going from subtle one liners like 'The suspense is killing me. I hope it lasts' to hysterical outbursts; 'Good day Sir!'
The humor is abundant. Charlie's teacher is very good. Try to keep up with some of his dialogue. The 4 grandparents all sharing the same bed is absurdly funny. The snotty ass Veruca and her father are the most entertaining of the competitors.
The one flaw this movie has is its songs. This is a musical, but other than 'The Candyman' can you sing any other song from it? The golden ticket song Charlie sings with Grandpa Joe is entertaining enough and 'Your Imagination' is light and lilting. Neither, however, is that memorable. Now don't even get me started on the boring, sleep inducing 'Cheer Up Charlie' song.
Other than that this is a wonderful children's movie. There is the threat of Slugworth, the moral lessons of the Oompa Loompas, but most importantly the fantasy of being a child lost in a candy factory. A child who feels he has nothing and is put in a place that not only makes him special but gives him the chance to help his family.
Reviewed on:
June 30th, 2002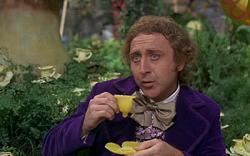 Gene Wilder in Willy Wonka and the Chocolate Factory.
Like Eric I have special memories of watching this movie as a child. It is a classic adventure/fantasy/musical that appeals to both children as well as adults. The cast is wonderful, led by the great Gene Wilder as Eric mentioned. My only disagreement with him concerns the songs, my favorite of which is Pure Imagination, sung whimsically by Wonka as the children and their adult companion's first enter into the main area of the mysterious candy factory. Here they find themselves in a room where everything is eatable. The lyrics to the song perfectly reflect the scene and it is one of the most imaginative moments in a great film.
Each of the five children are one by one eliminated from the story because of their own bad behavior, except of course for Charlie. My favorite is when Veruca sings her whiny song about wanting everything NOW! The others, overweight Augustus, gum chewing Violet and Mike TV all come to no good end. After each child's banishment the colorful Oompa Loompa's treat us to a moral lesson in song.
Then, of course, is the magical ending. Who as a child did not want to be Charlie? He starts off as a poor little ragamuffin who barely knows where his next meal is coming from and ends up being given the keys to a magic kingdom. The scene where Wonka tests him near the end is brilliant. We go from utter disappointment to ecstatic bliss. Then comes the final ride in the Wonkavator, which doesn't merely go up and down but sideways and back ways and slantways and any other ways you can mention.
Willy Wonka is a funny, imaginative ride that can, and should, be enjoyed more than once. After all, we are the music makers and we are the dreamers of dreams.
Reviewed on:
June 30th, 2003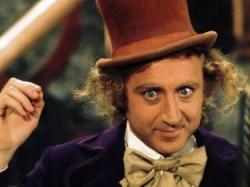 Gene Wilder in Willy Wonka and the Chocolate Factory.
You know, I'd love to jump right in here and stir up some controversy by violently disagreeing with my brothers about this film, because frankly all this sickly sweet adoration for a children's move is giving me a toothache. Unfortunately, I can't. I too have wonderful memories of watching this movie as a child, and I too still love this movie.
In fact, seeing this movie at such a young age just might be what first started me on the road to being an anglophile. Although the English and Americans mix freely in this movie, some even in the same family, without ever being explained, there are some genuine moments of hilarity in this movie that bear that distinctive mark of British humor.
On the matter of the songs, I fall somewhere in the middle. Yes, I liked 'The Candyman', and yes, I liked 'Pure Imagination'. But I would willingly forfeit them both if it meant that I didn't have to hear 'Cheer Up Charlie'. No wonder the poor kid can't cheer up. If my mom was singing such a dreary, depressing song, I'd be sad as hell too.
As both Eric and Patrick pointed out, Gene Wilder is the star and steals the movie. He is perfect in the role and has some great moments, but the supporting characters, including those who are only in one or two scenes, are also funny. Especially in the montage of shots as the world goes crazy looking for the golden ticket.
So many children's movies label themselves, 'Suitable for the whole family' and yet still end up boring either the children or the adults. Willy Wonka and the Chocolate Factory is one that everybody, no matter what the age, should REALLY be able to enjoy.
Photos © Copyright Paramount Pictures (1971)