Movie Review
Wildcats
Her dream was to coach high school football. Her nightmare was Central High.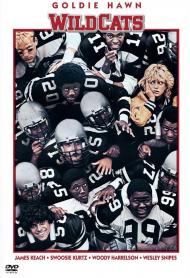 US Release Date: 02-14-1986
Directed by: Michael Ritchie
Starring
▸
▾
Goldie Hawn

,

as

Molly McGrath
Swoosie Kurtz

,

as

Verna McGrath
Robyn Lively

,

as

Alice Needham
Brandy Gold

,

as

Marian Needham
James Keach

,

as

Frank Needham
Jan Hooks

,

as

Stephanie Needham
Bruce McGill

,

as

Dan Darwell
Nipsey Russell

,

as

Ben Edwards
Mykelti Williamson

,

as

Levander 'Bird' Williams
Tab Thacker

,

as

Phillip Finch
Wesley Snipes

,

as

Trumaine
Jsu Garcia

,

as

Cerulo
Woody Harrelson

,

as

Krushinski
M. Emmet Walsh

,

as

Walt Coes
Ann Doran

,

as

Mrs. Chatham
Gloria Stuart

,

as

Mrs. Connoly
LL Cool J

as

Rapper

Reviewed on:
January 16th, 2012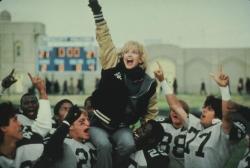 Goldie Hawn on the shoulders of Woody Harrelson and Wesley Snipes in Wildcats.
Wildcats is a quintessential 1980s high school sports comedy. The music, fashion, cars and hairstyles are all unmistakably 80s. Large boom boxes are on display in several scenes and a student mentions a "compact disc player" at one point. It stars Goldie Hawn as a dissatisfied suburban Chicago high school girl's track coach. Her dream is to coach football. When the junior varsity coach gets sacked, she applies for the position. Instead she is offered the job of coaching the varsity team at a tough inner-city school.
The expected fish-out-of-water jokes (or more accurately white-woman-coaching-minority-boy's jokes) ensue. She gets off to a rough start but with tenacity she eventually earns the team's respect and leads them to the championship game against the high school where she was formerly employed. Yes the plot is unoriginal and predictable. Fortunately the cast, lead by the always hilarious Goldie, makes the most of this tried and true formula.
As was common in comedies from the 1980s, Wildcats features several nude scenes. Goldie Hawn appears naked in a bathtub with her tits exposed and there is even a glimpse of full frontal male nudity, courtesy of two of the boys on the football team (Wesley Snipes and Jsu Garcia). Although these actors were both adults at the time, I doubt if a movie today would show a female teacher being given the full monty by her students. At least not in such a nonchalant manner as depicted here.
Also typical of 1980s comedies is the casual mix of raunchy humor with a feel-good family message. Words like fuck and pussy are thrown around as often as a football on the practice field, yet the movie contains a valuable life lesson about perseverance. And the plot also deals with Goldie Hawn's battle with her ex-husband to keep custody of her two daughters.
The supporting cast features many familiar faces. This was the debut of Wesley Snipes and Woody Harrelson and the first of their movies together. Nipsey Russell plays the supportive high school principal. Swoosie Kurtz plays Hawn's loyal sister. Mykelti Williamson plays the all star quarterback. Audiences will remember him as Forrest Gump's best friend Bubba. LL Cool J makes a cameo during a party scene and performs the theme song. Old-timers Gloria (Titanic) Stuart and Ann Doran (she appeared in small roles in many classic films, dating back to the 1922 silent version of Robin Hood!) play the conservative women that interview Goldie for a job at a private school. An interview her ex-husband arranged and insisted upon.
Wildcats may be predictable and unoriginal but it's a wonderfully nostalgic time-capsule of the mid-80s and features a diverse and talented cast giving their all.


Reviewed on:
September 24th, 2015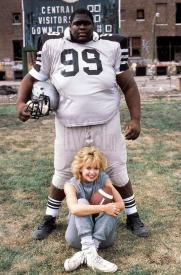 Goldie Hawn and Michael Ritchie in an awkward publicity pose for Wildcats
Although the success of their careers was based on different variables, I have often put Raquel Welch, Barbra Streisand and Goldie Hawn in the same category. They were contemporaries who made films during a period of feminism. All made movies where their characters found themselves in a traditional male role. All three also made sports films. Welch was a roller derby girl; Streisand played a boxing manager and Hawn a high school football coach. All three played women who had to deal with being ogled and treated as a sex object while trying to prove they can do whatever a man can. These women were cursed by their femininity. While training with the football team, Hawn's Coach Molly McGrath has to suffer through sexual gestures and wondering eyes from her players.
The feminist point is hammered home when McGrath talks to her daughters about her job. One of them tells the other that she cannot be a helicopter pilot. Molly corrects her, "She can be anything she wants to be as long as she works hard enough at it." The message does not ruin the movie but it missteps.
After their first win of the season, Molly throws a party at her home for the team and their girlfriends. Some of the players bring and drink alcohol. One player tells her young daughters that the costume they made for their dog was, "…a bad mother fucker." When her ex-husband shows up with his new wife, a player grabs her and asks, "What's your name and what's your favorite sexual position." His girlfriend then assaults the innocent woman by grabbing her hair out of jealousy. Things get further out of control and one of their daughters ends up with a bloody nose.
This incident inspires her ex-husband to seek sole custody. A bunch of foul mouthed, drinking, criminal, horny teenage boys with violent girlfriends is not the kind of influence any father would want for his daughters. Of course, he takes it too far suggesting they send their daughters to a private school and telling Molly what job she should have. As this movie is making a feminist statement it treats him as a villain but I see his point. Molly is not the best mom. After finding two students having sex in her living room while their daughter is passed out drunk upstairs in her bedroom, Molly's ex tells her, "You've lost control of what goes on in your own house." She has. While her daughter is getting drunk at a party, Molly is dancing with her players, one at a time. How would it look for a male coach to dance with his underage all girls volleyball team?
During the custody hearing, Molly tells the judge of her ex, "He criticized me for doing the one thing I took pride in doing." referring to coaching football. Shouldn't she also take pride in her children and in being a mother? Molly does indeed choose the football team over her children. After considering making changes that will benefit her daughters, she changes her mind, telling her husband, "I don't want to be a quitter anymore." Again, making it all about what's best for her and not necessarily her children.
The last time I saw this movie; I was single and viewed it differently. Now, having raised kids, I see it from an entirely different perspective. Molly is a self-centered parent who says she wants her daughters but does little in the way of showing it. Yes, she connects with and helps these boys out but at the sacrifice of her own children. Wildcats was intended as a feminist statement about how women can do anything they set their minds to but this film also demonstrates that they cannot have it all as a single person. No one can of either sex. Something always has to give and when it is the children, the parent has failed.
I also did not laugh as much this time around. Hawn quizzing the Home Economics teacher on his coaching skills is not as funny as it could have been, "How about penetration? Do you know how to get good penetration?" I did still like the team's cheerleaders though, "You ugly…what what, you ugly."
Photos © Copyright Warner Bros. Pictures (1986)