Germany Release Date: 08-05-1921
Directed by: Ernst Lubitsch
Starring
▸
▾
Pola Negri

,

as

Rischka
Victor Janson

,

as

Kommandant der Festung Tossenstein
Paul Heidemann

,

as

Lieutenant Alexis
Wilhelm Diegelmann

,

as

Claudius
Hermann Thimig

,

as

Pepo
Edith Meller

,

as

Lilli
Marga Kohler

,

as

Frau des Kommandanten
Paul Graetz

,

as

Zofano
Max Gronert

,

as

Masilio
Erwin Kopp

,

as

Tripo
Paul Biensfeldt

as

Dafko


Reviewed on:
January 15th, 2014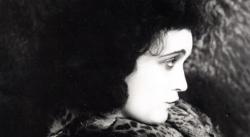 Pola Negri in The Wildcat.
I freely admit that the only thing that attracted me to this movie is that I have yet to review a Pola Negri film. I watched Sumurun (1920), in which she is quite sexy showing off her midriff as a dancer, while here she wears plenty of clothes as much of it was filmed in snow. As a comedy though, The Wildcat (Die Bergkatze) is a much more enjoyable film.
Pola plays a member of some mountain bandits who rob anyone unfortunate enough to pass by them. She and some cohorts capture a lieutenant who is on his way to his new assignment. Pola steals all of his belongings but stays the hands of the other bandits who want to kill him. She lets him go as she is already smitten.
The lieutenant is apparently some sort of Casanova as the entire female population turned out to see him off. However, when Pola removes his hat he is sort of dopey looking and his hair is clearly thinning. Whatever this guys has, women want it. After making it to the military fort in his underwear, the general's daughter falls immediately for him.
The general sends out a regiment of men to attack the bandits. The attack is more for laughs than action. In fact this comedy becomes more of a farce as it goes. Later, Pola and some other bandits sneak onto the base during a victory celebration and break into a dance. She then sneaks into the general's daughter's bedroom, where she puts on some of her refinement.
Ernst Lubitsch would later go on to direct some Hollywood classics but this film was made early in his career when he was allowed more creativity. I kept wondering about the needlessly odd shaped framing. Look closely at the military base sets. They look like an influence on Dr. Seuss. Add a peculiarly romantic dream and you have quite an original piece of silent film comedy. Watch this film as a double feature with The Cabinet of Dr. Caligari (1920) and marvel at the imagination of early German cinema.
As for Pola Negri, she was a decent silent film actress. She works the comedic scenes well enough but got caught up in the silent film acting habit of over emoting with her arms and body language. She was decent enough looking and had charm to spare. It is no wonder that she soon headed to Hollywood with Lubitsch.
Reviewed on:
January 17th, 2014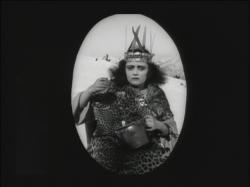 Pola Negri in The Wildcat.
It was the 1919 hit Madame DuBarry (released in the United States in December 1920 as Passion) that first made the American public aware of both Ernst Lubitsch and Pola Negri. The Wildcat was their sixth and final film together as director and star. Lubitsch went on to immortality and is often cited as a filmmaking genius while poor Pola has been mostly forgotten. Which is a shame since she was not only the first European female star to come to Hollywood, she was also a truly original screen presence.
Negri (looking quite a bit like she could be Helena Bonham Carter's grandmother) races around the movie with wild hair, and clothed in what appear to be leopard skins. This military satire was shot on location in the snowy alps and it features several breathtaking vistas. Like Eric, I'm not sure why Lubitsch used so many unusual shapes to frame different shots (see photo). It is a bit overdone and a tad pretentious.
The humor, however, is quite modern and sophisticated albeit in a very silly manner. Eric mentioned the scene where all the women turn out to see the lieutenant off but what he didn't mention is that it is immediately followed by a group shot of the town's children who all cry out "Daddy, Daddy." In one of the humorous title cards we learn his name is Alexis but he is known around town as "Smart Alex".
As Eric wrote, the sets are quite fanciful and funny. These bandits live in a mountain cave behind a curtain, and the castle where the commander of the fort lives is filled with whimsical flourishes. In one scene Pola and the lieutenant race up and down an unusual looking staircase. One of the funniest sight-gags comes at the very end. Pola has returned to her bandit-husband who she discovers crying -literally- a river of tears that runs down through the snow.
The Wildcat is an entertaining little comedy that demonstrates just how sophisticated European films had become just a few short years after the end of the First World War. It was restored in 2000 with new title cards and a brand new score.
Reviewed on:
April 6th, 2014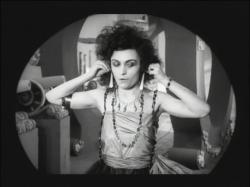 Pola Negri in The Wildcat.
Germany isn't exactly known for its sense of humor, but this rather surreal comedy goes against that cultural stereotype. Its humor, much of which comes from its odd visuals and the gender reversal of the two main characters, is almost Pythonesque in its silliness.
Like Patrick, the first person I thought of when I saw Pola Negri, especially at the end when she's dressed in the Commandant's daughter's clothes, was Helena Bonham Carter, with the wild hair and bohemian look. She definitely had a certain charm and as much screen presence as any of the other actresses of the day.
I too found the unusual scene framing to be a little annoying. Some of them are clever, but they are way over-used. The sets are the most surreal element in an already surreal film. I enjoyed the way the actors interacted with them, rocking on one piece like a see-saw and sleeping on another, rather than just leaving them in the background.
Much of the humor centers around the gender reversal between Rischka and Alexis. She is the tough and strong one, while he is vain and delicate. When Alexis brings her back to his room, he preens before his hand mirrors, dressing himself and then getting upset when Rischka musses his hair. Rischka tosses furniture around as though it weighs nothing and dominates the men in her little mountain gang. At the end, it is her mountain husband who is crying, not her, and I agree with Patrick that it is one of the best visual gags.
I always enjoy silent film comedies more than dramas and this one is fairly amusing. I would have enjoyed it more as a one-reeler, but it made me laugh a few times. The quality of the print, which is far greater than many films of the time, certainly helps in picking up the many surreal elements that were packed into each shot.
Photos © Copyright Projektions-AG Union (PAGU) (1921)